Dublin/Laurens County: A New Image
Reinventing Neighborhoods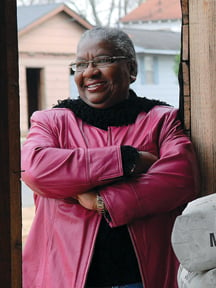 Bonita Williams has spent the last half of her 65 years painfully watching Dublin's Southside neighborhood, where she grew up, slowly lose the businesses, shops and homes so prominent in her memories of childhood.
"When I was growing up in the Southside it was a fun place to live because everybody was neighborly and looked after each other," Williams says. "We walked to the store together and shopped together. There were thriving black businesses in the neighborhood."
But in the early 1970s, big chain stores began arriving on the outskirts of Dublin, with dramatic consequences. "That's when the little neighborhood stores began to go out of business," Williams says. "And right now we don't have any."
Williams' longing for the good old days is more than nostalgia. As a member of Dublin's Southside Community Association, she's part of a neighborhood revitalization effort that, from its beginning a decade ago, has had consequences of its own.
In 1999 executives from national electronics retailer Best Buy came to Dublin seeking a site for a Southeastern distribution center. A considerable local capital investment and more than 100 jobs were at stake, so members of the Dublin-Laurens County Chamber of Commerce rolled out the red carpet and assembled all the information on their community a hot prospect could possibly want – but the corporate execs had a surprise request.
On their arrival, Best Buy's site selectors told the welcoming local economic developers they wanted to see their most challenged declining neighborhood. "I'd never had anyone ask to do that before," says Phil Best, then part of the welcoming committee. This year Best begins his third term as mayor of Dublin.
"The Best Buy folks looked at Southside and asked, 'What are you doing to make improvements in this neighborhood?'" recalls Dublin Cham-ber President Willie Paulk. "They said they could be hiring workers from that neighborhood. And they wanted to see that we were making progress there. Lucky for us, we already had a plan and we shared that with them."
Just months before, city leaders had targeted Dublin's Southside for a revitalization plan that has since produced dramatic results, with more to come.
First came the studies needed to map out revitalization effort specifics; then came implementation. In the past six years, the Southside Revitalization Project has used $2 million in federal, state and local funds, as well as thousands of hours volunteered by civic clubs and church groups, to establish a local African-American historic district and history project and begin beautification efforts in the Southside.
The city passed a nuisance ordinance resulting in more than 300 dilapidated buildings being targeted by the code enforcement office. Southside has 21 additional security lights on its streets and technology upgrades for the neighborhood include internet access hotspots. Fire protection and water delivery improvements are under way, a playground has been built and a youth soccer team formed.
A community police station is open for business in Southside and enterprise zone ordinances there are already working: the neighborhood will get its first new business in years, providing 25 to 50 new jobs in 2008.
"We are all so excited," says Williams, a lifelong resident. "We're getting a new grocery store, and we'll be able to walk to it. And we have had some local investors buy some property and improve it."
Artful Experience
Meanwhile, Southside's neighbor, downtown Dublin, has come alive as a destination for art and music lovers, and for anyone seeking fresh vegetables or homemade jams and jellies.
On any given Saturday during the crop season, a visitor to downtown Dublin can browse through an open-air market and purchase peanuts, pecans, peaches and pastels. Art and agriculture are sharing space at the three-year-old Market on Madison, the latest in a series of community projects that's drawing interest from middle Georgia's arts community.
The market was constructed using $250,000 in Special Purpose Local Option Sales Tax (SPLOST) revenues, with the idea of providing stalls where farmers could sell their crops. But soon the big weekend crowds attracted other vendors selling everything from birdhouses to cakes and art.
Today, Saturdays at the Market on Madison have the atmosphere of a medieval fair, contributing to Dublin's growing reputation as a regional cultural center. "The arts in Dublin have done an almost 180-degree turnaround," says artist Frenasee Daughety, a member of the Dublin Art Alliance. "When I came here in the summer of 2001 there was no organization at all [for the arts]." Now there are two major shows a year featuring the works of regional artists, and the alliance just held its first show at the Market on Madison where 15 artists and 10 local schools displayed their works.
Improvements are ongoing at the Fred Roberts Hotel, an early-20th-century downtown landmark, and its restored façade is the backdrop for live outdoor brownbag lunch concerts. The old Dublin Theatre – almost back to its 1940s charm – is booked solid for live performances. The downtown Carnegie Library, a small-town America architectural staple, is serving as a local history museum.
"What we have downtown now is a cultural arts center," says Kathy Jones, director of the Dublin Down-town Development Authority for the past 12 years. "Sure, hundreds of thousands of dollars in federal and state funds have been poured into the downtown improvements, but I think we need to remember that local businesses and industries donated goods and services and volunteers spent countless hours contributing. We have had the children in the schools doing a penny drive to help out. Point is, we now all have ownership in the downtown and Southside and I think that's why arts patrons and concert goers turn out when we have downtown events."
Jones says her Downtown Development Authority has extended its border to include the improving Southside, a move that will open up even more funding opportunities for that neighborhood.
The art, makeover and improvement themes have carried over to the local chamber of commerce where a new 3,500-square-foot wing designed to add meeting space has become an art gallery featuring portraits of past and present community leaders and significant community sites, all by Frenasee Daughety.
"These are people or businesses or institutions that have contributed greatly to the economic growth of Laurens County," Paulk says. A fund-raising campaign and in-kind contributions from local businesses and industries generated more than $850,000 to build the wing.
So busy has the McGrath Keen, Sr. building been since its completion just over a year ago that chamber officials haven't had time to hold a formal ribbon cutting. The room has been used for private conferences, social events, business meetings and receptions.
Improved Access
When the Best Buy distribution center came to Dublin almost a decade ago, its executives wanted to see more than the Southside neighborhood. They also wanted a commitment for road improvements along their site south of town near Interstate 16. The promise they got began an era of road projects that, to date, have totaled almost $100 million in new and improved highways.
"These projects will greatly improve the access and speed of the trucks serving the distribution centers and manufacturing plants of our industrial areas," says Laurens County Administrator Bryan Rogers. "We are trying to access all our industrial properties and tie them in with the major transportation routes, to have all of them on a connecting four-lane road and on to the interstate.
"Most significant to us is the U.S. Highway 441 bypass now under construction that I think will contribute to our continuing industrial growth," Rogers says. "I think any industry we have in mind to relocate here will be somewhat dependent on trucking materials in and their finished products out, so we just want to make it as user friendly as possible."
The road improvements are perfectly timed for one of Laurens County's older corporate citizens, Japan-based YKK Architectural Products. YKK has thrived in Dublin since arriving in 1991, and with its plant running wide open in 2005, the company paused to take a breath and ponder the future.
"In 2005 we were pretty much running our plant at maximum capacity," recalls Greg Hultquist, vice president of manufacturing at the Dublin plant. "What we determined was that we needed expansion."
Now YKK is in the midst of its fourth expansion here, a three-phase $80 million project expected to add 50 to 100 jobs. YKK's Dublin plant produces aluminum building products, few of which go into the housing industry. The windows, doorframes and other building components produced at YKK Dublin are headed to construction projects such as shopping centers, highrises and other commercial facilities.
"Our sales are growing and we are penetrating market share," Hultquist says. Less affected than other building suppliers by the recent housing downturn, YKK Dublin is responding more to customer demand for reduced lead times, he adds.
Another beneficiary of the road improvements is national discount retailer Fred's, whose Southeastern distribution center is located near the Best Buy facility at I-16.
At a strategic planning retreat in May 2005, Dublin and Laurens County business leaders and chamber of commerce officials decided their approach to industry recruitment needed a makeover of its own.
"We all realized economic development had changed immensely," says Roger Folsom, chairman of the Dublin-Laurens County Development Authority. "The way prospects look at a community now, a couple of clicks on the computer and you're eliminated, and you don't even know that you were visited."
The authority brought in consultants because, Folsom says, "we needed someone from the outside to come in and tell us where our warts were, and we did that and found a few warts."
After securing further advice from locals, ranging from CEOs to graphic designers, the development authority went to work following up on recommendations. "We didn't have our own website," Folsom says. "Now we have a website where you can take a virtual tour of any of our [available development] sites. We have hired our first fulltime economic development professional to complement our chamber of commerce efforts."
Taking advice from consultants and experts, the development authority has begun targeting companies in light manufacturing and auto manufacturing, as well as those in the biomedical sector. "Certainly logistics and distribution centers are possibilities because we are already widely recognized in those industries," Folsom says.
A restructured marketing program has begun with a new logo. "We already have a few prospects we are working with," Folsom says. "But the proof of all this work we have done will only be recognized when we put shovels in the ground and announce a new industry here."
Chamber of Commerce President Willie Paulk believes community-wide improvements in appearances, attitudes and infrastructure are contributing to a new era in Laurens County economic development. "I think the Best Buy experience showed us the value of keeping our eyes open to every opportunity for improvement," she says. "And I think that experience also reminded us how important planning can be. We were doing the right things then because Best Buy came here and has been successful here.
"It is not about change for the sake of change, but more about meaningful change," Paulk says. "I think we are showing that we can change, can improve and adapt without losing our uniqueness."
Dublin/Laurens County
At-A-Glance
Population
(2005)
Laurens County, 46,896; Dublin (county seat), 16,924; Rentz, 3,318; East Dublin, 2,711; Dexter, 533; Dudley, 468; Cadwell, 372; Montrose, 162
Per Capita Income
(2004)
Laurens County, $23,858; Georgia, $29,782
Unemployment
(Nov. 2007)
Laurens County, 5.0 percent; Georgia, 4.2 percent
Top 10 Employers
Mohawk Industries, 794; Carl Vinson VA Medical Center, 780; Fairview Park Hospital, 560; YKK AP America, 502; Flexsteel Industries, 370; SP Newsprint, 355; Farmers Home Furniture, 290; Rockwell Automation Allen Bradley Co., 280; Fred's Distribution, 253; Parker Aerospace CSD, 208
Sources
Dublin-Laurens County Chamber of Commerce, City of Dublin, Georgia Dept. of Labor, U.S. Census Bureau