Waycross/Ware County: Phoenix Rising
Signs of life after a devastating fire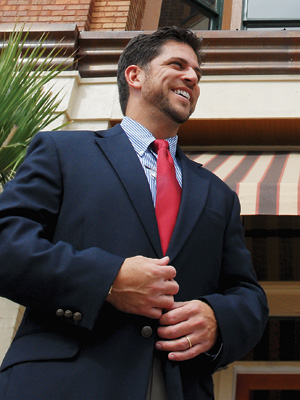 The citizens of Ware County certainly don't need a poet to remind them April is the cruelest month.
This past April, locals saw the eruption of wildfires that quickly spread through drought-dried timberland, threatening 1,800 buildings. The fires destroyed and badly damaged trees on 353,000 acres in Ware, Georgia's second most heavily forested county, and the most severely wounded by the conflagration that ultimately raced into 21 other Southeast Georgia counties.
Among the losses in Ware County were many small pinelands owned by private citizens who were counting on them for retirement income. The results of the fires were, according to a Georgia Forestry report, "unlike anything seen in state history."
While total property losses were still being calculated in the fall, the county's firefighting bill alone had already reached $2.5 million, 12 percent of Ware's annual budget. And the loss of timber taxes to the county is estimated to be $175,000 a year for the next 15 years, some $2.7 million in all.
The county's main tourist attraction, the Okefenokee Swamp, was, according to one local emergency official, "burned back to its natural state," shutting down the major portion of Ware County's tourist trade, worth some $57 million annually to the local economy. A long and severe drought already had stopped popular boat tours at the Okefenokee.
In addition, smoke-shrouded U.S. Highway One, a historic tourist route connecting Florida to the Northeast, was closed to Ware County traffic for three weeks. "People read in the newspapers that we were on fire down here and if they were planning to come, they didn't," says Vickie Leverette, director of the Waycross Tourism Bureau. Smoke also caused the cancellation of dozens of baseball, softball and soccer tournament games at Ware County's Trembling Earth Sports Complex, keeping an estimated 3,000 visitors from their scheduled arrival.
And if that wasn't bad enough, heavy rains two months after the wildfires led to a plague of mosquitoes, which also caused cancellation of some outdoor events such as softball tournaments.
"We had people tell us they couldn't even get out of their cars without being swarmed by the mosquitoes," recalls Gail Barron Boyd, Ware County manager. "People couldn't cook out; children couldn't play in the yard because of the mosquitoes. After the fires and then the mosquitoes, it was like, 'My God, what else are we going to have to deal with?'"
Yet, Leverette says, in something of a fortuitous twist, local motels and restaurants barely missed a nickel of travelers' cash thanks to the prompt arrival of firefighters from 44 states, Canada and Puerto Rico. The estimated 3,300 firefighters, medical and government agency personnel helped local motels and restaurants make up income losses threatened by the burning woods. "The fire didn't devastate [motel revenue]," she says. "It was a strange summer."
Economic Rebirth
Even as the woods were burning, Waycross economic developers were hard at work trying to control other losses. The former local Winn-Dixie had been sitting vacant since 2005, leaving a big empty box of a building scarring the landscape. Earlier this year a local mobile home manufacturer suddenly went dark, putting 200 employees out of work.
By mid-September, those two empty buildings had been reclaimed. "That empty mobile home plant has been bought by WMT Housing, LLC, and will start with 60 employees; and that company has a huge backlog of orders, so they tell us they expect to soon be back to the 200 employees that we lost," says Regina Morgan, executive director of the two-county Okefenokee Area Development Authority based in Waycross. "And plans are for them to add even more workers within the next year."
The empty Winn-Dixie store will soon be filled with the employees of Enhanced Recov-ery Corporation (ERC), a Jacksonville-based nationally licensed collections company that found the 65,000-square-foot building to be just right for its needs.
"We have high occupancy and that requires a great deal of parking; and sometimes it's difficult for us to find a business building that can support our parking needs," says Mark Thompson, CEO of ERC. "So to find a large empty retail center that we could retrofit, like we did in Waycross, is just perfect for us."
Thompson says his company also found a ready-to-go workforce with the qualifications it needed. ERC will begin operations in the first quarter of 2008 with about 50 employees, but not for long. "We'll probably grow that to over 300 within the first year," he says.
Meanwhile, a longtime Waycross boat manufacturer, Carolina Skiff, is gearing up for a major expansion. "We are looking to add at least 100 people over the next 12 to 18 months," says Joe Kirkland, president and CEO. "We put in a 100,000-square-foot facility and we're revamping our present facility. When we get through with all this, I think we'll have a little over 400,000 square feet of manufacturing space. That gives us the capability of increasing our production by at least 40 to 50 percent."
Carolina Skiff's flat-bottomed boats, with a draft of 4 to 7 inches, are best sellers along the coastal waters and marshes of the Gulf and East Coast. Made of fiberglass and composite materials, the boats are known for their durability. The company already has 23 distributors in 19 countries, Kirkland says.
With the launch of a new marketing campaign in states farther inland, Kirkland sees his company's annual product output jumping from 5,000 boats to as many as 7,500. "When I arrived here in 1992, we were building two or three boats a day. We've gone from $10 million in [annual sales] to $15 million and right now we're doing $50 million."
The company's yearly $8.5 million payroll will certainly increase accordingly, bringing a broad smile to the development authority's Regina Morgan, who sees important symbolism in the timing of the community's burst of economic development. "A lot of these things were in the works but they were finalized during the fire," she says. "This is a rebirth. We did not want that fire to define us. All of these projects taken together say we're still here, we're still active and we're still a community that will weather bad times."
Rerouting The Rails
The phoenix rising theme is spreading through downtown Waycross as well. Waycross was born in the 19th century as a rail hub, and it still is an important part of the CSX rail network, which employs nearly a thousand workers here. It's no wonder that rail lines still crisscross the city and the train whistle is sweet music to local economic developers.
But as long as anyone can remember, one short section of track crossed a main city street, posing a danger to pedestrians and motorists and hampering downtown development. "It not only caused traffic jams, but just over the past year there were five or six major train-truck accidents," says Waycross City Manager Pete Pyrzenski.
Decades of negotiations between the city and county governments and CSX found no solution to the problem until four years ago when the two governments began sending Special Purpose Local Option Sales Tax (SPLOST) revenue into a Rail Relocation Fund. Now, with $2.1 million of available SPLOST money, the downtown rail section is being moved about 2 miles to a road less traveled.
"This has been 30 years in the making," Pyrzenski says. "News of the rail relocation has spurred renewed interest in downtown development. The downtown will be friendlier for parking and there will be more crosswalks and improved sidewalks."
Already a group of physicians is planning to move into a vacant historic building near the once-troublesome rail route, and more downtown development is in the works. "I think our next new venture will see residential lofts in the downtown area," Pyrzenski says. The rail relocation is expected to be completed by February.
Work Ready
This summer, Linda Zachmann was looking at her own daunting task: rounding up a thousand or more Ware County citizens from all walks of life to take a three-hour test to see how their job skills measured up. The challenge was born when the county was chosen to try for the designation as a Certified Work Ready Community (WRC), a recognition that carries great potential for the county's efforts to provide the skills employers are seeking. Communities that sign up for the WRC challenge are allowed 36 months to secure the designation. Ware, however, had already completed some of the criteria and offered to serve as a demonstration community, securing its designation in just 18 months.
"We wanted to be a leader, not a follower. We are demonstrating for the rest of the state," says Zachmann, a state school board member who is leading the Work Ready Ware committee, a community effort to build a workforce reservoir of tested and certified workers with what she says are "real world" skills.
If successful, and early results indicate the county is on track to deliver the WRC mandates, jobseekers will be certified after scoring well on categories such as communications skills and math. "The testing is a measure of their readiness to work or their trainability," Zachmann says. "This program has great appeal on every level; to an individual, a company, the county, the region, and the state."
Not only are the Work Ready certificates important to Ware County employers, they also are portable and can be used by employers throughout the state to match jobs with qualified workers.
The county must get 800 people to become certified for its designation. In addition to good test scores, the county must show a 2 percent yearly growth in local high school graduation rates. No problem, Zachmann says. "We are real pleased that everyone who has taken the test so far has scored high enough to earn a certificate," she says. "And the local board of education already had a plan in place to make a 3 percent yearly improvement in the graduation rate. We are marching forward."
The program requires testing 25 percent of unemployed adults, as well as 3 percent of the existing workforce. Other groups that must be tested include high school grads, unemployed adults, local, state and federal employees and those who have the high school equivalency GED certificate.
To get the requisite number of certificate holders, the community has launched a get-out-the-vote style campaign. "We've assisted Work Ready Ware by sending out emails to chamber members encouraging them to get their employees and themselves out to take the test," says Robin Blackard, executive director of the Waycross-Ware Chamber of Commerce. "And we're working with civic clubs and the local school board to spread the word of the importance of the testing. So far the results are encouraging."
Waycross/Ware CountyAt-A-Glance
Population
Ware County, 34,494; Waycross (county seat), 15,104
Per Capita Income
Ware County, $22,362; Georgia, $29,782
Unemployment
(Sept. 2007)
Ware County, 5 percent; Georgia, 4.6 percent
Top 10 Employers
Satilla Regional Medical Center, 1,200; Ware County School System, 1,100; CSX, 950; Wal-Mart, 488; Ware State Prison, 388; Baptist Village, 360; Carolina Skiff, 250; Simmons, 232; Scotbuilt, 190; Clayton Homes, 185
Sources
Okefenokee Area Development Authority, Georgia Dept. of Labor,
U.S. Census Bureau, Ware County Board of Commissioners