Camden Couty: Ship And Shore
Naval base spurs inland development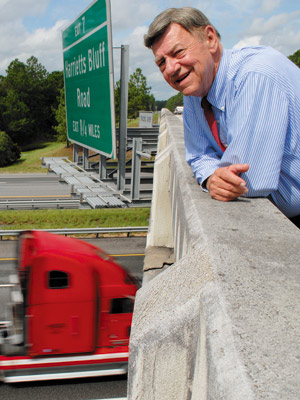 For generations, Camden County was characterized by polar opposites – a gritty paper mill with hardworking employees in St. Marys and the Eden-like Cumberland Island, which a century ago served as a playground for the wealthy.
Today Cumberland Island is a part of the National Park Service, easily accessible to campers and tourists; and the defunct paper mill appears as rubble, the first stage of the site's transformation to a 700-acre mixed-use development that will be years in the making.
The county's 263,000 acres of forestland, once fodder for the mill, are shrinking as stands of pines morph into upscale subdivisions, golf courses and retail developments. The once sleepy villages of Woodbine, the county seat, St. Marys and Kingsland are alive with activity – or the anticipation of it.
All of this, say local economic developers, because the timber companies that fed the local economy at a stately pace are jettisoning their lands in response to global market conditions and to enhance their bottom lines. "Before the timber companies and large property owners made property available, there was not much of an opportunity to grow here," says Bob Noble, executive director of the Camden County Joint Development Authority (JDA). "Now, real estate prices along the Atlantic Coast have steadily risen and Camden County has greatly benefited."
New Arrivals
New home building permits in the county have doubled in the past five years, and retail sales tax collections have soared. Retirees, now a staple of the coastal economy, are showing increasing interest in the county.
"Retirees are flooding in," says Christine Daniel, president and CEO of the Camden County Chamber of Commerce, whose office often has first contact with prospective new residents. "When I first started [work] here two years ago, we were getting about 10,000 visits a month on our website and now we have 50,000 a month. They are looking at us, checking us out. Those coming from South Florida and Atlanta are finding our property values still very much to their liking."
Other new arrivals are being welcomed with perhaps greater enthusiasm: sailors, federal employees and contractors attached to two submarines set to begin duty at the 30-year-old Naval Submarine Base Kings Bay in St. Marys. The boats, the Alaska and the Georgia, will bring with them some 700 sailors and 1,000 family members, as well as civilian support teams.
In addition, the U.S. Coast Guard has ordered 150 men and women to duty at Kings Bay. The Coast Guardsmen will man and support 12 new vessels, including two 87-foot cutters. The Coast Guard mission is to escort and protect the subs as they go to sea or when returning home.
The new Navy and Coast Guard missions at Kings Bay will bring total employment there to more than 9,000, and increase the sub base's $600 million annual economic impact. This is welcome news to a community that saw the sub fleet here cut by the Department of Defense from 10 to five during the last decade. The Georgia, refitted from nuclear capabilities to more conventional weapons, is set for a return to service in March, but will arrive at Kings Bay sometime this winter (see story, page 106). The Alaska will go to sea from Kings Bay in 2009.
"I think this bodes well for our future," says Keith Post, a retired submariner, president of the local Navy League and a coastal real estate professional. "I think so long as there are nuclear weapons in the world, we're going to have Kings Bay."
Post says even the loss of the subs earlier in the decade wasn't as painful as feared, thanks to the county's changing demographics.
"The loss in the housing area that we had with some of the subs [leaving] over the past few years has been picked up a little bit by retirees coming to our area," he says. "I know right now we have over 500 listings in the real estate market in our area, and there are hopefully some for those sailors, as well as those retirees. And don't forget, too, there are a lot of us like myself who retire and make the Camden County area their home. Once the sand and the sand gnats get into your system, you can't leave."
High Growth Areas
Camden's present and projected growth has intensified planning for the infrastructure needed to support it. "The high growth areas are outside the three cities," says Camden County Commission Chairman Preston Rhodes. "Therefore, the challenge is being able to get water, sewer, fire protection and roads into those areas; and it is a constant challenge to try and balance the tax structure with the growth rate so that you have some of the brunt of the cost borne by the developers rather than the folks that are already here."
Financial help is on the way in the form of a $70 million Special Purpose Local Option Sales Tax (SPLOST) approved by Camden voters last March. "We are using those SPLOST funds especially for road improvements," Rhodes says.
Construction is set for one road project in Rhodes' political district that he finds especially exciting. "There will be a new I-95 interchange on the northern end of the county in my district, which historically has been a primarily rural area," he says "But it will fast become the highest growth area. When the timber companies began to sell off their land, and we're talking two, three, four and five thousand acres at a time, we began to see a new energy in that part of the county, and that will accelerate when the interchange is completed."
Rhodes expects to see new retail and residential development around the interchange. "But we want controlled growth, not growth that spirals out of control," he says. "We knew this was coming sooner or later, but it is coming sooner than we expected. We want to protect and preserve environmentally sensitive areas in the path of growth and we are working to do that right now."
While the Camden County cities of St. Marys and Kingsland are watching new commercial and residential construction spring up, the more inland county seat, Woodbine, is in a growth holding pattern, says its chief booster.
"In the last 10 years we've gained hardly any population," says Buford Clark, Woodbine's mayor. "The growth in Woodbine has been slow growth."
Woodbine seemed destined to stay a community of 1,300. Even when new developments were planned and annexed into the city, things just didn't seem to work out. "We did annex 155 residential lots into the city about four years ago," Clark says. "They've sold a lot of these lots but there is hardly any building going on. But most of those lots were purchased by people who were speculating. I guess you would call them 'flippers.'"
Several years ago the city annexed 1,500 acres planned for a mixed-use development, but that didn't pan out. "Nothing has happened on that in the last three years," Clark says. "It's just sitting out there."
But Woodbine's citizenry is patient and optimistic, Clark says. "The big plus for us is that the slow growth has given us time to prepare for the future. We're going to get the growth and we want to be prepared for it." At press time, Woodbine's city leaders were poised to approve a 10-year master plan for growth.
In Kingsland, city planners have begun informing elected officials to prepare for a building boom. The city of 12,000-plus issued just 425 building permits in 2005, and then saw a drop in residential construction.
But the future is far rosier, says Ken Kessler, director of community planning and development. "I expect that in 2011 we will be issuing somewhere between 1,200 and 1,400 new residential housing permits," he says.
Part of the evidence for such a projection lies in a trend, and in solid but classified information. "2012 is when the baby boomers are really going to start looking for retirement homes, and they generally love the Southeast," Kessler says. "And Florida is getting very pricey."
And too, Camden County joins Florida at the northern suburbs of Jacksonville. "We're not part of Jacksonville's metro area yet, but we will be." Kessler wouldn't comment on rumors of pending announcements for large new residential developments, except to say, "You'll be seeing some things this winter."
Service Economy
Bob Noble, the JDA executive director, is sitting in the conference room at his office, which lies in the shadows of an I-95 overpass. "You can follow that I-95 corridor and see that growth radiates outward from that corridor," he says, pointing out a window at the nearly 200,000 cars that pass by each day.
The subject was the Camden County economy and how its tiny manufacturing sector is of little concern to Noble. "It's true that we as a nation are not competitive worldwide in manufacturing," he says. "But we can outdo all of them when it comes to consuming."
And that, Noble says, puts his county in front of myriad possibilities. "We are a service delivery economy in a consuming nation. That puts us in a better position because we are in a coastal county in-between three ports: Savannah, Brunswick and Jacksonville. From an economic development standpoint, we will materialistically benefit from distribution facilities. What we are marketing now is our proximity to modes of transportation because if you are a consuming nation, which we are, wherever you see modes of transportation you will see growth."
The transportation-distribution marketing plan is working. "We should have the announcement of our first 150,000-square-foot distribution center coming by the end of November," Noble says.
The new I-95 interchange that so excites Preston Rhodes is also being applauded by Noble, who sees it as providing a path to growth. "This is the opportunity to provide more acreage for development, to be sure," he says. "And it is a rare opportunity. If you go back and look and see where new interchanges have been placed, you'll find they were put in metropolitan areas. So this one will be special to us."
The interchange has been approved by the Federal Highway Administration and the Georgia Department of Transportation. Engineering plans were being drawn up last month, with contracts projected to be let in 2008 and completion of the interchange within 18 months of that event.
Camden County At-A-Glance
Population
(2005)
Camden County, 46,202; St. Marys, 16,404; Kingsland, 12,063, Woodbine (county seat), 1,363
Per Capita Income
(2004)
Camden County, $24,231; Georgia, $29,782
Unemployment
(Aug. 2007)
Camden County, 4 percent; Georgia, 4.5 percent
Top 10 Largest Employers
Naval Submarine Base Kings Bay, 8,936; Camden County School System, 1,700; Express Scripts, 493; Wal-Mart, 475; Lockheed Missiles & Space, 457; Camden County Government, 375; Southeast Georgia Health System, 330; Bayer Crop Science, 104; Publix, 105;
Winn-Dixie, 95
Sources
Camden County Joint Development Authority, Camden County Commission, Georgia Dept. of Labor,
U.S. Census Bureau