Mother Of Invention
Entrepreneur Ashley Hatcher solved a household problem and started a business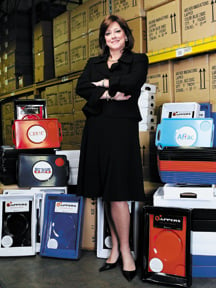 Ashley Hatcher is the kind of woman a SWAT team might like to have to kick in the door and disarm the suspects. Instead, Hatcher uses her fearlessness, singular focus and can-do optimism to open doors for the sale of her invention, a tough, washable, stackable plastic tray that hugs cups, saucers, plates and glasses and keeps them from sliding into a faux pas.
Hatcher, a married mother of two, is a pharmaceutical rep by day and a designing woman by night – and weekends, and any other spare moments she can find. She is the stereotypical entrepreneur, a woman who found her inspiration for invention in one of American culture's most mundane – but often aggravating – objects, the bamboo dinner tray.
On a January day in 2005, Hatcher took to bed suffering from a migraine headache. Her 8-year-old daughter struggled up the stairs to the bedroom with a bowl of soup wobbling on a bamboo tray. The tray was difficult for the ailing mom to balance on her lap, and the child had to go back downstairs for the drink, believing, correctly, that carrying both drink and soup on the same tray was too daunting.
The episode set the proverbial wheels in motion. "It was more than just being unwieldy," says Hatcher, who lives in Columbus. "I could see in my head the four things I wanted to do."
What she wanted was a tray that would hold firmly its contents, was washable, had sturdy handles and could be stacked – the antithesis of the bamboo variety. The signature feature of her trays would be simple silicone pads that fit into shallow indentions and keep plates and glasses from sliding, even when the tray is tilted to a 60-degree angle.
Getting from the idea to the reality became an obsession for Hatcher. "First, I was frustrated that I couldn't get it on paper the way I wanted it to look," she recalls. "So I went to an artist friend, and we measured plates, glasses, wine glasses, coffee cups. When I thought we had it right, I asked myself, 'What do I do now?'"
After studying how plastic is used in manufacturing, Hatcher came to the conclusion that she had to find a plastic injection molding company, but there were complications. "All of those companies made huge, gigantic things. Who's going to make what I want?"
Using a jewelry importer friend's China connections, Hatcher found a company in Hong Kong and ordered the first prototype of the trays she had christened "Lappers."
"It wasn't what I wanted and neither was the next one," she recalls. "But the third prototype, which arrived on Christ-mas Eve, 2005, was perfect." Then she discovered that to make her first order cost effective, she was going to have to purchase a ship container full of the trays, some 7,000 of them. "That was a big order, one that I thought was just too big," Hatcher remembers.
So it was back to the drawing board, this time to produce a business plan that would impress a bank enough to give her the loan she needed to get her trays from Hong Kong to Columbus. Enter the University of Georgia's Small Business Development Center (SBDC) in Columbus. "The SBDC was so helpful, and, with their help, I got the loan.
"So here I was with just six prototypes, wanting to take orders for something I didn't yet have," Hatcher laughs. "I had to get to some trade shows and the first one was in January 2006 in Atlanta and my trays might not arrive until April." She booked herself into the Atlanta trade show.
Leap of Faith
"That was a leap of faith, but I went," she says. Hatcher remembers leaping over her booth to corner prospects as they strolled by until, finally, she made a sale.
Hatcher had a minimum order of 12 pairs of trays – at that time, the trays were wrapped in twos – and her first buyers signed up for the 24 trays. "I knew I was on my way," Hatcher says. Before the show ended, she had written 80 minimum orders, totaling more than 1,800 Lappers, which retail for $25 each.
"Then, in March of '06, I went to an international trade show in Chicago," Hatcher says. "I only wrote two orders there, but there were other benefits." While at the show, she cornered a TV cameraman and coaxed him into shooting some footage of the Lappers.
"He was from HGTV [Home and Garden Televis-ion]," she says, referring to the popular cable channel. Later, Hatcher caught the aroma of cooking wafting through the aisles of the show. "I thought if someone is cooking, they need this tray to put the food on," she says. At the cooking pavilion she learned celebrity chefs were preparing dishes, signing their cookbooks and schmoozing with the media. Her tray caught the eye of the cooking show director and was shortly therafter used in a demonstration.
About that time, Savannah cooking maven Paula Deen swept into the pavilion and began signing her latest book. Hatcher, on the advice of the cooking show director, bought the Deen book and got in line to have it signed. "When I got in front of her, she asked me [Hatcher goes into the classic Southern drawl], 'Sugah, did you make this tray?' and I told her I did. And not 10 seconds later, here comes the HGTV people with the camera going and they asked her what was the most wonderful thing she had seen at the show and she replied, 'Dahlin', this tray is about the most wonderful thing I've seen in years.' I was on fire."
Moving Ahead
Hatcher has sold her first ship's container of 7,000 Lappers and is halfway through the second. Ever the optimist, she plans to order two more. That fortuitous encounter with the HGTV crew led to her product being featured four times on the cable channel.
In addition, Lappers have appeared on ABC's "Good Morning America," in eight magazines and are now being offered in several catalogues. Lappers are available in 300 stores nationwide, including several in Georgia. Additional information is online at www.archerinnovations.com.
Lappers have also found popularity among those suffering from Parkinson's Disease, as well as patients at rehabilitation centers and hospitals. "To know that people who are physically challenged have benefited from using my product brought tears to my eyes," she says. Her grandfather, Dr. Lou Riccardi, a Buckhead surgeon, played a role in the founding of Atlanta's Shepard Spinal Center, where today her trays can be found in the center's shop, Apothecary.