Central: Home Cooking
Local Industries Expanding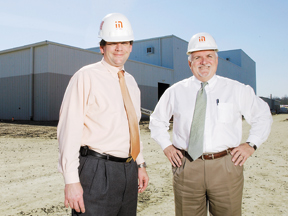 In 2006, three of Central Georgia's larger counties scored big numbers in new jobs growth while the entire region seemed to be feasting on the kind of home cooking that nourishes even the smallest county – local industry expansion.
The year saw capital investments pouring into Bibb, Houston and Laurens Counties, all located on an interstate highway. Macon, a transportation hub at the intersection of I-75 and I-16, welcomed capital investments by widely diverse industries totaling $167.5 million.
"That was the best year investment-wise that we've had since we've been keeping records on that," says Patrick Topping, senior vice president of the Macon Economic Development Commission. "What's really surprised us is the number of manufacturing projects that we are seeing."
Tops on the manufacturer investment list is Nichiha USA, Inc., a Japanese firm that has added $20 million to its originally planned $78 million facility in Bibb County. While the county celebrates the arrival of its new corporate citizens, longtime business neighbors are not forgotten.
"We had a fund raising campaign last year called Macon Now, with a top goal of assisting existing industries to expand," Topping says. "We raised a little over $2.5 million and had about $900,000 in in-kind services and the majority of those funds are focused on existing industries."
Out I-16, east of Macon, Laurens County claimed ownership of the regional expansion title with the announcement that YKK AP America, a building products manufacturer, will expand its Dublin facility, adding 200 jobs with an $80 million investment.
"I'll take that any day," says Willie Paulk, president of the Dublin-Laurens County Cham-ber of Commerce. "To me, YKK's expansion means the company is even more anchored in the community."
Houston County may be host to the state's largest employer, Robins Air Force Base (27,000 employees), but economic developers there also are proud of other sectors of the community's diverse job base. Perdue Farms, a poultry processor, is adding a cooked product to its line and that means adding 1,000 new jobs and bringing its Houston County facility capital investment to $192 million.
"That expansion is attracting vendors and more jobs from support industries," says Morgan Law, executive director of the Houston County Development Authority. "Rich-mond Cold Storage will add 120 jobs." Richmond will provide refrigerated lockers to hold Perdue's products for distribution. And Law says Perdue's presence has attracted calls from several biofuel industries interested in the processor's waste as a fuel source.
In Eastman last year, Dodge County economic developers welcomed a commitment by existing industries to create 160 new manufacturing jobs with announced plans to invest more than $7.35 million in capital improvements.
"Expanding established in-dustries does not get the glitz and glamour of a new industry," says F.J. "Josh" Fenn, president and CEO of the Eastman-Dodge County Chamber of Commerce. "However, if you look at what they have done together, for us it would equal a new industry or two."
And Fenn points out that jobs growth has an effect on other parts of the local economy. "2006 gave us a 9 percent increase in tax collections over 2005," he says. "And estimates show that retail sales increased by over $17 million."
New retailers are cropping up along Dodge County's stretch of the Golden Isles Parkway, a Central Georgia connector to the booming coastal area. "We had a great year last year," Fenn says. The expected completion of a new spec building for the Eastman-Dodge County Industrial Park and the opening of Phase II of the Heart of Georgia Regional Airport Industrial Park portend continuing growth, he says.
This keeping-it-local style of economic development continues with Dodge's neighbors in Telfair County, where construction is complete on the Lumber City Entrepreneur Park, a 43-acre site with four speculative buildings offering 8,000 to 10,000 square feet.
The Entrepreneur Park is a monument of sorts to the determination and pluck of Telfair citizens who joined their Central Georgia economic development brethren in mourning – but not for long – when a steel wire manufacturer shut its doors in 2002, costing the region 800 jobs. The park and buildings were built with a rare $1 million appropriation from the legislature aimed at keeping the wire manufacturer in place. When the wire maker politely said the legislative largesse wasn't enough, Telfair economic developers put the money into the park by forming a joint development authority comprising Lumber City and the nearby town of Hazlehurst in Jeff Davis County.
"This park is unique in our area of the state," says Ryan Waldrep, president of the Telfair County Chamber of Commerce. "On the state scale, this might not be seen as huge or significant, but locally it will provide a good economic impact." The park is designed to attract the entrepreneur who's ready to move from a spare room at home into a more formal commercial site. "If they have been up and running at home for a few years, and now need more space to hire a couple of employees, then this is the ticket," Waldrep says.
The Development Authority of Jasper County (Monticello) noted the addition of more than 50 new jobs as part of the expansions of three industries. A Georgia-Pacific manufacturing facility is investing $2.5 million in plant improvements. Local polystyrene products manufacturer Permatherm, Inc., is adding 50,000 square feet to its plan, bringing in 19 new jobs. A 2006 development authority survey showed plans by 50 businesses to add 114 jobs over the next two years.
"Small business expansion is the best way to grow rural Georgia," says Tracy Trovillo, executive director of the development authority. "And we spend a great deal of energy and time in assisting with the preparation of business plans, linking businesses and entrepreneurs to resources like financing and marketing. And that is paying off in these expansions."
A significant development for the region begun just three years ago is fast accelerating, making Central Georgia a cutting edge leader in the production and use of biofuels. In what at first might have seemed a largely symbolic gesture, economic developers and elected officials turned out just before Christmas to cut the ribbon for the introduction of a new product at a gas station aside Perry's I-75 exit 135. The Shell station's E85 gas pump offered the first such fuel on the state's interstate system.
The event also marked a more public notice of a stretch of I-75 that is part of the Southeast Ethanol and Biodiesel Infrastructure Corridor Project, which seeks to put more and more of the alternative fuels in front of the Central Georgia motorists.
The Middle Georgia Clean Cities Coalition, a group of corporate and government leaders promoting biofuel production and use, championed the Shell station's ethanol pump and the corridor. The coalition was instrumental in helping Davis Oil Company, a Perry firm, secure $100,000 for the ethanol pump.
The Clean Cities group is part of a four-state initiative. "We have scored a lot of biofuel firsts in Middle Georgia," says Charise Stephens, executive director of the Middle Georgia Clean Cities Coalition. "Biofuels will boost economic development, particularly among farmers who can grow the feedstock for these biofuel production facilities. And those plants are providing well-paid jobs for our people."
Stephens points out that most biofuel consumption in Central Georgia has been by vehicle fleet owners like the city of Macon and Robins Air Force Base; but, she says, the public market is growing. She says there are 11,000 flex fuel vehicles – cars and trucks with the capacity to run on traditional gas and diesel as well as the new biofuels – registered in Bibb and Houston Counties alone.
Some of those well-paid biofuel jobs are springing up in nearby Wilkinson County. Just a week after the Perry ethanol ceremony, Farrah Senn was applauding the announcement of Alterra Bioenergy of Middle Georgia as her county's newest corporate citizen. Alterra is opening a biodiesel production facility in Gordon scheduled to be in operation by this summer, with a planned distribution center on the same site set to open by September.
The $1 million investment will start with 10 employees, a number that should double within the first year, says Senn, who heads the Development Authority of Wilkinson County. "The county, its citizens and government leaders recognized the need to diversify the economic base here," she says. "Biodiesel was a good fit here because it is ecologically friendly. And, too, biofuel sites need a lot of rail, which we have all throughout the county, where we don't have water and sewer all throughout the county."
Alterra plans to use soybeans grown in the Central Georgia region as the source of its fuel.
Dublin's Middle Georgia Biofuels is producing 2 million gallons of biodiesel annually; the region's market for such fuels will improve with the planned addition of ethanol and biodiesel pumps at several new gas stations scheduled to open this year.