The Gift That Keeps On Giving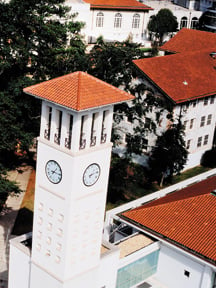 Atlanta's Emory University seems to keep making the same headlines over and over again: record setting gifts announced by the family foundation of Robert W. Woodruff, the late leader of the Coca-Cola Company.
It happened again last November. Emory announced it would receive one of the largest gifts in the history of higher education. This time it was $261.5 million from the Woodruff Foundation.
Ten years earlier, the foundation gave Emory an even bigger gift: $295 million.
And back in 1979, the brothers Robert and George Woodruff gave Emory a gift that now sounds relatively small, $105 million, but was in fact at the time the largest single donation ever to an institution of higher education. The New York Times stripped the news across the front page.
But the untold story, according to those closely involved with Emory since the 1970s, is the dramatic transformation that has taken place since that first record-setting Woodruff gift. And now, even with Atlanta and Georgia relatively unaware of the scope and caliber of Emory's work, another transformation is on the horizon with this new gift. It's expected to propel the institution into a renaissance of its medical services, the enactment of a new strategic plan for the entire institution and a capital campaign that will take Emory to the higher echelons of universities around the nation.
"We wouldn't be who we are without the Woodruffs," says Robert Paul, dean of Emory College and a professor there since 1977. Paul made what seemed at the time a potentially risky career move to Atlanta by way of Harvard, the University of Chicago, the City University of New York and Stanford. That was also the year that Emory's beloved former president James Laney arrived. Two years later came the announcement of the first record setting Woodruff grant, the $105 million one, still known on campus simply as "the gift."
"The gift," Paul says, "gave Emory the ambition to transform itself."
What makes that 1979 gift most remarkable now, Paul says, is how wisely and effectively Emory used it to create a rich endowment and build a critical mass of facilities and programs. "It couldn't help but have a positive effect, but it would have been possible for it not to have a transformational effect," he says.
Paul tells old friends and alumni who visit the campus to orient themselves by standing on the back steps of the administration building and facing the quadrangle of the old campus. "If you stand on the quad, it's still the same old Emory. Everywhere else, it's changed."
Yet he believes the transformation isn't well understood outside Emory's campus, either locally, regionally or nationally. "I think people still don't understand the range and quality of what's here," Paul says. "If you are an undergraduate coming to Emory, you can get as good an education as you could get anywhere."
On top of that, Emory offers nationally recognized graduate programs in arts and sciences, business, law, medicine, health sciences, public health, nursing and theology. Emory's northeast Atlanta campus also houses the national Centers for Disease Control, the Yerkes National Primate Research Center and Emory Healthcare, Georgia's largest and most comprehensive health-care system.
The dean believes Atlanta hasn't nearly taken full advantage of its status as a great university town, with Emory as well as Georgia State, Georgia Tech and the Atlanta University complex. Says Paul, "We don't have an adequate image of ourselves as an educational center."
That may be about to change.
The latest Woodruff bequest signals the dawn of a new era at Emory. Most of the money – $250 million – will be used to modernize and expand the outpatient care facilities of Emory's Woodruff Health Sciences Center. Another $9 million will be go toward renovating the Health Sciences Center administration building. But a part – a $12.5 million part – has been set aside in a Presidential Fund to advance Emory's new strategic plan. The plan was created three years ago as a collaborative effort among the faculty, staff and a new administration that began with the hiring of current president James Wagner.
"There is a sense of excitement and energy that is contagious," Paul says. "The strategic plan, with the faculty buying in, is going to take Emory to a new level of being an even better version of itself."
Good Stewardship
Indeed, President Wagner reads from the plan with the exacting reverence of a Sunday school teacher quoting the good book. The plan's executive summary is nine pages long. It boils down to five strategic themes, each with three or more university-wide initiatives.
Those themes are: strengthening faculty distinction, preparing engaged scholars, creating community-engaging society, confronting the human condition and human experience and exploring new frontiers in science and technology. The plan is the result of an intense 18-month long inquiry and seeks to lay out a blueprint for Emory's growth and development over the next decade.
"Our silos can only go so high, but if we build bridges, our silos can get higher and higher," Wagner says. Indeed, one of his most favored goals is the development of interdisciplinary partnerships inside and outside the university. Some of Emory's "bridge" programs have combined learning between different schools, such as medicine and law or even literature, nursing and religion, theology and law.
"Partnership goes beyond academic," Wagner says. "Emory is trying to be a good neighbor." That includes everything from supporting the work of the neighboring Centers for Disease Control by developing new drugs to fight worldwide diseases such as AIDS, to reducing traffic around the extremely congested area near campus.
Wagner cites an initiative to stop subsidizing parking and start encouraging walking, shuttle buses and even "flex cars" – one-hour rentals that allow employees to leave their cars at home. Beyond that, Wagner has led the faculty in a trend toward gas-saving hybrids. The Emory faculty and staff parking lot is one of the few places in Atlanta where Toyota's Prius and Camry hybrid models seem to outnumber SUVs.
Wagner puts this in the category of good stewardship, a term he also uses for the management of the phenomenal gifts Emory has received from the Woodruffs and other family foundations. And he says the university is in the silent phase of another capital campaign that he hopes will take Emory to the next level of excellence and national recognition.
He says Emory's research shows low name recognition in the middle American states where he's sure many students would be interested in Emory if they knew about it. "We are intentional about raising our visibility."
One effort that's sure to help make the school more accessible is Emory Advantage, a program of financial aid initiatives designed to help lower and middle income students and families reduce debt incurred during undergraduate years. It, along with two additional scholarship initiatives also rolled out in January, will be funded by the strategic plan – for the first five years – to the tune or $7 million per year.
Vocabulary Of Values
Wagner also repeats a mantra for Emory he says was best articulated by former president Laney: Emory aspires to be good and great. "This is a place that has long had an easy facility with the vocabulary of values, and that is unusual for a research university."
At the core of Emory's transformation, its character remains true to its Methodist heritage. "Most of us are not Methodist, but something stuck," Paul says. "Learning should be in the service of something greater than itself, not just how am I going to get rich."
Frances Smith Foster, English Department chair, has a favorite answer for parents who worry about their children choosing to major in English instead of a field they perceive to be more lucrative. "I often ask the parents exactly how much money does Suzie need to make before she will be assured of being happy every after?" she says. "They usually laugh. One was a minister. I told him I'm sure his parents were thrilled with his career choice."
Foster says it was the unique values of the students that allowed Emory to recruit her from a position where she was content at the University of California in San Diego. "I was absolutely smitten with the students," she says. "And I had no idea I would have so many interesting colleagues."
One of those colleagues is now Salman Rushdie, author of The Satanic Verses, and one of the world's most celebrated writers, who recently announced he will join the faculty as distinguished writer in residence and place his archive at Emory's Woodruff Library. Another is His Holiness the XIV Dalai Lama who was named Presidential Distinguished Professor in February. Also on that list: former president Jimmy Carter and the staff of the Carter Center, which works in partnership with Emory.
There are also internationally recognized doctors and researchers in the School of Medicine and the School of Public Health, which works in partnership with the federally funded Centers for Disease Control.
"It's a unique thing to have the CDC on your campus," says Jim Curran, dean of the Rollins School of Public Health and a professor. "We speak of Atlanta as being the public health capital of the world."
Michael Johns, CEO of the Robert W. Woodruff Health Sciences Center – which includes the schools of medicine, nursing and public health as well as Emory Healthcare's hospitals and clinics and the Yerkes National Primate Research Center – likes to describe Emory as being "on the penetrating point of the cutting edge." He says Emory in the coming decade will be developing a "whole new paradigm for health and healing."
Johns and Wagner are both particularly enthused about Emory's geriatric research, which they say will help the country distinguish the difference between simply existing for longer and actually living.
"I want to live well and long and die quickly," Johns says. "Do you want a long drawn-out death? I don't."
These days Johns is handing out pedometers to employees and visitors alike and preaching the virtues of careful diet and daily exercise. He seems joyfully in step with the pace of progress at Emory. "A lot of people don't like change," he says. "I like things to change all the time."
And change they will at Emory in the near future with the Woodruff gift that will build new, state-of-the art facilities for the hospital. Johns says the new buildings will feature not only the latest and best medical equipment but even state-of-the art architectural design. For example, he says, recent research shows surgery patients recover more quickly if they are exposed to sunlight. Thus, new recovery rooms will feature large, sun-filled windows.
The Medical Side
Johns, a former cancer surgeon and dean of Johns Hopkins Medical School in Baltimore, says Emory is now his operating room. "You have to solve problems in the context of the community you're in."
Johns' "community" – the medical side of Emory – is about as complex, sophisticated and large as any imaginable. The medical complex makes up more than half of Emory's $2.5 billion annual budget, notes Mike Mandl, executive vice president of finance and administration. The other half goes to education and research at the university and all its related schools and programs. Of Emory's 22,000 employees, about half are in health care and half on the academic side.
Emory overall has been growing at an annual rate of about 10 percent during the past five years, Mandl says. But research funding has been growing at a rate of about 15 percent. Emory's endowment has grown to $4.6 billion, thanks largely to "the gift" announced in 1979.
This newest Woodruff gift will not go into the endowment, but mainly into new buildings for the Emory Clinic complex across Clifton Road from the present Emory Hospital on land currently occupied by the Emory Clinic. Plans call for a combination of patient, research and office space designed to integrate research and clinical care in an "ideal patient experience," from parking, arrival and check-in to examination, treatment and discharge.
Emory is also in the "silent phase" of a new capital campaign that leaders hope will raise $2 billion to invest in new academic programs and campus improvements, including a health-care system intended to serve as a model for the 21st century. The investment will follow the strategic plan, which is titled, "Where Courageous Inquiry Leads."
Emory also plans to partner with other groups to support neighborhood improvements around its campus, including a mixed-use residential and retail development near the CDC.
"I spend more of my time on what the money can do – education, research and patient care," Mandl says. "I think Emory's presence has been somewhat understated in Atlanta. It's the equivalent of the University of Pennsylvania in Philadelphia. It's what Harvard is to Boston and Northwestern is to Chicago. Emory is that to Atlanta. This is the only top city in America with only one academic medical center."
But if Emory's story is understated, it probably won't be for long. Since the latest Woodruff gift, Mandl and others involved with the university foresee another major transformation – and they plan to keep telling their story.