Trendsetter Suwanee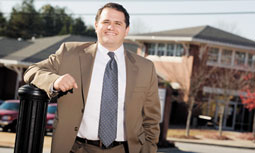 A mayor with a passion for keeping his city's small town atmosphere intact and a city manager gifted with the art of gentle persuasion have combined to give tiny Suwanee (pop. 14,500) a network of parks and greenspaces that many larger cities might envy.
In fact, Suwanee is now able to boast of acquiring more greenspace in the past five years than any other town in Gwinnett County, the second fastest growing county in the state.
"In some cases we were competing with folks like Target, CVS and Walgreen," says Suwanee city manager Hardin Watkins. "It was not like we were competing to buy land in the middle of nowhere."
Competition for the land came with Suwanee's north Metro Atlanta location, along with the double-digit growth of the past decade that swelled the city's population and caught the eye of national retailers.
Getting more parks and greenspace came as a mandate from Suwanee's citizens, who spoke up at town meetings and turned out in record numbers in 2001 to vote for doubling their taxes to make the real estate purchases. Still, the land had to be strategically located for the purpose it had to serve; this in a roaring property market that saw retailers and developers gobbling up acreage.
That's when Watkins began making the rounds to visit the people who owned the most desirable real estate. "I tried to appeal to their civic mindedness," he says. "A couple of our crown jewel parcels were held by people who had been in the community a long, long time. We presented our plans to them."
Two property owners were offered life estates, meaning they could receive money for their tracts and remain in their homes for as long as they lived. One of those parcels already has a "super playground" on it, an idea the life estate owners approved of. A driveway had to be rerouted to make that work. "We purchased land from willing sellers, six of them," Watkins says.
Suwanee got its parks and recreation land; since 2002, some 230 acres have been added to the city's real estate portfolio, purchased with part of the 2001 voter approved $17.7 million bond referendum. Within a nine-month period from 2003-04, the city cut the ribbon on four new parks, giving 16 acres of parks and open spaces for every 1,000 citizens and raising the question: Where does Suwanee's passion for parks come from? Two sources, say the city manager and the mayor.
"As more folks move here from different places, they have expectations for what a community should be," Watkins says. "And we ask them what were the best things about the community they came from."
What they want, Watkins says, is a sense of community, a place with a vibrant downtown and parks for their children and themselves, which dovetails nicely with the vision of Mayor Nick Masino, who once was one of those new arrivals in Suwanee.
"I always felt we were well served by Gwinnett County, as regards football and soccer fields," says Masino, who was first elected seven years ago when he was 28. "What we were missing were the community gathering places, the walks in the park, the greenspaces. What I saw was that if we didn't do anything about it, we wouldn't have an outdoors left because it would all be paved over."
Masino took a leadership role in the land acquisition blitz, a public policy move he says was dictated by voters. "The people on my city council are all college-degreed or higher," he says. "And we all either own a business or work in corporate America. We see our citizenry as customers. We've been unopposed through three election cycles during which time taxes were increased by 140 percent; and the citizens are not asleep, they're engaged."
For Masino, a fast talker with a cheerleader's enthusiasm, parks and recreation form the centerpiece of a vision he held as a lad. "I lived in seven states by the seventh grade," he says. "I was a corporate brat. I never got to have what I wanted my kids to have, which was to stay in one place, have a great community and know everybody in town."
Masino freely admits his love for the small town life. "Call me the mayor of Mayberry and you've given me a compliment," he says. "Who doesn't want to live in Mayberry?"