Trendsetter Roswell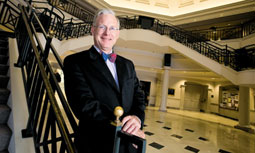 With laws on the books protecting the local tree canopy dating back to 1878, the city of Roswell in North Fulton County is on record as having a long history of considering the environmental impact of population growth.
However, the modern demands of delivering infrastructure and city services to a continuously expanding population go far beyond providing sidewalk strollers with a little shade. And when the city had to close down its water treatment plant for a few days in the mid-1990s because of a drought-induced diminishing supply of surface water, Roswell faced the real possibility of closing down its growth.
In banking terms, Roswell's drinking water account was overdrawn. Instead of just praying for rain, local leaders went to the drawing boards with a view toward finding a way to keep their underground water – a valuable ultimate drinking water source – constantly replenished. The final product of five years of planning was the Big Creek Wetlands Enhancement Project.
Opened for business in the fall of 2005, the Big Creek Project has burdened itself with the promise of managing storm water flow and recharging ground water sources to meet the demands of future growth, as well as adding to the city's wetlands acreage. In the end, the Big Creek Project has become a city park with walking trails surrounded by natural beauty. It also serves as an outdoor classroom for the environmental education of pupils at a nearby elementary school. Despite its somewhat hard-to-access location, Big Creek was an immediate hit with hikers and nature lovers, as well as birds and other critters.
"You kind of had to know the lay of the land to get to the site in the beginning," says Roswell Mayor Jere Wood. "But people still came. There are several levels here. It's a beautiful park, but it's also an engineered storm water drainage facility that has improved water quality, improved the flow of water and preserved the environment as it provides a beautiful park and a beautiful place to walk."
Because Big Creek is the source of 20 percent of Roswell's drinking water, there was another consideration. "How do we sustain the flow of a creek over time?" Wood asks, "And the answer is by enhancing these wetlands and recharge areas."
The Big Creek Project channels storm water into a system of collection areas – ponds and wetlands – where it's diffused into the water table through natural layers of grass and rock. Some of the water is carried by underground infiltration trenches where it, too, is returned to the water table, a process that engineers say is the most innovative method of using technology to assist Mother Nature in completing her eons-old cycle.
"Most places just use a straight pipe out [to control storm water]," says engineer Kim Shorter, the city's water resources manager and the project manager for Big Creek. "It doesn't go into the ground."
And getting it into the ground through layers of grass and stone is of paramount importance to Shorter. "Once there," she says, "essentially the water goes into the bank where it is stored for later use. Groundwater feeds streams and when dry [conditions] occur more ground water is sucked out of the ground to feed the streams."
Common practice had storm water discharged into streams, Shorter says, where it was carried away from communities. "If we can store it, we can use it later when base flows are low and extra water is needed," she says.
While the engineering portion of the Big Creek Project was guided by Roswell's Public Works Department, the city's Recreation and Parks Department played a critical role in achieving the park-like appearance of the final product. Even the local school system reaped benefits when 65,000 cubic yards of excavated soil was donated to a nearby elementary school for use on a new soccer field.
The Big Creek Project was funded with $3.2 million from the Environmental Protection Agency for planning and construction, while Roswell's government provided land worth an estimated $7 million. The effort may be seen as a local asset but its impact is reaching far beyond the city limits.
"Funding is in place and the engineering nearing completion to connect the park with the Alpharetta Greenway and the Roswell Riverwalk to become a regional trail system," Wood says. "That will probably open in the fall of '07. This is a storm water project that is not just culverts and ditches; it's ponds and wetlands." Just like Mother Nature intended.