Trendsetter Augusta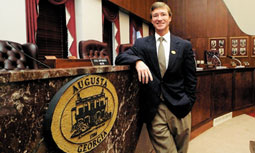 They're playing pinochle again at Augusta's Eastview Recreation Center. It's unlikely that a renewed interest in that complicated card game is going to be fodder for headlines in local papers, but to some it signals success in a program designed to offset budget cuts in the city's recreation and parks department intended to keep several recreation centers open.
"The Eastview Center's pinochle has been reborn just like the center in which it is played," says Tom Beck, director of Augusta's Recreation & Parks (R&P) department. In fact, five recreation centers in the city have been revived after a period of decline in the wake of budget reductions in the late 1990s, thanks to the almost complete elimination of a major expense: labor.
Following the last decade's budget cuts, Augustans saw many recreation centers fall into a state of disuse and disrepair. Broken windows, peeling paint and vandalism were unwelcome signs that worse was yet to come. To bring the centers back to life, Augustans looked for new ways to find the funds to keep the doors open – and people walking through them.
Finally, community leaders hit on the idea of letting the rec centers' neighbors take charge. The result was an agreement approved by the Augusta City Commission to allow neighborhood associations to take responsibility for staffing the centers.
"Initially the arrangement was born in response to budget cutbacks," Beck says. "Since then we have created five of these partnerships, and three have been created due to the success of the program."
Under the Partnering for Parks and Recreations Operations program (PPRO), neighborhood associations sign one-year contracts for the management of the recreation centers; these are reviewed annually by the city commission. The R&P department provides maintenance and utilities and makes repairs, along with supplying administrative assistance. The neighborhood PPRO groups agree to provide staffing and some resources needed for onsite programs.
"The contract is a big commitment for the associations to assemble a group of volunteers to make this happen," Beck says. "Sometimes you have the initial enthusiasm, and then when it gets to be crunch time you look around and there's only one or two people standing."
But any such misgivings have been allayed by the enthusiastic response in the neighborhoods where the rec centers are located. "In fact, it has only created more enthusiasm," Beck says. "Eyesores are turning into community centers."
The five associations have combined to serve 685,000 users each year, while saving the city some $200,000 annually. Once candidates for graffiti, the recreation center buildings are being used for summer day camps, after-school study groups, fitness and nutrition classes, wedding receptions and family reunions.
And the grounds around the buildings are coming alive with neighborhood cookouts and sports and recreation events. Buildings are being rented out for company gatherings and workshops, helping the neighborhood associations generate badly needed cash.
"It creates so much pride in the neighborhood," Beck says. "Citizens are feeling more involved in their neighborhoods and more a part of their government."
For a budget-watching city executive, the PPRO associations are like windfalls. "It increases our local service to meet a specific need in a specific community," says city administrator Fred Russell. "And people see what government can do, as well as what they can do to help themselves. The bottom line is that it saves money, and the bottom line is what I have to look at."
Local officials see increased traffic at the centers as an aid to reducing personal, property and petty crimes. "Ownership is a wonderful thing," Russell says. "And a good way to expand the use of my dollars."
Augusta mayor Deke Copenhaver brings a personal interest to the neighborhood association management of the rec centers, having served the four years prior to his election as executive director of the Central Savannah River Land Trust.
"We operated a public/private partnership for the city, running the greenspace program," Copenhaver says. "I've seen the benefits of public/private partnerships up close and I know how effective they can be; and that has me very excited. The programs are staffed with people who live in the neighborhoods and know the needs of the neighborhoods and can easily address them, in a lot of cases better than we can. And the partners offer a lot more flexibility than we can in most cases."
The success of the five PPRO recreation centers has lent momentum to the public/private movement, the mayor says. "We've got some other rec centers that we're looking at and we have some other entities that want to partner with the city. A successful program like this tends to grow in a hurry once people see what can be done for a neighborhood. I expect us to establish many more partnerships with nonprofits."