A Steady Turnaround: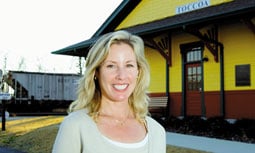 When Billy Morse, now Toccoa's city manager, moved to the Northeast Georgia mountain town to take his first job there in 1983, he was fresh from earning a public administration degree at Georgia State University in his native Atlanta.
Toccoa was fresh from a string of successes of its own that made it a center for industry and commerce nestled in the southern end of the Appalachian Mountains.
"When I first came to town this community was riding a wave of success. They had just renovated the downtown and brought in several large industries," Morse recalls. "Then the economy took a downturn."
First to go were the big furniture manufacturing operations, which had closed up by the late 1980s. Then went the textile manufacturers, leaving abandoned buildings and taking jobs overseas, repeating a story played out in towns across America.
"We lost 2,000 jobs in the last few years," Morse says. "In the past, we had several large industries. When those industries closed, it created such a void in our community."
Today, Toccoa has a new strategy, new plans, some new employers, a lot of new people and the beginnings of a new look. "Our goal now is smaller industry that we can diversify," Morse says. "Now, we're slowly working our way back up."
Driving Toccoa's steady turnaround is an economic developer named Mitch Griggs who was hired in 2005 to run the Stephens County Development Authority.
"He is doing an absolutely fantastic job making the contacts and bringing the people here. You have to have the contacts, and Mitch has those contacts," says Bob Troup, a city commissioner, real estate agent and former downtown merchant who just completed a term as mayor. "The big employers are probably not going to come to Toccoa. What we are looking for is the mid-sized businesses. If you lose one, you haven't lost everything."
The Coats & Clark plant alone took out 1,200 jobs when it closed two years ago. "We've had a tough go of it for several years," Griggs says. But, he adds, "We've been fortunate in the past year."
In that timespan, Toccoa and Stephens County have managed to recruit a string of smaller operations offering 25 to 50 jobs, Griggs says. One, Global Products, added 100 new jobs by taking over an empty building. Another 75 jobs came in with Axis Products, a metal fabricator. A company called Scrap Masters created 25 new jobs in an operation that turns plastic waste products into usable material. Concept Plastics added 25 jobs in molding manufacturing. Trachte added 25 jobs constructing industrial steel shelters.
In addition, 115 manufacturing jobs have been added by existing industries. "That would have made headlines if it had been a single industry. As it was, it quietly went under the radar," Griggs says. Yet, he adds, most new job creation will be within existing industries.
With a staff of only two, the development authority has been able to turn things around on the strength of volunteer labor, Griggs says. The authority's board has formed a series of committees with businesspeople donating their time and effort.
Those efforts have been assisted by the new Currahee Campus of North Georgia Technical College, which opened about the same time Griggs came to town – summer 2005. Through the state's Quick Start program, the Currahee campus provided free training to two of those new employers.
"One thing we're really pushing is the thought of taking the creativity that we already have and turning it into something that benefits people in their lives," says North Georgia Technical College President Ruth Nichols. "We probably won't land many 2,000 worker plants. A lot of our potential is people opening their own businesses. People can profit from their skills. Yet it's not that easy to open a business. It's different from mastering a skill. We really try to promote entrepreneurship. After all, poultry was once a small business."
Local Entrepreneurs
Toccoa is home to a textbook example of this creative local entrepreneurship. Combat Training Solutions started out as a paintball game center then discovered ways to create non-lethal teaching devices for military operations. "It was a local entrepreneur with a heck of an idea," Griggs says, adding he expects to see rapid growth from the 10 jobs the company started with last year.
"All in all, we're trying to meet the needs of the community, keeping kids in school and teaching them the proper work ethics to get a keep a good job," Nichols says. "The area is rich in agriculture, tourism and industry. We're trying to emphasize value. We lost a lot of textile. But what we have that's valuable is the natural resources, and they are not going to go anywhere."
Indeed, Toccoa has such an abundant water supply that it has begun marketing services to adjoining counties. It already sells its natural gas to other counties through a 100-mile pipeline that runs to Franklin, NC. Toccoa Natural Gas has some 8,000 customers, says Marie Morse, marketing manger.
But other natural resources are just as important as abundant water and gas, and those include natural beauty and quality of life. "You can have everything you want here – plus serenity," she says. "A lot of people are deciding they really don't want to raise a family in Atlanta or Greenville."
One recent newcomer who decided to exchange the traffic and congestion of big city life for the charms of a small town is the newly hired president of the Toccoa-Stephens County Chamber of Commerce, Wendi Bailey. "I'd had enough of the traffic," Bailey says. She and her husband decided to move fulltime to their second home on Lake Hartwell in Stephens County. "We have a lot going on here," she says. "We love it."
After a number of years without major new housing developments, the area now has two under way. One is the upscale Currahee Club, with high-end homes, a golf course and a marina. The other is to be a 300-home development near the city on land now owned by Toccoa Falls College. Both are creating buzz around town.
The development by the college will be managed by a foundation but will be marketed to the general public, says Wayne Gardner, president of Toccoa Falls College, a Christian school celebrating its 100th anniversary this year.
The college itself is an important force in the community. Just down the street from the city center, this 1,000-acre campus is home to nearly 1,000 students pursuing 27 different major fields of study. A recent study by a Kennesaw State University professor shows that Toccoa Falls College has a $24 million economic impact on the city. The school operates two radio stations and employs 130 faculty and staff. "The college and the city are great partners in developing our resources," Gardner says.
The college hosts community events and is open to visitors, many of whom come to see the stunning waterfall for which the school is named.
Adding Retail
On cue, as housing development starts to take off, Home Depot has announced plans to open a new store just east of Toccoa in the retail area where a Wal-Mart Supercenter opened last year.
But retail development isn't all that's taking off – and landing – in Toccoa.
"We have an extremely nice airport, and we've just extended the runway to 5,000 feet," Morse says.
"We extended it so jets can land," says Troup, the former mayor. "They were landing before, but if they didn't have good brakes, they might run off the end of the runway."
This steady traffic of jets to Toccoa-Stephens County Airport is driven by the corporate residents of the nearby industrial park, but also by the stream of second home residents in the surrounding mountains.
"We have a lot of people that live in Highlands," Troup says. "Getting into that airport there is difficult at best. They fly to Toccoa, keep a car here and drive to Highlands." Plans are under way for adding hangars, a new terminal building and possibly, eventually, some commercial flights.
Like the two colleges, the airport is a boon to attracting new industry and new residents, officials say. Another important asset is Stephens County Hospital, which appears to be growing and thriving and bucking the trend of difficulties encountered by other county hospitals, Griggs says. In the area around the hospital, a community of doctors, clinics and services has grown up. The hospital just opened a new women's center devoted to mothers and newborns.
The hospital also runs a nursing home. In addition, this year a new assisted living facility and a senior apartment project are under way in the area, Griggs says.
With all the new developments taking root, none seems to be more talked about than a planned renovation of downtown Toccoa. With a total of $1.4 million gathered through state and local sources, the city plans to revamp four blocks downtown by adding new sidewalks, pavers, streetscape improvements, lamps and benches. But what makes this project different from those undertaken by other cities is the demolition that has to be done first.
That would be the demolition of concrete canopies the city installed during the 1970s to compete with newly emerging shopping malls. Considered an innovation at the time, the downtown mall won awards when it was new. Now, everyone seems to agree that rather than attracting customers, the decaying covers limit accessibility, sunlight and attractiveness. So, work has begun to take them down and reopen the streets to foot and automobile traffic.
"The canopies destroyed the historic integrity of the downtown," Griggs says. "They did away with the reason why people go to downtowns – historic features and a boutique experience."
Griggs believes the newly renovated downtown and a growing retail shopping district to the east can actually complement one another rather than detracting from each other.
The planned downtown renovation will provide a fresh canvas for Toccoa's two signature street events: the Harvest Festival in the fall and Taste of Toccoa in the spring.
Taste of Toccoa draws some 8,000 people to sample foods from local restaurants, says Connie Tabor, planning and downtown development director. The Harvest Festival attracts about 15,000 people over two days and offers arts and craft items from as many as 200 vendors.
"We try to make it an event that showcases who we are and what we're known for," Tabor says. That may include pottery, furniture, craft items and woodwork.
More than that, she says, "It's a good place to raise a family." A Toccoa native, she moved away to the Atlanta area and then returned with her own family. She says she and her husband work in offices near each other downtown and can both be home in five minutes. "You can go just a couple of miles from our downtown and be in secluded wooded areas," she says. "We've got so much scenic natural beauty all around us. And we've still got that Mayberry look."
The city also recently renovated its historic railroad depot, which now houses a visitors' center and chamber offices as well as a military museum – plus a working stop for Amtrak's Crescent route to Washington and New Orleans.
"We've got a lot going on," Tabor says. "Toccoa is on its way back to the forefront again."
Read More About Toccoa-Stephens County:
Toccoa-Stephens County At-A-Glance