A Way Out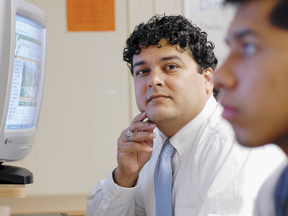 It was a hot October day, and for those taking a 10-minute walk across the campus of Abraham Baldwin Agricultural College (ABAC), a sweaty one, making the shade under a gazebo in front of the college's new apartment complex a welcoming site.
Javier Gonzalez, a college program director, was already there, looking crisp and unruffled in a pressed white shirt with a neatly knotted tie. When a sudden and cooling breeze swept under the gazebo, Gonzalez raised his head slightly, like an animal searching the wind for a scent. He was, he later admitted, remembering a time when such a shade and such a breeze would have seemed gifts from heaven. "There is no shade in the fields," Gonzalez says. "And the only relief you can get in the middle of a row is such a wind, and that is something to savor."
Today, simple pleasures have profound meanings for Gonzalez, whose childhood and teen years were spent as a migrant worker. The hot sun and still air were powerful motivators for a child of the migrant life.
"I went into the fields when I was 8," Gonzalez says. "And when I was working the fields I always knew there was something better and that education was the key to finding it," he says. "When I saw the opportunity to do something about it, I took it."
Gonzalez, a ninth-grade dropout, gladly took the help and encouragement from teachers and social workers to find his way out of the fields into school and a GED certificate on his way to a bachelor of arts degree from Georgia Southern University. Gonzalez works now in an air conditioned office as the director of two programs that seek to set child migrant laborers and the children of migrant families on an educational path that will take them from the fields to a better life.
The federally funded efforts ($750,000 combined in 2006), called the High School Equivalency Program (HEP) and the College Assistance Migrant Program (CAMP), have benefited some 400 young people from migrant families over the last five years; many of them attended ABAC.
While HEP, CAMP and ABAC success stories are plentiful, the fields are becoming crowded with recruiters for similar programs. "The competition for landing Hispanic students from migrant families is fierce," Gonzalez says. "The brightest students are recruited by larger colleges. We take students that have the potential but need the extra support. The goal is to get them out of the fields, educate them, and in the end give them opportunities they otherwise could have never dreamed of. Another goal is to inculcate them with the American culture."