Neely Young: Of Walls and Legacies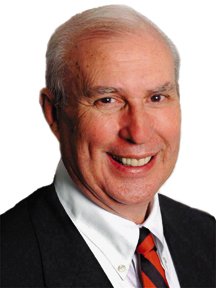 Robert Frost wrote, "Something there is that doesn't love a wall." This is from his famous poem "Mending Wall," which examines the barriers people build between themselves and others.
A governor might say, "Something there is that doesn't love a legacy." To establish his legacy, Gov. Sonny Perdue established the Commission for a New Georgia with the goal of making Georgia the best-run state in the nation. The commission, headed by Lonice Barrett, is made up of some 100 volunteer professionals from the business community, including newspaper executive Dink Nesmith and co-chairs Waffle House owner Joe Rogers, Jr. and Macon businessman Bob Hatcher.
According to Governing magazine, Georgia has always been a well run state. In 1995 the publication's annual "Grading the States" report card, gave Georgia a B, noting how well we manage employee performance. By comparison, Virginia received an A-minus for excelling in long term planning while Alabama received a C-minus for being weak in almost every category judged.
Perdue's goal for the Commission for a New Georgia is to bring our state to a grade of A-plus in all categories. Here's a rundown of progress to date.
Brad Douglas leads the state's Department of Administrative Services, which handles purchasing and negotiation of contracts for services. His division has teamed up with consulting partner A.T. Kearney to award or renegotiate contracts for software, computers, industrial paint and gases, office and educational furniture, temporary IT labor and express mail delivery services. Douglas estimates savings to the state of $48 million between now and the end of 2009. Additional programs and waves of strategic efforts will allow the state to reach its goal of $135 million in savings by 2009.
Gena Abraham, Georgia's property czar, has implemented a new state construction manual by creating an online inventory of the state's 19,040 buildings called the BLLIP (Building, Land, and Lease Inventory of Property); this has never been done before. Her division has generated an additional $20 million through the sale of surplus property and also created the One Stop Shop, a collaborative effort among several agencies that will generate a total savings of $8.4 million through the year 2012.
Joe Doyle, director of customer service and administrator for the Office of Consumer Affairs, has implemented a program to make doing business with Georgia faster, easier and friendlier. Until now, customer service has been one of our state's weak points. Georgia is the only state in the nation to have this customer service initiative, Doyle says.
The governor's selection of former bankers Jim Lentz as chief operating officer and Tommy Hills as chief financial officer for the state has paid big dividends. They are responsible for the daily operation of all state agencies – and they leave politics out of it. Their goal is to run the state as a business. Political favors are not a part of hiring, and they make sure the state is color blind as far as who is allowed to do business with our government.
When these two men first came to the state they found a bureaucracy operation with separate components that didn't communicate with one another. Now all departments hold joint meetings with Lentz and Hills. These work sessions have brought about a cultural shift in government that will pay big dividends in the future.
Volunteers from the business community who helped with this effort include Carl Swearingen, Jim Copeland, Jim Balloun, Jim Carson and Larry Gellerstedt.
But all this won't make headlines because of Gov. Perdue's inability to get his story out to the general public. He and his staff have a contentious relationship with Georgia's fourth estate that includes a running feud with The Atlanta Journal-Constitution. This feud carries over to other state newspapers and other media outlets. This is sad, because most of these outlets – including daily and weekly newspapers outside Atlanta – would be all for him and his efforts to improve government.
As a result of the wall Perdue has built between himself and the media, very few members of the public will hear of the marvelous culture change in state government. In the future, this is a wall Perdue could easily breach – to his benefit.
Saving tax dollars and presiding over the best run state in the country bode well for any governor. Robert Frost would be proud.
Neely Young is editor in chief and publisher of Georgia Trend. Contact him via e-mail at publisher@georgiatrend.com.