Georgia's Ports: Safe Harbor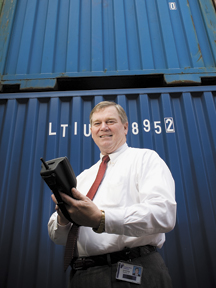 In recent months, the U.S. Congress and therefore the news have focused on seaports in a couple of instances – the passage of a tougher port security bill in September and, earlier in the year, an outcry over a United Arab Emirates-based maritime company's involvement in port management. Less well-known are the dramatic changes that have been taking place in ports across the country – and particularly in Georgia – since the terrorist attacks of 9-11.
Five years after the horrors of 9-11, while the news continues to focus on stepped up airport security, Homeland Security alert levels and efforts to thwart terrorist activities around the world, possibly nothing in American society has changed more than its seaports. They've gone from relative wide open marketplaces to fenced fortresses with cutting-edge sophisticated surveillance technology. With little fanfare, many ports – certainly Georgia's – have been quietly putting in fencing, lighting, motion detectors, biometric card readers and radiation sensors.
The Port of Savannah has doubled its operating budget for security, added 55 percent more personnel, begun access controls and credentialing and installed new equipment, says Doug Marchand, executive director of the Georgia Ports Authority.
These changes are important enough for Marchand to include them in his annual "state of the port" address before about 600 port businesspeople, public officials and "captains of industry" at Savannah's International Trade Center.
"We were ahead of the curve as ports go before 9-11," Marchand says. "We already had our own police. But we doubled our efforts immediately after 9-11. We did a security threat review to see where we should button up and where we should spend the money."
The resulting changes have actually enhanced operational efficiency as much as security, port officials say. For example, the Georgia ports are adding optical character recognition (OCR), radio frequency identification tags and digital global positioning system technology to track the exact location of every item that comes onto the port. This will make the port's business more efficient and secure by allowing the shipping lines as well as the U.S. Customs Service and Coast Guard to know exactly what cargo is there and exactly where it is.
Now, the port keeps track of the 30,000 containers that come through each year by having workers punch locations into hand-held computers. There's a delay of only 30 to 40 seconds from movement to entry, but always the chance for error. "We're going to have it automated. We're going to take the people out of it," says Tom Armstrong, director of strategic development and information technology for the Georgia Ports Authority.
The new program is called ATAMS – automated terminal asset management system. "It was born of operational needs, but the more we got into it, the more we realized it would benefit security. The Customs and Border Patrol police will be linked into it. They can identify the boxes."
Federal authorities have dramatically stepped up their screening of the containers. Customs has X-ray machines that can penetrate 14 inches of steel. They've increased from 2 percent to 15 percent the number of containers they actually inspect, Armstrong says.
"There have been things found," Armstrong says. "It's usually not something that could be used to blow up anything. It's mostly drugs."
The ports have taken heat over the still relatively small percentage of containers that are searched. But the figure is misleading, Marchand says.
The 24-Hour Rule
"The best thing U.S. Customs is doing is enforcing the 24-hour rule in 22 foreign load ports," he explains.
That means the customs service inspects every container within the 24-hour period prior to the ship's departure from any of those foreign ports. And he says 90 percent of the cargo coming into Savannah sails from those major ports.
Stopping potentially dangerous cargo before it leaves foreign ports is far better than trying to find it once it lands in U.S. ports, Marchand says. "You want it never to have made that ship," he says. "The thing that gives me the greatest comfort is not that 15 percent of containers are inspected here, but that 90 percent are inspected before they ever leave the foreign ports."
In addition, Customs or the Coast Guard inspects nearly every container on ships coming from certain countries on a high-risk list. "There are priority countries. I can't go into them," says Charlie Johnson, a port security specialist with the U.S. Coast Guard Marine Safety Unit in Savannah. "There are a lot of things we can't talk about because that tells people how to get around them."
Another change as a result of 9-11 is that the Coast Guard now requires a complete manifest within 96 hours of the arrival of any ship in a U.S. port. "This includes passengers, cargo, crew members – screened against a terrorist watch list to make sure we know what is coming in and who is coming with it," Johnson says. "Every vessel is also required to have a security plan on board so they know what to do in case of a threat."
Johnson says security at the Georgia ports and others around the country has changed dramatically since 9-11. "We're a much more secure nation now, and our ports are much more secure. And we plan to keep improving."
Security at the Port of Savannah, Johnson notes, includes far more than just the Georgia Ports Authority's two facilities there, Ocean Terminal and Garden City Terminal. A total of 18 other entities operate on the Savannah waterfront, from petroleum operations to Georgia Power. The Coast Guard works to secure them all, plus the two terminals in Brunswick. All these facilities are behind high fences with secured gates. They are no longer open marketplaces.
"You can't just walk in there," Johnson says. "Or, if you can, I'd like to know about it."
Although the congressional legislation passed this year requires all ports to have identification tags, the Georgia ports have had ID tags for two years now. Starting this year, when the cards are presented to security guards, they are put through a reader that immediately records into a computer system who the person is and where he or she is. These new ID cards Congress has mandated – transportation worker identity credentials or TWIC – will require background checks and screening against terrorist watch lists and will authorize entry to any U.S. port.
Despite all the talk and fascination with what is inside the thousands of multicolored containers that move through the ports – there are 30 million of them in the world holding anything and everything – cargo does not represent the biggest security threat. People do.
Armstrong says the toughest security challenge is controlling who comes and goes. "We have a population of 5,000 people at any given time working on the terminal," he notes. "We have 2,000 truck drivers in and out all day long. Congress has mandated you will know who is on your facility. Sometimes we have to tell people, 'Sorry, you don't have a need to be here.' It's just not as open as it used to be."
Port police check IDs of everyone who enters any gate. A visitor cannot enter even in the company of an identified employee without showing a driver's license or other picture ID. "Doug and I rode through the terminal together yesterday, and we were stopped twice," Armstrong says. "They know us. They see us every day. And they still check our IDs."
Footing The Bill
All this heightened scrutiny adds up to a huge bill – so large it's hard to quantify. "Security is expensive. That's something the whole country is struggling with. How do we pay for it and still remain competitive," Armstrong says.
"That's money you never get back," Marchand says of the cost of improved security.
The Georgia ports are applying for federal grants to fund security improvements. Georgia Senators Johnny Isakson and Saxby Chambliss successfully amended the port security bill to add $10 million in 2007 and $5 million annually through 2012 to fund law enforcement training through the Rural Policing Institute.
Isakson released a statement calling the bill "a critical tool in the fight against terror" and saying, "Securing our nation's ports is a vital part of protecting our nation from those who would harm us."
As soon as the bill passed, however, Congress began drawing fire for failing to fully fund it. "In one breath they're saying we should give $400 million to port security, but we're only going to give them $210 million," says Aaron Ellis, communications director for the American Association of Port Authorities in Washington. "We got more money for ports in this latest spending bill than we ever have in the past, but it's still only about half of what Congress is saying they should appropriate."
Because security improvements at U.S. ports since 9-11 have involved so much advanced technology, they have been particularly expensive. More improvements are needed still, along with the development of strategies for dealing with and recovering from any possible future threats. Says Ellis, "When you talk about terrorist prevention at ports, it's a lot more than just guns, gates and guards."
Port security gains importance exponentially as the volume of business grows. The Port of Savannah alone surpassed 2 million 20-foot equivalent units (TEU's) this year, an increase of 15.9 percent over 2005, Marchand reported in his state of the port speech.
"What's impressive is not the 2 million TEU number itself," he told the assembled group. "We always knew that some day we would do that. What is impressive is the speed with which we reached that number. It was just five years ago that many of us sat in this very room and celebrated surpassing the 1 million TEU mark."
Former U.S. Sen. Mack Mattingly, chairman of the ports authority, put it another way. "We used to have this meeting at the Pirate's House." The popular downtown Savannah restaurant has a relatively small and cozy meeting room. "Look at it now," Mattingly told the group of 600 assembled in one of the sprawling trade center ballrooms on the newly developed Hutchinson Island across the Savannah River from downtown.
Marchand says the Port of Savannah is "growing and gaining market share faster than any American port." Together, Georgia's deepwater ports in Savannah and Brunswick and inland barge terminals support more than 275,000 jobs throughout the state and contribute $10.8 billion in income, $35 billion in revenue and $1.4 billion in state and local taxes.
One of Marchand's biggest worries is that the Savannah harbor is no longer deep enough for the newest, biggest ships with the deepest drafts. To remedy that, the port boss has made the Savannah Harbor Expansion Project his top priority.
The effort involves deepening the harbor from 42 to 48 feet. The study phase is nearing completion after 10 years and $32 million invested. Marchand and Mattingly are mobilizing their considerable influence to bring business and political leaders together behind the project, which they say is critical to economic growth in Savannah and Georgia.
Communication among the many business and political leaders involved with the Georgia ports is important not only to economic growth but to security improvements, says the Coast Guard's Johnson.
"One of the biggest things that came out of 9-11 was communication," he says. "A dialogue opened between the industry and the U.S. Coast Guard. Before, companies operating on the waterfront didn't know their neighbors. Now, people in the companies talk to each other, share information and share responsibilities."
What worries security officials most now perhaps is that people will start to feel too safe. "One of the things I find daily is the human tendency of complacency," Johnson says. "We haven't experienced an incident or an attack in several years. The more secure people feel, the less aware they are. Complacency is something we have to guard against. There are people out there who want to hurt us and hurt our economy. We have to remain vigilant. We have to continue to work together and keep an open dialogue, making sure we are providing the facilities with enough information and help to improve their security."
Indeed, even with fences, IDs, card readers, X-rays, radiation detectors, motion sensors, electronic tracking devices and increased searches, it is not possible to button down a port that does the volume of business of Savannah's.
"Security at a seaport is an industry in itself. You could spend millions and not make it completely secure. If there's a will, there's a way," Armstrong says. "What we're trying to do is take out the ways."