The Road To Prosperity
Along Buckhead's fabled thoroughfare, Peachtree Road, a wealth of new high-rise developments k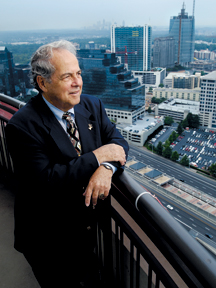 Buckhead is entering a new era in commercial real estate unlike anything seen before in Atlanta – or the state or region.
"We have 29 major commercial developments – major – going on in Buckhead right now just on Peachtree," says Sam Massell, a former Atlanta mayor who for the past 20 years has been president of the super-powerful Buckhead Coalition, an organization of CEOs devoted to "nurturing the quality of life and promoting orderly growth." He notes that this number doesn't even include a long list of large commercial developments going on in other parts of the community on both sides of the main corridor – Peachtree Street, which becomes Peachtree Road near the heart of Buckhead.
Technically, Buckhead includes just about everything within the city limits north of Midtown. Buckhead even convinced the Georgia Legislature and the Atlanta Regional Commission to endorse its boundaries. But the highest density commercial development is concentrated around Peachtree. These projects are all high-rise, mixed-use towers blending offices, hotels, condominiums, stores and restaurants. Two are taller than the current tallest building in Buckhead, Park Avenue condominium.
"The buildings will be placed in a design arrangement that will provide a real picturesque skyline," says Massell, pausing to reflect between groundbreakings and grand openings. "Buckhead itself will become the skyline of Metro Atlanta."
Massell's gift for hyperbole combined with his passion for Buckhead has earned him great respect and affection. Sharon Silva, executive director of the Buckhead Business Association, calls Massell "a national treasure."
Yet no one driving up and down the Peachtree corridor and looking at all the cranes at work over giant footprints for high rises under construction would be likely to accuse the former mayor of exaggerating. "High-rise developments are being built right and left," Silva says. "You can't help but notice."
This development is remarkable, considering the fact that Buckhead has been experiencing a commercial real estate boom almost nonstop since Lenox Square opened there in 1959, becoming the Southeast's first regional shopping center and maintaining a position of dominance as one of the most successful malls in the country ever since.
Certainly, Lenox sparked the first retail boom for Atlanta's – and Georgia's – wealthiest neighborhood in the 1960s. In the 1970s, Tower Place sparked the high-rise office development boom in Buckhead. In the 1980s, the Ritz-Carlton launched a luxury hotel boom there. The 1990s became the decade of growth for high-rise apartments and condominiums.
Something New
But now Buckhead is getting something new – new to Atlanta and the region, that is. Call it the era of the ultra-luxury, super density, high-rise, mixed-use, city-within-a city boom. The 2000s will soon be known for the construction of ultra luxury high rises with condos, hotel, offices and retail – along with a streetscape renaissance in the heart of Buckhead designed to make Peachtree look more like Park Avenue.
This area is the focus of a new Community Improve-ment District called Peachtree Boulevard, which covers a 1.5-mile stretch of Peachtree Road. A $40 million self-taxation program has been designed to create a wide, tree-lined, raised median with broad sidewalks and colorful gardens to allow people to walk freely from place to place without danger from traffic – currently a serious issue.
Between the Buckhead Community Improvement District Plan and all the high-rise developments under way in the area, a total of more than $600 million in new, private capital is at work right now in that one and a half mile strip, says one of the key real estate developers involved, David Tennery, Regent Partners' principal of office properties.
"The majority of my passion for this comes from having the opportunity to be a part of what will be one of the most exciting transformations the city has ever seen as it relates to the streetscape, the buildings, the pedestrians," Tennery says. "We're delivering to the market a design and tower concept that the city hasn't yet experienced. What we're doing is not new by any stretch of the imagination. It's very new to Atlanta."
Regent Partners and other developers are building along Peachtree the kind of mixed-use projects so popular in New York, Chicago, Seattle and other large cities that they have spawned a national movement known as "new urbanism" or "smart growth." The idea of creating a "live, work, play" urban environment has even taken root in smaller cities where old downtowns are taking on new life featuring lofts, shops, stores and offices all within an easy walk of each other, connected by safe and inviting streetscapes.
"What these projects are really doing for the first time for Atlanta is taking a very large step at really introducing a true pedestrian friendly environment within the urban core," says Tennery, who is overseeing development of what will become the tallest building in Buckhead, a 50-story office and condo tower near the Buckhead MARTA station on Peachtree at Tower Place Drive. The office portion, called 3344 Peachtree, will occupy the first 26 floors. The 27th floor will house amenities such as pool, spa and luxury resort for office workers and residents. The top floors, to be called Sovereign, will be condos.
The best way to describe these condos is with dollar signs. Prices start at more than $1 million.
"What we have found is a solid demand for ultra luxury high-rise residences and not a lot of supply," Tennery explains. "Many of these folks currently live in large homes in Buckhead or other areas. They may have other homes in Highlands, N.C., or Sea Island. While there have been high-rise luxury developments, the level of luxury hasn't yet met the expectations of the folks who live in those luxury homes."
Just a few steps down the street from 3344 Peachtree and Sovereign will be another mixed-use new urban high-rise with condos priced at $3 million and up – the Mansion.
Approved for zoning three months ahead of Sovereign, the Mansion appeared destined to be the new tallest building in Buckhead. The current tallest building in Buckhead, Park Avenue condominium, is 485 feet high. The Mansion is to be 580 feet. Sovereign will be 635 feet.
The buzz in Buckhead has been that the two buildings are racing each other to the top. Massell talks about the Mansion and Sovereign vying for the honor of tallest building in Buckhead. The scenario brings to mind the contest between the Chrysler and Empire State Buildings in Manhattan.
But developers of both Buckhead towers agree Sovereign will be taller, and they don't seem at all obsessed with the distinction. "Regardless of which is the tallest or not, the most important thing is that both of these buildings are the right product for this area at this time," Tennery says. "They're coming at the right time for demand for ultra luxury apartments and sustained demand for luxury hotel capacity."
Unmet Demand
Likewise, the Mansion's developers say they weren't trying to be the tallest, they were trying to address what they also see as an unmet demand for ultra luxury high-rise living. "This is a building we came up with. The number where we ended up was never an issue in comparing it with others," says Clark Butler, president of City Centre Properties, the Mansion's developer.
"The one thing Buckhead was missing was a dense residential component to create a walking environment," he says. "It already had a critical retail and office mass. Now, with the residential boom, this investment in the Community Improvement District is going to catapult Buckhead into a new level."
As with Sovereign, the new level for the Mansion is ultra-luxury. Residents will be able to call upon the services of the Rosewood Hotel – a five-star operator of luxury resorts – which will occupy the first 16 floors of the tower. In addition to room service, catering, housekeeping and car services, residents will be able to arrange for delivery of groceries and dry cleaning or have their automobiles detailed.
"This is a lifestyle choice. To live in the Mansion is to have a super high level of service," Butler says. "The people who are moving from existing homes already are living that way, and they're tired of taking care of it. They're tired of dealing with the pool man, the company that keeps their yard. They're tired of dealing with their house staff. They can just call Rosewood and off they go."
Although the Mansion is just coming out of the ground, Butler reports it's already 40 percent sold. "It's going very well," he says. "We're extremely pleased."
These pricey high rises have taken a cue from Manhattan's luxury co-ops. "We've done some things with our structure that are New York tricks of the trade to make our building more user friendly," says Butler, who has helped create two New York buildings for his company already. For one thing, the structure allows for strength and spacious rooms without support posts. For another, the octagon shape allows every unit to have both north and south views. This gives residents complete flexibility in how they create their own floor plans. The design of the building is meant to resemble a fine European mansion.
"Our purchasers moving into the building are very unique people. They are very high net worth individuals," Butler says. "They all have their designers, and that's the way they live. They just bring in their team and go."
Affordable Housing
Not everything under construction in Buckhead is priced in the millions, though. Novare Group, an Atlanta-based nationally established developer of urban high-rise condos, is building in the "lower" price range – between $200,000 and $400,000 for one and two-bedroom units.
At those prices, condos in Buckhead are selling fast. Just finished this fall, Novare's Realm – in the Community Improvement District on Peachtree – has sold 90 percent of its 406 units, which average 910 square feet, says Judd Bobilin, executive vice president of Novare Group.
In 2003, Novare Group opened another Buckhead condo, Eclipse, in the old Buckhead Village area where Peachtree crosses East and West Paces Ferry. Eclipse's 358 units sold out in 13 months, Bobilin says. "I wish we had another project similar to Eclipse and Realm that we could sell today," he says. "I feel confident if we had another project in Buckhead today we could sell it."
But it won't be long. Novare is at work on another Buckhead condo project, an $82 million, 203-unit, 27-story development called Gallery, scheduled to open in 2007. In addition, Novare is one of several partners on a planned mixed-use, city-within-a-city development on Peachtree north of Lenox, near Wieuca Road Baptist Church. Bobilin estimates the total investment there at $250 million.
All this high-rise condo development has an undeniable impact on other businesses in the area. "I think the biggest change is the vibrancy of the community," says the Buckhead Business Association's Silva, who lives at Park Avenue condominium just a mile or so down Peachtree from her office in the village area. "Beyond the night life, it's a more vibrant daytime community now. It used to be more office oriented. Now there are a lot of great new stores, a lot of activity and exciting retail that was not there before. It's becoming a true live, work and play community."
Buckhead's population still doubles in the daytime, according to statistics in the Buckhead Guidebook, published by the Buckhead Coalition. But its full-time population is up to 70,000, making the district larger than all but nine Georgia cities.
The guidebook also claims that the nickname "the Beverly Hills of the East" was bequeathed to Buckhead by the city manager of none other than Beverly Hills. But some cringe at the comparison, favoring Buckhead over the possibly more plastic West Coast city.
In fact, Beverly Hills' height restrictions wouldn't allow the kind of high-rise development happening on Peachtree. And for all the talk about Peachtree becoming like Park Avenue, Buckhead has something tiny island of Manhattan could never have – sprawling single-family estates.
"Buckhead has led the market for classic office absorption, lease rate, quality of commercial development and consistency," says Regent Partners' Tennery. "The character of Buckhead is difficult to understand for those who have never been a part of it long enough to experience it. It plays a pivotal role in what promises to be a tremendous transition to the next level."
Buckhead Facts
The Buckhead Guidebook is a gold mine of information revealing the keys to the area's sustained success: – Buckhead is Georgia's second largest "downtown," with three-fourths as much office space as downtown Atlanta. – Buckhead has approximately 1,400 retail outlets, grossing more than $1 billion in annual sales. – Almost 100 restaurants and nightspots operate within two and a half blocks of Peachtree at Paces Ferry in the "Village" area. – Buckhead contains only a little more than 2 percent of the Atlanta region's single family housing, but almost 40 percent of the region's supply of homes valued at over $500,000. – Atlanta's three wealthiest zip codes are in Buckhead.
Source: The Buckhead Coalition