The Best Places To Work In Georgia
We asked for nominations, and we got them.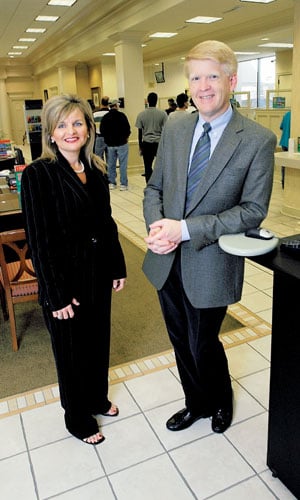 Who Made The List?
Find Out Which Companies Are Among The 2006 Best Places to Work In Georgia.
You can bring your dog to work. Kids, too. Wear whatever you like. Celebrate your birthday with your colleagues; maybe take half the day off. Get paid for lunch hour. Ride a scooter in the office if you want. Drink free beer on Fridays.
These are some of the reasons employees say they nominated their companies for Georgia Trend's Best Places to Work list. But beers and scooters aside, the overwhelming reason people say their employer is among the best is its people. Bosses. Co-workers. Customers.
After people, values, ethics and being able to be proud of where you work are named the most. Flexibility in scheduling is also a big factor.
Of course, benefits – pay, insurance, time off – are mentioned, but no one says it's all about the money. Apparently, it's all about the people – as long as the pay and benefits are competitive.
Georgia Trend received about 200 nominations for its first Best Places to Work list; the feature was publicized via an ad in the magazine, a notice on the magazine's Web site and emails to state chambers of commerce. All voting was done online. (A complete list of all nominated companies begins on this page.)
A majority of the employee-nominated best workplaces are in banking, financial services and accounting. One is a law firm. Remarkably, more than half come from different segments of the Columbus-based giant Synovus Financial Corp. and its credit card processing company, TSYS. The rest cover a variety of businesses – including computers, insurance, real estate and leasing – from all over the state. The one common theme is a strong feeling for the people at work.
"First State Bank & Trust Co. is the best place to work because of the people who work here and the people who bank here. Our president, senior management, branch managers, supervisors, co-workers and customers are wonderful people who genuinely care about people and what they do, instead of looking at it as just a job or just a bank," writes Jada Scurlock in Valdosta.
Such rave reviews run throughout the nominations. They show striking employee enthusiasm.
"Not many people can say they love going to work every day, but from the management level and below, my co-workers at LeasePlan do," says Bryan Calloway, senior vice president, marketing and business development, for the vehicle leasing and fleet management company in Alpharetta. "You can find employees that have been with the company for five, 10 or 20 years because they truly enjoy the people, projects and environment. LeasePlan's management invests time, energy and resources in its people because we believe our employee base is our most valuable asset."
OK, that's the word from management. But listen to what one of his staff members has to say.
"Overall, the environment at LeasePlan is positive and uplifting, and the management genuinely cares about the employees. They go the extra mile to reward us for doing a good job," says Kelley Bodner, account executive. "LeasePlan recognizes that in order to succeed, it must create an environment where employees are happy to come to work each day. I was actually told by one member of management that it's important to laugh at work!"
On the subject of people, probably nothing matters more than having a great boss. Many of Georgia Trend's readers say they do. Here's an example from Krista Holloway at Waters Realty Group in Gainesville, owned by Kim Waters.
"We who work at Waters Realty are members of a working family," Holloway writes. "The management, staff and agents genuinely care about the welfare of one another. Kim's philosophy is to nurture an environment of training and mentoring, enabling new and seasoned agents to succeed. When incoming agents feel that management has their best interests at heart, they want to give back to their company, clients and community. Waters also encourages first rate customer service because this insures repeat business and continuing referrals. This business attitude fosters loyalty, personal caring and a bright future."
On the subject of great bosses, hear this from Sara Perks of Welcome 2 the Neighborhood, LLC in McDonough, founded by Lanelle Henderson.
"Lanelle is the most positive, inspiring person I have ever met in my life. She [has] the drive and the motivation to do a good job every day. She is what makes the company awesome. She understands about flexibility, being a mom and still doing a great job. Lanelle's recognition of doing a good job is always important to her, and she never, ever forgets to recognize a job well done and never forgets to say thank you."
It's hard to overestimate the importance of a good boss – or the destructive power of a bad one. One of the reasons for the employee satisfaction success of Synovus, apparently, is recognizing this fact.
"How people feel about working here is in direct relation to how they feel about their manager," says Rob Ward, senior vice president of corporate services at Synovus in Columbus. "We focus a lot of attention on leadership development. It's important to let people know what's expected. We do a lot of training and coaching to build that. Although it's a long process with somebody – you don't become a leader overnight – it has really paid off."
Synovus has been on Fortune magazine's 100 Best Places to Work list for nine years running, including one stint in the number one spot.
Part of the secret to success for the company – once known as Columbus Bank & Trust – is listening to its employees. This is an easier task for a small company, but Synovus now employs about 12,000 worldwide.
"We take it very seriously," Ward says. Perhaps more importantly, the company creates action teams to make changes based on the employee survey responses.
"The worst thing you can do is survey people and then not act on it," says Alison Dowe, director of communications for Synovus. "Our employees feel very open to say what's on their hearts and minds. If I say something, number one, it's safe. And number two, I trust that if I say something, it's going to be heard and acted on."
Dowe says that when she heard about the Georgia Trend best places to work list, she posted a notice on the company intranet. Employees wrote in to the magazine with their nominations. Here's a sampling of the things they have to say:
"There are many banks in all markets in Georgia, but what sets Synovus bank apart is a culture of the heart. It lives in every Synovus bank throughout our company. Many new hires find it somewhat unbelievable that we put our team members and their families first." – Pam McDonald.
"Management understands that the way to running a successful business is through people." – Mitch McCoy.
"Synovus really strives to treat team members like family and try to follow the Golden Rule in how team members and customers are treated." – Mary Dickerson.
Synovus communicates with employees exactly as experts in the field of human resources recommend as the key to creating a satisfying work environment.
Respecting Employees
"A good place to work is one that respects employees and provides tangible and intangible evidence of respect," says Dr. Elisabeth Teal, associate professor of business administration and director of the Entrepreneurial Leadership Center at North Georgia College and State University. Showing that respect and providing those rewards takes work on the part of the boss.
"Companies really need to spend some time evaluating the needs and wishes of their employees and knowing the tangible and intangible rewards that would be meaningful to their employee group. Every group is not the same," Teal says.
For example, child care centers, educational reimbursement programs and wellness services are all potentially meaningful rewards. "If the company offers free child care on site, but you don't have children, that is not a meaningful benefit," Teal says.
Another example is the Friday afternoon office beer bash. This has become an often-mentioned reward nationally, and shows up in some Georgia Trend nominations. One writer likes the "beer fairy" who visits each Friday afternoon. "If you're a teetotaler, that's not a benefit and you might even find it offensive," Teal says.
So the important work on both sides is finding the right fit between employee and employer. Companies must listen to their people. Individuals must evaluate the benefits offered. "It's important for the employees to know what they need and what they want, and it's important for the company to develop ways to meet the needs," Teal says.
Another part of Synovus' success is that its employees respond in a meaningful way when asked for feedback. "We get a very high response rate – more than 90 percent," Ward says. "Our team members care enough about the company to want to give us their feedback. They want it to be a good place to work. They give candid, very honest feedback. We are able to take that and put it to work for them."
Bill Kahnweiler, associate professor in Georgia State University's Andrew Young School of Policy Studies and a former human resource executive who writes and consults on the subject, compares the relationship between employee and employer to a marriage. "It takes work to make it work. It doesn't just happen. Praying it will work out won't be enough. We need to work," he says. "You're going to be extremely lucky if it just happens, falls in your lap. It takes work to find good work."
Finding the right work requires a great deal of self-assessment and self-awareness, Kahnweiler says. Talking to friends, loved ones, counselors helps. Evaluating past experiences helps. Learning to make better choices in relationships helps.
"I've seen too many people make the same mistake over and over and have the same problems – not getting along again," Kahnweiler says. "Wherever you end up, there's one thing for sure, you are bringing yourself there."
Bad work experiences can also contribute to employee satisfaction once a person finds a better fit.
"We have a new employee who worked for a bigger company before. He said he was tired of being a number on a payroll. He wanted to be a real live breathing person, which he was, instead of being treated like a number. We try to treat them like individuals," says Connie Dedmon, employment and benefits administrator for the West Georgia National Bank in Carrollton, which received an impressive 25 nominations even though it is a relatively small banking company with nine branches and about 180 employees.
Family And Fun
Writes Bonnie Gurley in West Georgia National's compliance department: "Our bank is just like a family. We have some of the most caring people here, and if one of us needs something, then believe me they get it. I have two of the most wonderful bosses anyone could have. Their names are William Medders and LaChandra Daniel. They make me feel so welcome and needed. I actually look forward to coming to work. I really enjoy this bank and they do seem to hire a diverse set of people, which is good for our community."
A similar story of appreciation comes from Kimm Price, formerly of Ashton Staffing in Kennesaw. "Melissa Hulsey is the most understanding, down-to-earth boss an employee could have. Coming from telecommunications sales where I was treated like a number and all that mattered was my daily sales performance, I appreciate being treated like a human with feelings. Most workers are tired of the unreal expectations set on them by their employers with no rewards. Not at Ashton. Melissa makes sure we receive what is deserved."
Price goes on to note, among the things she liked about her job, birthday recognition. This was mentioned by several other nominations also – an easy, fun, low-cost way to reward people. "Birthdays are the best at Ashton. Lunch is ordered in and the birthday person receives a half day off work."
Randi Bates of Accountants One, Inc. also mentioned birthday and celebrations as well as baby showers and cookouts in nominating her employer, which does have a Friday afternoon "beer fairy" available to deliver a bottle of brew as the team closes down the week. The company also uses humor to liven up its staff meetings and even created a "search for Atlanta's funniest accountant to show others accountants are funnier than you think."
Bates writes, "The management team at our boutique accounting and financial recruiting firm focuses on making employees happy. Our incredibly positive environment motivates and recognizes team members, promotes personal accountability, values a healthy work-life balance and encourages humor along with hard work. No wonder our 98 percent internal satisfaction score translates into minimal turnover and strong performance."
One of the rewards Bates mentions is "flexible maternity leave." Flex-time in general shows up in many of the nominations. It's particularly successful at an Atlanta-based internet company called Medium Blue Search Engine Marketing.
Writes Jane Shepard at Medium Blue: "We're a small company with a fun, young atmosphere. All employees get flex hours – many of us don't come in until 10:30 a.m. We're paid for our lunch time. We can wear whatever we want to work. We can bring our dogs in with us. Our CEO wants us to enjoy coming to work, so he's given us a library/game room and a pair of scooters we can ride around on during breaks. He makes sure the fridge is always stocked with snacks, and he even gives us fun birthday presents. Managerially, he's easy to talk to and always eager to help; he talks to us like a friend rather than like a boss. He refuses to put us in cubicles no matter how much we grow. And he's personally worked to find us the best and most affordable benefits possible. He knows the importance of family and gives all employees Christmas Eve through New Year's Day off every year, while still paying us for the time off."
Shepard says, "Most of my friends can't bear to get out of bed in the morning to go to work. People here don't have that problem. If I'm having trouble getting out of bed, I just sleep in a little longer. My flex hours allow for it, and I know my boss prefers that I'm rested and happy."