Georgia Trend 40 Under 40 2006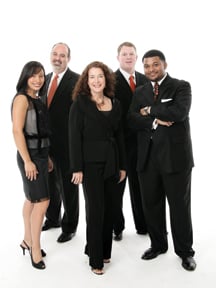 This year is quite a milestone in 40 Under 40 history. First, 2006 marks the 10th year in which Georgia Trend has sought to identify those individuals who will lead our state's commercial, cultural, academic and governmental institutions into the future.
Second, it marks the highest level of participation to date — close to 300 reader nominations for some 200 candidates. Selecting those individuals named in the following pages is never easy for Georgia Trend's editorial staff, but always rewarding.
Individual profiles were contributed by Carol Carter, Ray Glier, Jerry Grillo, Ed Lightsey, Bobby Nesbitt, Patty Rasmussen, Kenna Simmons, Christy White and Ben Young.
Paul Amos
31
Executive Vice President & COO Aflac
Columbus
As a third generation Amos, Paul Shelby Amos II sensed early on that he would someday be working in the family business. In his case, the family business was no mom and pop enterprise, but Aflac, the giant, Columbus-based insurance company that last year posted $56 billion in assets and revenues of $14.4 billion.
The younger Paul (he's named for his grandfather, one of the three Amos brothers who founded Aflac in 1955) started work in the company offices when he was "15 turning 16," and he wasn't sweeping floors. "I was an employee working in investor relations," he recalls. "And I worked in the customer call center, the absolute front line. I spent time working in the field before I was an agent. Working summer by summer in all the different departments, I got a good feel for what Aflac was all about."
Still, he says, becoming a rising star in management was no birthright. "My father [Dan, now Aflac CEO] did a great job in not pushing me to join the business," he says. "In fact, he wanted to make sure I saw every possible opportunity out there."
After earning his degree in economics from Duke, a master's degree in business administration from Emory and a law degree from Tulane, Amos worked for a while in a Washington, D.C., merger and acquisition firm, all the while remembering a regret his father shared with him. "When I was very young, my dad told me two of the most frustrating things about his job were not being a lawyer and not speaking Japanese." Young Amos became a lawyer and studied Japanese, and now, he says, speaks the language "well enough to get around" when in Japan, where Aflac is the country's largest insurance company.
Paul Amos II has earned his positions as Aflac's executive vice president and COO after a stint as state sales coordinator, taking his company's Georgia-North territory from seven regions and 40 districts to 13 and 80, respectively. Today, he prefers to focus on the future. "We hope to employ between 1,000 and 2,000 new people in the coming years.
And, yes, he says with a laugh, one of his current responsibilities is looking after the famous Aflac duck. "Now the duck is helping us with brand recognition, letting people know what we do beyond the name recognition of Aflac." Barely into his 30s, Paul Amos is getting his own brand of recognition.
— EL
Kali Kirkham Boatright
39
President & CEO
Douglas County Chamber of Commerce
Douglasville
Calling herself a "sucker for underdogs," Kali Boatright took a chance on one in 2004 when she left a high profile position as CEO of Golden Key International Honour Society to lead the Douglas County Chamber of Commerce.
The civic organization was saddled with debt and struggling with low membership and morale. Not anymore. Today the chamber is thriving thanks, in part, to Boatright's collaborative leadership style, forging closer relationships with business and community leaders, and setting goals that rallied the troops.
Priority one: paying off the building the chamber moved into in February 2004 and getting the financial house in order. "We owed $250,000 on our building when I arrived," Boatright says. Through cost cutting, boosting membership 25 percent, clever fund raising and the work of tireless volunteers, the chamber is in healthy fiscal shape — well on its way to paying off the debt in several months.
"If we can pay off the building by December, I want to hold a membership appreciation bonfire so we can burn the note all together," says Boatright, who gives her staff and membership/volunteers credit for the turnaround.
The chamber also helped Douglas County net an "Entrepreneur Friendly" designation from the Georgia Department of Economic Development and is currently engaged in the U.S. Chamber of Commerce re-accreditation process. "It's something we do every five years and it's great because it gives us the opportunity to bring all our programs into line," says Boatright, whose advocacy on behalf of Douglas County has won praise from all quarters, private and public.
Boatright's commitment to her community isn't tied to a paycheck. Married with two young children, she continues to volunteer time and expertise to a variety of local organizations.
For example, she put her journalism school degree from the University of Missouri to good use by creating a monthly newsletter for her church, the First United Methodist Church. Called The Messenger, the newsletter became so successful that she worked herself out of a job when it became a staff responsibility.
Boatright is also past president of the Junior League of Douglas County, a founder of the Montessori School of Douglas County, and a board member of both Brighten Academy, a charter school, and the West Central Technical College Foundation.
A global traveler in her former job, Boatright revels in her daily three-mile commute. "I made a choice for my family," she says. "But it was the best choice for me, too. The great thing is that I get to make a difference in my community where I feel the impact immediately."
— PR
Chantelle Pabros
Sommelier
Ritz-Carlton Buckhead
The film "Sideways," like a good wine, stirs a lot of emotions in Chantelle Pabros, the wunderkind wine steward at one of Atlanta's most acclaimed restaurants.
But one scene in particular always grabs her by the shoulders, the one in which the movie's hero, the depressed wine-obsessed Miles, pokes through his closet for his personal grail, a bottle of Cheval Blanc 1961.
"And then you see him drinking it with a hamburger, and he's really enjoying it," Pabros says, recalling the image of actor Paul Giamatti gulping the expensive wine from a paper cup. "It's a very funny scene. I've tasted a 1947 Cheval Blanc, and it's a magnificent, life changing wine. I wouldn't mind having a bottle of what he was drinking as my date."
The petite and striking Pabros was 22 when she became the youngest person and first woman to serve as sommelier at the Buckhead Ritz-Carlton, where she manages the wine cellar and pairs wines with chef Arnaud Berthelier's culinary creations.
"Chef and I do tastings every day, and I bring wines for him to create a dish around," Pabros says. "Our dining room is super focused on food and wine affinity. I'm lucky because so many people want to put themselves in my hands and experience something different and wonderful."
Pabros is a shooting star among American wine stewards. Working as a waitress since high school, she developed a professional interest in wines and at 21 became a sommelier at Jo'l under that restaurant's chief wine steward, Philippe Buttin. She left Jo'l with Buttin's blessing and endorsement after veteran sommelier Michael McNeill departed the Ritz-Carlton.
Pabros has been named best young sommelier in the Southeast and is well on her way toward certification as a Master Sommelier, the ultimate professional credential in the service of wine. She hopes to become the youngest person to achieve the distinction.
"Right now, that's all that matters to me — that and taking care of our guests in The Dining Room," says Pabros, who traveled the world with her parents, both airline professionals, and learned to love the world of wine as a young girl playing in the vineyards of Northern California. She can imagine herself doing wine pairings for a wider audience some day (The Food Network should take note) and currently is working on a book about her experiences in the wine world.
"In the past year alone I've had some life changing experiences, tried some amazing, benchmark wines," she says. "At this point, who knows if it will be published or where all this will lead. The one thing I've promised myself, no matter what job I'm doing, is to travel to the world's different wine regions."
— JG
Keith Hollingsworth
Assistant Professor
Morehouse College
Division of Economics & Business Administration
Atlanta
Keith Hollingsworth has built his career around something he heard a preacher say years ago, a maxim credited to Theodore Roosevelt: Nobody cares how much you know until they know how much you care.
Apparently, Hollingsworth's students get the point, based on the testimonials that came pouring in during the 40 Under 40 nomination period.
These former students, graduates of Morehouse, the nation's largest, private liberal arts college for African-American men, described Hollingsworth this way:
"… selfless, perpetual devotion to molding the lives of young students."
"I still call [him] when I am in need of objective, principled and caring advice."
" … an amazing professor and a selfless friend to scores of students," who "gives of himself not to one student a year, or two, but to all that ask."
Words of praise from young African-American men about a white man from South Georgia who only turned to teaching after he didn't get the asset management job he really wanted. Looking back, Hollingsworth, who teaches management science to his Morehouse students and is pastor of Macedonia Primitive Baptist Church in Cartersville, thinks of his career as a calling.
"What I love about Morehouse is idealism still lives here," he says. "We still think we're going to change the world. This is a small enough school that I know all of the guys, their girlfriends and their families," says Hollingsworth, who chairs the school's Economics and Business Administration scholarship program, which last year netted more than $300,000 in academic aid for Morehouse students.
Hollingsworth also founded the Next Step conference, the annual event that helps business graduates develop career advancement or advanced degree strategies. Long after his students have graduated, Hollingsworth remains a part of their lives. "I learned early on that even though these are young men, adults, they still need somebody to listen to them. I may not know the answer and I may not agree, but I will always listen," says Hollingsworth, who helps his students focus on big picture lessons with trips abroad, like the one to Namibia in 2004.
It was a volunteer mission, six weeks with no electricity or running water, using primitive tools to build a fence around a school in a poor and violent region. "This was poverty on a scale we hadn't seen before," Hollingsworth says. "It was worthwhile, a wonderful bonding experience. You had to laugh, because it was the only way to keep from crying. Very enlightening and spiritual. You can bet that I came home and preached a few sermons inspired by that trip."
— JG
Nathaniel Q. Smith, Jr.
Public Policy Manager
Atlanta Neighborhood Development Partnership, Inc.
I know whose shoulders I'm standing on," says Nathaniel Smith, Public Policy Manager for the Atlanta Neighborhood Development Partnership, Inc. (ANDPI). "I was picketing before I knew what the words said!"
With a mom and an aunt working in the offices of the Southern Christian Leadership Conference while he was growing up, Smith, 32, says he learned to speak for the voiceless in his community.
He does that by researching, educating, and advocating on policy impacting neighborhood development and re-development. "I'm interested in how neighborhoods develop," he says. To that end, he worked with Fulton County Commissioner Rob Pitts on inclusionary zoning ordinances encouraging developers to create mixed income and affordable workforce housing.
Ordinances and other forms of public policy are just one part of the puzzle. "It also takes developers who are willing to work with us and are able to make it financially feasible," he says. "They're in business. We can't go into a conversation (with a developer) thinking we'll hold hands and sing 'Kumbaya' just because it's right!"
Instead, Smith relies on statistics to make his case. "Our research found that 63 percent of jobs in Atlanta pay under $40,000," he says. "That means families who make that income can only afford a home costing $150,000 or less." The homes in that price range are usually found outside the Perimeter, leading to Smith's second point. "Families are spending two thirds of their income on housing and transportation," he says. "And that research was done in 2002, before gas cost $3 a gallon."
But the data lead to what Smith calls a "glass half full" approach when it comes to talking to developers. "There are great opportunities in the region for development of affordable housing," he says and cites several examples of successful mixed income/mixed use communities created by some premiere developers, including Twelve Atlantic Station, Centennial Place and Adamsville Place.
Smith brings impressive credentials to the discussion. He earned a B.A. in Urban Studies from Morehouse College before receiving his Master's from the Robert J. Milano School for Management and Urban Policy at the New School University in New York. He serves on a wide variety of local and regional committees and coalitions, preaching his gospel of affordable housing from the high chair to the rocking chair.
— PR
Louise Allen
32
CEO
Ivan Allen Workspace
Atlanta
Today, Louise Allen is the fourth generation of her family to run the 100-year-old Atlanta-based Ivan Allen company. But when she graduated from college, Allen moved to San Francisco, as far away from Atlanta as she could get in the mainland United States. "I wanted to do it on my own. I didn't want my Dad talking to a friend of his and helping me get a job."
Allen proved herself in California, then in New York and began to think about returning home. She did her research, then made an appointment with her dad, company chairman Inman Allen. "I presented a business plan, and he said, 'I'd like for you to be CEO.'"
Now that she's running the company once run by her grandfather, legendary Atlanta mayor Ivan Allen, Jr., one wonders if she, too, will pursue politics. Her reply: "My mom has big plans for me. I would always be open to an opportunity."
— CC
Kate Atwood
28
Founder
Kate's Club
Atlanta
When her mother died 16 years ago, Kate Atwood felt like she was being squeezed into a small box. She says she lacked a social support network and had no outlet for certain aspects of her grief over a life without a mother.
Now 28, Atwood is working to provide children in grief something she never had — a place they can go to be with other kids who have lost a sibling, parent or loved one. That would be Kate's Clubhouse, the hallmark feature of Kate's Club, an outreach program at Windy Hill and Powers Ferry Road in Marietta.
Atwood, who gave up a career in sports marketing, has run her program for three years and has helped counsel 150 children and young adults.
"There is a phenomenal difference in individuals when there is a community approach to grief," Atwood says. "We need to be more uplifting in a social, engaging way and focus on the long-term empowerment of the child so they can continue through life."
— RG
Kimberly Arp Babbit
36
Documentary Producer
CNN Presents
Atlanta
Kimberly Arp Babbit has investigated immigration, won an Emmy in 2005, and traveled the globe covering issues such as the TWA 800 disaster for CNN. But she's most proud of the fact that she can set a positive example for her 14-month-old toddler.
"I think it's important that I can be a role model to my daughter as well as to other young people to show that you can do everything," she says. "You can have a really fascinating, worthwhile career, but you can also be a mom and be involved [in the community]."
The native Atlantan's experiences have caused her to rethink many of the issues she's covered. "It's taught me that there are really so many shades of gray," she says.
"Nothing is ever black and white. And I think as a journalist, that's something I try to do — present those sides and let the audience decide what they think."
— CW
Nina Markette Baker
34
Solicitor
Troup County
LaGrange
Markette Baker prosecutes all the misdemeanors and juvenile cases in Troup County. Thus, she often sees two sides of the same problem and tries to leverage that insight to make a difference.
"A lot of what we have here involves family violence," she says, and many of the same families end up in state court, where Baker prosecutes misdemeanors, and in juvenile court, where she meets the children involved. "We see a lot of the same people over and over. We build up a rapport with them and come to understand what's going on with their situation. We try to do the right thing for everybody, but most importantly for any children that are involved."
A parent herself, Baker credits her own mother for her desire to practice law, and she works to help children who are victims of sexual violence by serving on the board of Twin Cedars, a residential treatment center.
— CC
Holly Cole Bass
34
Vice President of Membership
Cobb Chamber of Commerce
Marietta
Holly Bass just can't say no to a good cause.
The Cobb County native is busy as vice president of membership for the Cobb Chamber, but over the years she's taken on a variety of volunteer projects. One of the biggest was managing the 2005 campaign to gain voter approval for a sales tax hike to fund transportation and public safety projects in Cobb. The campaign was successful, as was an earlier one for local school systems.
The University of Georgia graduate is an active volunteer with a number of community organizations. But her community service drawing the most "do you really?" questions is with the Cobb Superior Court.
Bass is a volunteer probation officer, and every Tuesday night for the past 11 years, she has counseled men and women on probation, helping them complete the terms of their probation.
"I really enjoy doing it because it's an opportunity to make a difference in so many lives," she says.
— BN
Raheem Beyah, Ph.D.
29
Assistant Professor Georgia State University;
Adjunct Assistant Professor, Georgia Tech
Atlanta
The first African-American tenure track professor in Georgia State's Computer Science Department, Raheem Beyah has made it his mission to bridge the digital divide, the gap between the community technology haves and have-nots.
Through his research and his teaching of the next generation of scientists, Beyah hopes to weave a vast and secure communication web, "the ubiquitous computing that everybody will want at some point," he says. "Developing the protocol of the future."
Beyah, who grew up in Atlanta, was only 26 when he earned his doctorate in 2003, one of a national-record 16 African-Americans to earn engineering Ph.D.s that year at Georgia Tech, where he manages industry research projects at the School of Electrical and Computer Engineering.
A member of the FACES program (a national initiative to increase the presence of underrepresented minorities in science and engineering), Beyah has been selected for the L.E.A.D. Atlanta Class of 2007.
— JG
Mike Brubaker
31
b3 Marketing + Design, Inc.
Cartersville
When Mike Brubaker cranked up his graphics company three years ago in Cartersville — b3 Marketing + Design, Inc. — he created unique design logos for small businesses that had previously relied on clip art from office supply stores. The business soared and b3 was named Emerging Enterprise of the Year by the Cartersville-Bartow County Chamber of Commerce.
Brubaker is also a member of Rotary, the Adult Leadership Alumni Association of the Chamber of Commerce, works with the Downtown Development Authority Outreach Committee, and is on the board of the Legacy Fine Arts Festival. The Brubakers are also Advocates For Bartow's Children and the Good Neighbor Homeless Shelter.
Now he and his wife, Emily, have found another mission — supporting local nonprofits and community development organizations.
"There wasn't much saturation in the humanity side of businesses," he says. "We started focusing on health care issues, the environment, things like that. We wanted to make a difference."
— RG
Patty Carson-James
35
Taylor County Commissioner
Butler
Patty Carson-James is a woman of firsts. She's the first African-American female county commissioner for Taylor County, and she's also the youngest. Within the first month of taking office, she invited all elected city officials, county commissioners, Board of Education members and, of course, the public, to what was to become the first of many strategic planning meetings. Nothing's been the same since.
Before the meetings, Carson-James notes, "No one was getting anywhere. No real changes were being made in either the city or the county. No real growth, just everybody doing their own thing. There wasn't any real unity within the city and county governments."
As a result of these regular meetings, the county just won a $500,000 Community Development Block Grant to expand its workforce development center. A grant from the Fanning Institute will establish a Leadership Taylor program; Carson-James will coordinate.
Still, Carson-James continues to push forward. "I just don't believe in sitting on the sidelines complaining," she says. "I want to be in the mix so I can make things better."
— CW
Chris Clark
36
Deputy Commissioner for Global Commerce
Georgia Department of Economic Development
Fayette County
Chris Clark missed his anniversary and spent Christmas Day on the phone, but it was worth it. His team landed the biggest deal in the country: a new Kia plant to be opened in West Point, bringing 4,500 jobs.
New jobs at Aflac, Gulfstream, Purdue Farms and AirTran rounded out the good news, making this Georgia's best year ever.
Big deals get headlines, but Clark oversees programs for small businesses, too. He knows from experience how important that is. "I got started in economic development in Hawkinsville, and in three years we announced 400 jobs," he recalls. "We were too small to land a plant, but we had a lot of small businesses growing or coming to town."
As for this year's string of wins, Clark says, "It's humbling … it's like winning the Superbowl, the World Series and the Stanley Cup in one year."
— KS
C. Brett Cook
26
City Manager
Darien
In Brett Cook, one of Georgia's oldest towns has one of the state's youngest city managers.
Coming on board as Darien city administrator in May 2005, Cook facilitated the adoption of a new city charter (replacing a document that dated from the 1920s) and helped transform the local government from mayor/council to council/manager model. By securing unanimous council and community endorsement, he accomplished in months what might take others years.
Currently, Darien is updating and adopting new zoning ordinances; the rewrites should be finished by the end of the year and will reflect both the charter and the community's wishes, including introduction of a historical/cultural overlay district addressing preservation concerns. Growth and the change it brings, especially to Darien's aging infrastructure, are among Cook's biggest challenges. He says annexing land into the city isn't out of the question.
Though he's grappled with the youth factor, Cook says his age is an asset, "I have very few preconceived notions about how things must be done."
— PR
Denise Fallin Deal
36
Executive Director
Vision 2030
Gainesville
Having left the business world in 2005 to concentrate on her growing family, Denise Deal says she's busier than ever.
Formerly with Jackson Electric Membership Cooperative, Deal now directs the community planning process, Vision 2030, for Gainesville and Hall County. Such public sector service is nothing new to Deal, whose father-in- law is U.S. Rep. Nathan Deal.
Through a series of meetings, more than 1,000 Hall County citizens offered 4,000-plus ideas for the county's future. "Overwhelmingly, citizens wanted to preserve the small town feel of their community," Deal says.
Culling and collating the concerns, Vision 2030 documented 15 "big ideas," centered on such topics as education, health care and development. Deal says her job is bringing the right players to the table. Vision 2030 has already engendered one positive, if unintended, consequence: Leaders from Hall County's four post-secondary schools are meeting quarterly, something they've never done before.
— PR
Matthew (Matt) T. Echols
34
Director of State
Government Relations
The Coca-Cola Company
Atlanta
Matt Echols gained a lot of experience working with lawmakers in Washington, D.C., and Atlanta — and he's putting it to good use in both his work and volunteer activities.
Echols was finishing up his marketing degree at West Georgia College when an internship with former Congressman Buddy Darden turned a longtime interest into a "real love for politics."
After the Washington internship, Echols went to work in the House clerk's office at the Georgia State Capitol. Then it was back to Washington, working first with U.S. Rep. Jack Kingston and later for then U.S. Rep. (now Sen.) Saxby Chambliss. While in Washington, Echols also completed work on a master's at John Hopkins University. In 1998, he joined The Coca-Cola Company, and currently manages Coke's relationships with all 50 state governments.
His volunteer offiliations include the Georgia Trust for Historic Preservation, the Regional Atlanta Civic League and the University of West Georgia Foundation.
— BN
Jeff Esola
33
Vice President of Operations
Georgia Chamber of Commerce
Kennesaw
Jeff Esola has been a one-man dynamo at the Georgia Chamber of Commerce since joining the staff there in 2001, setting records for recruitment, actively spreading the Chamber's resources throughout the rest of Georgia and overhauling the staff. One of the secrets to his success: "We don't make any distinction between Atlanta and the rest of the state," Esola says. "There has been too much of that in the past."
Esola's recruitment skills can be traced to his fraternity, Pi Kappa Phi. Not only was he a member of the chapter at LaGrange College, he was a leadership consultant with the organization's Charlotte, N.C.-based national headquarters.
In 2003, Esola was promoted to vice president of operations for the chamber. Last year he managed a successful fund drive for soldiers and their families on the eve of the 48th Brigade's departure for Iraq. "I believe we gave them a giant boost in morale as they left our great state," Esola says.
— BY
Andrew J. Freeman
36
Andrew J. Freeman & Associates, Inc.
Austell
When he's lobbying in the capitol for the National Kidney Foundation of Georgia, Andrew J. Freeman doesn't have to waste any time convincing lawmakers he's sincere.
For a year and a half, the 36-year-old lobbyist was without 85 percent function in his kidneys; and lawmakers always took Freeman seriously as a lobbyist for the kidney cause.
The fact he did the work without getting paid only added to the respect accorded to him under the golden dome.
Freeman, who received a kidney transplant Aug. 17, is doing well and, at press time, expected to be home in mid-September. But considering where he's been, he's not likely to give up his role at the capitol.
"It was the right thing to do," Freeman says when asked about using his vantage point with the illness to lobby for others. "You live each day as best you can and make the best of it and try and help others along the way."
— RG
Bert Guy
29
Partner, Stein & Guy, PC;
Secretary, Republican Party of Georgia
St. Marys
After getting his bachelor's degree from the University of Georgia and his law degree from Mercer Law School, Bert Guy knew where he wanted to go. Back home to St. Marys and Camden County. And given his long list of his community activities, St. Marys was happy to get him back.
"This is where I wanted to be. I enjoy being involved and giving back to the community that has helped me," says Guy.
Guy is president of the Camden County Bar Association and active in his church and such organizations as the chamber of commerce, Rotary Club, Salvation Army and the Kings Bay Navy League.
A rising star in the Republican Party, Guy currently serves as secretary of the Georgia Republican Party, continuing an involvement that started in college. At UGA, he was chairman of the local chapter of College Republicans and then president of the statewide group, the Georgia Association of College Republicans.
— BN
Josh Jackson
34
Editor, Paste
Decatur
All Josh Jackson wanted to do was tell people about good music. But what started as a Web site to promote friends' work has turned into a critically acclaimed bi-monthly magazine read by 750,000 people. And Jackson, a 1995 graduate of the University of Georgia's Henry W. Grady College of Journalism and Mass Communications, is editor.
What makes the national music magazine different can be summed up in its tagline: Signs of Life in Music, Film and Culture.
"A lot of the artists we cover, it takes a little more time to appreciate what they're doing," he says. "But in the end, it's a lot more rewarding."
Along with Nick Purdy and Tim Porter, Jackson founded Paste in Decatur in 2002. "I think that it gives us an interesting perspective," he says. "Some people might find it refreshing, a music magazine that's not coming out of New York.
"There's just a hole in the market for what we're doing," he adds. "I think people were hungry for stuff that said music."
— CW
Daron Joffe
30
Owner
Farmer D Organics
Savannah
Daron Joffe's career as an organic farmer got started 12 years ago when he wondered exactly what it would take to grow a sandwich.
That led him to found an organic farm while still in school in Wisconsin. After running the farm — and a falafel restaurant that "paid the mortgage in the winter" — he began to create urban education gardens for local schools.
Since moving back South, he's crafted a career that combines his passion for farming with a desire to educate. In addition to starting the organic farm at Serenbe in South Fulton County, he founded a nonprofit, Gan Chaim (Garden of Life), launched an organic farm for a University of Georgia professor, and now is setting up a farm on Hampton Island in Riceboro, as part of a preservation community.
"There's a new paradigm: developments that want organic farms instead of golf courses," he says, noting that such farms become gathering places. "It's a developer's dream, because building houses is easy, but building community is hard."
— KS
Stephanie Jones
36
Finance Director
Georgians for Isakson
Atlanta
Stephanie Jones's job as Sen. Johnny Isakson's chief fund raiser is far removed from her Auburn University criminology degree. But she doesn't mind.
"Starting work for Johnny was the best thing I've ever done," she says today, adding that she already had decided that criminology wasn't for her before the day in 1999 when Saxby Chambliss (prior to becoming a Georgia senator) and his wife suggested she volunteer for Isakson's 2000 House of Representatives campaign. Jones did and three weeks later found herself living in Washington, D.C. The Americus native ultimately moved back to Atlanta, and took charge of the Isakson campaign.
Today, she organizes receptions, forms host committees and plans golf tournaments — all to raise money for Isakson's next campaign. As a member of the High Museum of Art, Jones is helping with an upcoming black-tie event there. This time, though, instead of organizing the host committee, she's a member.
— CC
Brian O. Jordan
39
Founder, BOJ Enterprises, LLC and JW Technologies;
Outfielder, Atlanta Braves
Alpharetta
At 39, Brian Jordan, outfielder for the Atlanta Braves, knows his body won't take much more of the rigors of professional baseball.
A gifted athlete who also played three seasons for the Atlanta Falcons, Jordan knew education would be his ticket to a lasting legacy; he graduated from the University of Richmond with a B.S. in Sociology. "Education was number one for me," he says. "Now I'm getting to use it to become even more successful after the game."
In March 2005, Jordan and his partners in BOJ Enterprises, LLC, broke ground on Le Jardin, Atlanta's first billion dollar residential development, helping bring high end communities to south Fulton county.
Jordan also writes children's books and spent much of his off-season promoting his first effort, the autobiographical I Told You I Could Play. In keeping with the education theme, Jordan's foundation funds scholarships for five students currently enrolled in college.
— PR
Marcus Kellum
36
Chief of Code Enforcement
City of Sandy Springs
Suwanee
Six months isn't a lot of time to build a city. But for Marcus Kellum, it's all in a day's work.
As Sandy Spring's chief of code enforcement, he oversees and enforces city codes, ordinances and regulations related to zoning, development, building and property maintenance. "We went from designing the badges to adopting the ordinances, to training and putting officers out on the streets," says the Gwinnett Neighborhood Leadership Institute graduate, who also serves as vice president of the Georgia Association of Code Enforcement.
Kellum credits his search for a better quality of life with driving him in both his work and personal life. "It has just always been important to me to ensure that the quality of life is preserved for me and my family, for my friends and everyone else," he says.
And with new cities Milton and John's Creek on the horizon, it looks like his efforts will be a model to build upon.
— CW
Mark Lane
38
President & CEO
Security Bank & Trust
Albany
Mark Lane's financial acumen extends far beyond his duties as president and CEO of Albany's Security Bank & Trust.
In addition to improving the bank's total assets by 31 percent, and total deposits by 39 percent since 2003, the 38-year-old Lane has become the go-to guy for a host of charitable and civic organizations — such as the The Phoebe Putney Foundation and Albany Tomorrow — on all matters financial.
He's also active with the Darton Foundation, the Albany Tech Founda-tion, the Albany Area Chamber of Commerce, the Rotary Club of Dough-erty County and the First Baptist Church of Albany.
"Banking to me is a noble calling," Lane says. "I have a special place in my heart for the entrepreneur. I get joy in seeing startups succeed and established businesses expand.
"A bank is a part of making a community work," he says. "Civic responsibility is an important part of banking."
— EL
MarRonde Lumpkin-Lotson
36
Director of Economic Development
City of Savannah
MarRonde Lumpkin-Lotson was working on her master's in public administration at Savannah State University when a professor assigned students to conduct a study of a city's budget. She picked Thunderbolt, the small town just outside Savannah where she grew up.
During the project, Lotson heard town officials were seeking a town administrator. She applied, including her class paper (on which she made an A), and was hired after one interview. She was only 29, the first female and the first African American to hold the job.
Lotson's first big assignment: "They handed me plans for a new city hall and told me to build it," she says. And she did, along with a lot of other town improvements.
Lotson held the job for six years, leaving in January to become director of economic development for the city of Savannah. "I believe there's a lot we can do to positively impact Savannah," she says.
— BN
Troy Mahone
35
Vice President,
Commercial Banker
Corporate Banking
Columbus Bank and Trust
Columbus
In addition to his vice presidential duties in the corporate banking department at Synovus affiliate Columbus Bank and Trust, Columbus native Troy Mahone is an ardent supporter of the local United Way (UW).
"It's become like a second job, but it's been a lot of fun, and I haven't regretted a day of it," he says of the UW. As chairman of the UW major firms division, he coordinates the activities of volunteers from Wachovia, SunTrust, First Union and CB&T — a networker's paradise that complements his work as a commercial lender for corporate accounts with revenues in excess of $5 million.
"I really feel like I'm making an impact on the community," he says. "None of this would be possible without the opportunity to spend time at work working on these projects. It has a lot to do with culture of the company, and of Columbus. It's a difficult culture to describe — people really love one another."
— BY
Robert G. Mikell
36
Deputy Director
Governor's Office of Highway Safety
Snellville
As a Rockdale County prosecutor, Rob Mikell discovered an affinity for Driving Under the Influence (DUI) cases.
"A lot of experienced prosecutors will tell you," he says, "that a DUI prosecution is the absolute hardest case to prosecute. There are so many technicalities, so many rules, so many ways to lose a case."
Mikell immersed himself in the issue, developed his own experts, helped train police officers to better prepare their cases — and got himself noticed by and appointed to the governor's office.
An honorary Georgia state trooper, Mikell chaired the task force that ultimately influenced legislation giving police officers a better chance of obtaining evidence at the scene of a drunk driving accident.
The Citadel graduate and father of three runs road races and co-founded Operation One Voice, Inc., which raises money for the children of special forces soldiers killed in combat.
— CC
Keith Moffett
35
Regional Projects Manager Entrepreneur & Small Business
Georgia Department of Economic Development
Macon
Keith Moffett figures that somewhere down the line he'll hold public office, but for now he's content with helping small businesses in 20 Georgia counties find the resources they need to be successful and grow — and also with helping Georgia communities implement programs so that they do a better job of assisting small businesses and budding entrepreneurs.
"I love the interaction with all the different communities," says Moffett, who also hosts the Law Call show for a television station in his native Macon, where he lives with his wife and three children. Moffett moderates the Sunday night call-in show where attorneys answer questions from viewers. The former Navy electronics technician for submarines once served as communications manager for Macon's Tubman African American Museum.
— CC
Arun Mohan
28
Medical Student
Emory University
Monroe
Arun Mohan always knew he'd be a doctor, like his father. But after a sojourn with a rural development organization in Mexico, he wanted to do more than treat individual patients. "To me, being a doctor is about taking care of lots of people," he says. "That includes education and access to health care."
To develop the skills to address those needs, Mohan took a year off from medical school at Emory University to get his MBA. Along the way, he founded Health Students Taking Action (Health STAT), an advocacy organization that seeks to fill a gap in med school education by teaching students how to take action to solve health care policy problems. The group has worked to reduce state cuts in PeachCare. And he's founded a company, too — Picture RX, which uses graphics to help patients understand their medications and why it's important to take them as directed.
"I don't get the sleep I need," admits Mohan, who's now in his final year of medical school. "But I'm doing things I love, so it doesn't feel like work."
— KS
Jeffery Monroe
33
Attorney, Jones, Cork & Miller LLP
Macon
It's no exaggeration to say that Jeffery Monroe is one of Macon's brightest young lawyers. He graduated cum laude from the University of Georgia as a member of Phi Beta Kappa with a degree in history, then graduated from the UGA School of Law before returning to Macon, where he eventually joined Jones, Cork & Miller LLP.
Fortunately for his community, he puts his considerable skills to work outside the office as well. Passionate about community involvement, he remains active as a deacon for New Darien Baptist Church in his native Sparta, and works with local chapters of Girl Scouts, Crime Stoppers and the United Way. His seat on the Board of Advisors for the de novo Central Bank of Georgia allows him further impact on the area's future: facilitating small business loans.
"Growing up in Sparta, we came here on a regular basis, at Christmas and Easter," he says. "Macon is at the heart of the Georgia crossroads of I-16 and I-75, and there is a lot of potential here. It's a large town with a small town feel."
— BY
Amy Odom
35
Director of Public Affairs
Blue Cross Blue Shield of Georgia
Atlant
Amy Odom has politics in her blood — her father is a lobbyist — but she didn't want any favors starting out.
Instead, she paid her dues as a $75-per-week intern for the Georgia Democratic Party in 1993. After a stint on Zell Miller's gubernatorial campaign in 1994, she joined Public Strategies, a public affairs firm she describes as "applying campaign tools — messaging, focus groups — to corporate culture."
Lobbying for Blue Cross since 1997, Odom speaks plainly about health care problems and the company's interests in the system. "The question is, where do we go from here?" she says. "Health care is almost unaffordable now. The payor side is critical to access, but people don't always see it that way."
Odom also works with the Georgia Chamber of Commerce on health care issues and serves on the state's Live Healthy Task force. "The politics are interesting, and the health care debate is interesting," she says. "Mix the two together, and I love it."
— KS
Jennifer A. Rippner
31
Education Policy Advisor to Gov. Sonny Perdue
Sandy Springs
Education was her love, but Jennifer Rippner believed she could best serve the public interest outside the classroom. And so she has — first in Florida, as director of a new charter school and then as organizer and head of the state's Charter School Accountability Center. Now she's in Georgia, recruited here to work with the state's public charter schools program and then moving on to serve as education policy advisor to Gov. Sonny Perdue.
"Growing up I had always wanted to be an educator, but I realized my skill sets were better suited for other areas," Rippner says. She attended the University of Florida, receiving a bachelor's degree in political science and a law degree, with a focus on education law.
Named education policy advisor in June 2005, Rippner designed the governor's 2006 education agenda and then worked to get it through the legislative and budget process. "We're starting to see movement in the right direction to make Georgia's education system the best," she says.
— BN
Natalie Schweers
33
Group Vice President & Team Leader
Private Wealth Management Division
SunTrust Bank
Augusta
Despite a demanding career as a vice president in SunTrust's Private Wealth Management Department, Natalie Schweers devotes considerable time to a number of causes in the Augusta area, chief among them fighting domestic violence.
"It affects families for generations," says Schweers, who served for six years on the board of Safe Homes in Augusta a nonprofit shelter for women and children. "It's a cause that crosses all cultural and income barriers and it affects the lives of so many Georgians."
Schweers showcased her leadership skills with a fund raiser for Safe Homes called "The Secret Ingredient" — a cooking show that drew chefs from around the Southeast.
A native of McRae, Schweers is president of the Young Lawyers Association in Augusta. A University of Georgia alumna, she is involved with the UGA Honors Program.
— RG
Paul Simo
36
Design Manager
Main Street Design Assistance Program
The Georgia Trust for Historic Preservation
Atlanta
Since January, Paul Simo estimates he's driven the length of I-75 in Georgia about four times.
When one of the state's Main Street cities needs help preserving or renovating its downtown, Simo gets the call. His specialty is technical assistance for commercial building faades, encompassing everything from initial renderings to the nuts and bolts of preserving old plaster walls.
It's all in the name of economic development: "When we did a rendering of the Phoenix Hotel in Waycross, the city used it to land a new tenant that has put $7 million into the rehab and brought 120 employees to downtown," he says. "All from a rendering."
The owner of a historic condo in Grant Park, Simo volunteers with the neighborhood association and is starting his own consulting firm, Preservision Designs.
— KS
John Sparrow
37
Vice President & General Manager
Atlanta Symphony Orchestra
Atlanta
John Sparrow wants every cab driver in Atlanta to know about the ASO. That's when he'll know he's done his job.
"The ultimate success for us is when someone gets off a plane and asks the cabbie, 'What's there to know about Atlanta?' And he'd say, 'Well … our symphony is phenomenal.'"
His favorite part of the job? "To go out and interact with interesting, creative and diverse people. It energizes me," he says. "It's probably the most important component of what gets me up in the morning."
Sparrow has come full circle — he joined the Atlanta Symphony Youth Orchestra when he was 14. "I knew when I played my first rehearsal that I was going to have a career in music," he says.
He credits much of his success to being part of the community. "We're not the type of organization that just happens to be in Atlanta," he says. "We're a part of the fabric of Atlanta. It's very much a part of who we are and what we do."
— CW
Shawn Utley
39
Vice Preident of Satellite Operations
Moultrie Tech
Tifton
Shawn Utley couldn't help but notice the high school grads who didn't go on to a traditional four-year college slugging it out in the workplace without much technical training.
He pushed for dual enrollment so students could attend high school and also study trade at Moultrie Tech. In two years the number of students with a dual course of study jumped from 60 to more than 400.
"We can increase the graduation rates at high schools by addressing the needs of nontraditional students," Utley says. "The student is looking for more than what the high school has to offer. Just 20 to 30 percent of the students in our service area go on to a four-year school."
Utley oversees Moultrie Tech's satellite campuses in Tifton, Ashburn and Sylvester. He hires the staff, manages the instruction and acts as the liaison between Moultrie Tech and high school principals.
He also serves on the board of directors for the YMCA and belongs to the Tift County Recreation Department Advisory Board.
— RG
Chuck Warbington
35
Executive Director
Gwinnett Village CID
Dacula
One recent morning as he left for work, Chuck Warbington's wife, Stacey said, "See you later, Eliot Ness." It really hit home for Warbington, who says his most immediate concern as director of the Gwinnett Village CID, is reducing crime.
"Our first priority is to make our people safe," says Warbington, who is addressing the issue, in part, by paying for more police. "We've got to do that before we can invite or expect business growth."
That's just one facet of the epic challenge that is managing the largest community improvement district in the state, where 120 languages are spoken and 500 businesses representing $1 billion in property value have bought into the self-tax business district concept. The CID hopes to raise about $8 million over six years, and leverage that for tens of millions more in state and federal grants to fight crime, increase property values, promote business development and improve quality of life in southwest Gwinnett.
"Every day I wake up and feel like I'm making an impact. There's a real sense of purpose," Warbington says.
— JG
Ontario Wooden
28
Director
Velma F. Grant Honors Program and Academic Success Initiative;
Associate Professor of Education, Albany State University
Albany
At 28, Ontario Wooden is the youngest faculty member and administrator at Albany State University, giving him, perhaps, an edge in connecting with students.
As director of the Velma F. Grant Honors Program and Academic Success Initiative, as well as an associate professor of education, Wooden is charged with nurturing the institution's brightest students, particularly the freshmen and sophomores. Under his caring eye, ASU students have completed internships at Princeton and UCLA, and gone on to graduate work at Johns Hopkins.
Just two years into his duties, Wooden's programs have taken students to events such as the Thurgood Marshall Leadership Forum in New York. "We are not only bringing students here to get an honors program on their transcripts; we are also preparing them to be leaders on the campus and in the nation," says Wooden, who hopes to be a college president.
— EL