Corporate Training
Corporate trainers are teaching banking procedures, media tactics, management skills - and a lot mor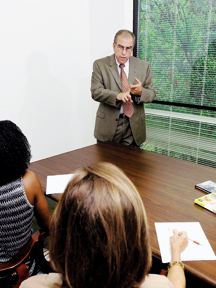 When Charles Williams became a bank officer in Eastman 25 years ago, he was delighted to be given the responsibility for security, which he saw as an opportunity for advancement. It was, but not in the way the young executive imagined.
"I went to the bank president and asked him what my responsibilities were," Williams recalls. "And he told me to get the files on security, study them and then to just keep on doing what we've been doing."
But when he examined the bank's security procedures, Williams found them lacking. Eager to make his mark, he drafted a new and improved security program that pleased his bosses, launching the Eastman native on a successful career, not in banking but in training bankers.
Today, Williams leads seminars and courses in security, sales and consumer lending. Many of his training presentations are available on DVDs produced in the studios of his company, Macs!, and distributed to client banks across Georgia and in more than 30 states.
"Bank security is a bland subject," Williams says, "because if you haven't been robbed, logic tells you you're not going to be. And then complacency sets in."
Williams conducts training seminars to help banks comply with federal banking laws and regulations, as well as courses designed to improve the bottom line. He's also a lead instructor at Atlanta's Community Bankers University (CBU), where he conducts training in consumer lending.
Spurred by the need to comply with federal and state regulations, and the desire to improve productivity and hone employee skills, organizations from governments to nonprofits to corporations are investing in training more than ever before, according to the 2005 State of the Industry Report prepared by the American Society for Training and Development (ASTD). Annual training expenditures per employee increased to $955 in 2004, up from $820 in 2003.
Current ASTD projections call for that figure to reach $1,000 in 2006, based on a nationwide survey of 281 public and private organizations. Employees are spending more time in the formal learning environment, an average of 32 hours annually in 2005, up six hours from the previous year.
About 2.34 percent of an organization's payroll is invested in training, according to the ASTD report. These national trends are being tracked in Georgia, say the state's corporate trainers. After profession- or industry-specific content, the most frequent training requests across the board remain the development of new and better managers and supervisors.
"The man who is promoted to management because he ran his machine productively now must translate his expertise into management expertise so that he can help others do what he used to do well," says ASTD member Nancy Green, a principal in and lead instructor at iinteg, Inc., an Atlanta-based corporate training company whose clientele runs the gamut of Georgia businesses from hospitality and health to earthmovers and manufacturers, including a number of Fortune 500 companies.
The leap from machinist to manager is not always an easy one. "The most painful way that manifests itself is in employee turnover," Green says. Teaching new managers how to manage and keep the best employees in the company is a training goal. "Retention is one of the things corporations are concerned about now," she adds.
Few training executives stay busier than Mary Malik, training manager for Dalton-based Mohawk Industries. With 17,000 employees in northwest Georgia, Mohawk provides training that comes from many sources and seems constant.
"Every employee is touched by training every year," says Malik, who promptly offers a lengthy list of examples: "New employee training, equipment certification, government compliance, safety, security, workplace dress and behavior, corporate culture, risk management, computer sciences, customer service, marketing, sales, time management, stress management and dealing with change."
Carpet and flooring manufacturer Mohawk's approaches to meeting such a wide assortment of training needs are varied. A permanent in-house department, for example, usually handles safety, while manager and executive courses may be taught by outside professionals. Or, says Malik, the company may buy a course and teach it in-house. One of the most popular is "The 7 Habits of Highly Effective People," by Stephen Covey, a kind of corporate self-help course carved from the well-known book of the same title.
To keep the new ranks of managers and executives in the pipeline, Mohawk, like most American corporations, seeks to single out rising stars to be groomed for executive positions. And on their trip up the ladder there are many stops in the classroom. "The bottom line on all [rising] leaders is the competency in the field they're in," Malik says. "And they need competency in the other areas, like communications and decision making. And they must have integrity and character."
In her 13 years with the company, Malik has seen the training and the best of human qualities converge in some Mohawk employees, who go on to managerial and executive positions. "They come back and say, 'the training was a big part of my success,'" she says. "That is rewarding."
Meeting The Press
Randy Whatley's corporate training company uses video technology to help clients interact with the media. "Typically in corporations, it is the senior, experienced people who have been dealing with the media," he says. "As those people approach retirement age or move on to other duties, a lot of corporations have a vacuum in the next tier of management personnel that does not have that experience."
And mishandling the press in a public relations crisis can badly damage a corporation's image, says Whatley, president of Cypress Media, who has been guiding CEOs through the slings and arrows of the press conference for 28 years, the last 10 in Atlanta – his clients include Georgia's Electric Membership Cooperatives, the General Services Administration and Southwest Georgia's school superintendents.
To help leaders present themselves in the best light, Whatley shows executives how to field questions and deliver answers. When a client receives unfavorable or unflattering news coverage – regarding, say, a financial disaster or a product malfunction – a leader's conduct can have a powerful effect on the corporate bottom line.
Of particular danger to a company's image, he says, are responses from mid-level managers surprised outside their offices by a television or newspaper reporter. "One of the first threats facing rising young executives, especially those who are sort of self-impressed, is to be glib," Whatley says.
"They might say something they mean to be funny, yet is interpreted as insensitive. And they can pop off and say something that is not what their company wanted to communicate." Such media mistakes, he notes, can wound or end a career.
To help CEOs and rising leaders remain cool under the glare of television lights while facing a barrage of questions, Whatley reproduces such conditions in his training courses, and tapes his subjects in this unnatural habitat.
"CEOs don't like press conferences because they are not in control," Whatley says. "When executives pay to produce a television commercial or launch a public relations campaign, they totally control that message." But reporters don't follow a script and to respond to their questions requires executives to think fast and answer calmly.
"First, they have to tell the truth," Whatley says, "The sooner they tell the truth and are open about what happened, not only with the media but with the public, the sooner they have the chance to recover."
Bolstering The Bench
Several years ago, America's college and university administrators began to anticipate a coming shortage of campus executives as experienced administrators approached retirement and young talent was being lured to the business world by higher salaries.
"What we did was design a program to improve mid-level strength and basically prepare the next generation of leaders from the administration's executive corps," says Lanous Wright, director of training for the Georgia Institute of Technology. "We are effectively strengthening our bench."
To get its bench ready to take the field – as rising executives on their way to becoming vice presidents and perhaps president – Georgia Tech instituted an executive training program for the top five percent of its young administrators that culminates in presentations on practical solutions for very real campus problems.
In August, the Masters Series Executive Development Program (MSED) began taking applications for 12 openings in a training exercise that many corporations can only dream of. For nine months, the chosen 12 will continue to receive their salaries while developing skills that range from using the right fork at a formal dinner to making presentations for proposals that could dramatically change Tech's (corporate) policy.
"These participants are assigned mentors and they shadow executives and meet with senior administrators in business and social settings," Wright says. "They are trained and observed in personal and professional development and given assessments. These people already have received recommendations from senior executives; they are the cream of the crop."
Wright has begun measuring the program's success and has found that five of the first 12 participants have risen in the ranks while "touched by the program," but, he cautions, "it is still very early; we are only two classes old."
The participants are divided into teams of four and spend the first half of their nine-month training in leadership preparation. The second half is spent addressing a real issue. Last year's MSED class looked into and made recommendations on uniform pay schedules for Tech faculty, administrators and employees. The program is being duplicated this year at universities such as North Carolina State, Duke and the University of Virginia.
Flying High
Jack Bara is noting a renewed interest in corporate culture and executive behavior as he books clients for the Atlanta regional office of Eagle's Flight, an international corporate training company. Bara, the company's regional director, sees a direct link between today's headlines and tomorrow's corporate training requests.
"If you look at the companies that have been in the news the last few years, their leaders did not exactly model good behavior," Bara says. "And that filters down through the organization and could cause disintegration."
He finds corporate leaders most interested in coaching their subordinates in the kind of behavior that benefits the bottom line and thrills shareholders. "If you look at successful companies like Southwest Airlines, [founder] Herb Kelleher exemplifies a good leader because he shows his employees that he practices his mantra of customer service," Bara says. "Success requires leaders to coach people on the proper behavior for achieving the corporation's goals and then requiring that behavior of them."
To drive the point home, Eagle's Flight regularly employs retired CEOs to lead classes in discussions of the kind of corporate behavior that results in success. Bara, a 25-year veteran of corporate training, stresses the importance of follow-up. "Training for the sake of training is the worst possible course," he says. "We have a complete measurement division that can show changes in behavior lead to changes in results."
Bara finds that following the training out of the classroom into the office is also good for his business. "If people see improved business results, and see that you had an important part to play in that, then you often find yourself employed in other training areas."