A Prayer for Georgia's 48th Brigade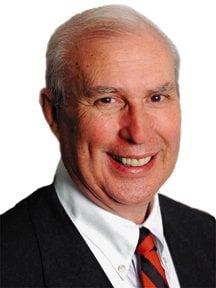 Not long ago I was standing in the atrium of Hartsfield-Jackson Airport in Atlanta when I heard loud cheering and applause. I was getting ready to go through the long check-in line before I was scheduled to leave on a trip to Little Rock, Ark. But I stepped away and ran over to see what all the fuss was about.
What I found was a long line of men and women in uniform walking by as several hundred bystanders applauded wildly, showing their appreciation for the brave young people who were just off the plane – coming home from Iraq. It was an inspiring thing to see. The applause was spontaneous and heartfelt. I joined in.
"They are wonderful," said a lady standing next to me. "They are flying in from Baghdad."
The proud sight – and sounds – sent chills down my spine.
No matter how you feel about the why of the war, we are in it; and will have to fight a long protracted engagement before we will see all our troops come home. We need to show our appreciation to those who are fighting and giving, as Abraham Lincoln said, "the last full measure" of their lives to protect us from what could be a war on U.S. soil.
Our cover story this month is on Brig. Gen. Stewart Rodeheaver and the men and women of the Georgia Army National Guard 48th Brigade Combat Team, who are now back from a tour in Iraq. The general told a recent audience, "We are fighting over there so we don't have to fight over here." I couldn't agree more.
Over the Fourth of July weekend, I was visiting the Summer Chapel, a small church located in the mountains of Cashiers, N.C. This little white clapboard church makes a beautiful picture, nestled as it is in the valley surrounded by the granite cliffs of White Side Mountain. It was a perfect American setting; the theme of the church service that day was the celebration of our country's Declaration of Independence.
During the service, Cashiers resident retired Gen. Carl Mundy, of the United States Marine Corps, read an Independence Day prayer. He graciously agreed to let me share his thoughts and words with you.
Here is the prayer.
God of our Fathers: We come to you this morning to give thanks for our country, America, which is a noble experiment in freedom and government [and] which even some among our Founding Fathers who conceived it had reservations [about] whether it could work.
To bring together a nation of immigrants of many nationalities and languages, and to govern not under rule of monarch or imperial will, but with a system by the people …of the people …and for the people was viewed among the nations of the world as heretic.
In their doubt, our forefathers turned to you, and set down a foundation that we would become one nation, under God. We developed a motto that affirmed "In God We Trust."
And here we are, 230 years later saying "Happy Birthday, America!" With the help of God we made it!
Despite the flaws we have become accustomed to the freedoms, bounty and goodness you bestow every day. Despite the criticism we heap upon the very foundations that create our noble country, [America] remains today the most envied, most sought after and even under international political stress, the most admired nation on earth.
As we look to the future, we remember familiar words that ask simply and meaningfully: "Long may our land be bright, with freedom's holy light. Protect us by thy might, great God our king."
As you read the story of Rodeheaver and brave men and women of the fighting 48th Georgia Brigade, no matter what your faith or belief, I hope you will join in and add to the end of Mundy's prayer a loud, resounding "Amen."
Neely Young is editor in chief and publisher of Georgia Trend. Contact him via e-mail at publisher@georgiatrend.com.