High Standards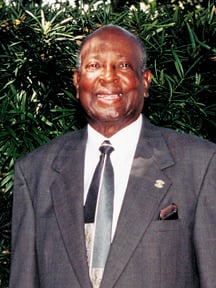 Walter McNeely never became a doctor, as was his ambition, but he helped many other young people achieve their career goals. McNeely, 79, was born in Millen, growing up at a time when professions for African Americans were limited. "It was preacher, teacher or one doctor out of a thousand," he says.
After a brief stint in the Navy near the end of World War II, McNeely graduated from Fort Valley State College with a bachelor's degree in chemistry and physics and hopes of medical school in his future. It was not to be.
"I didn't have the money," he says. "I went to Brunswick in 1949 to teach for a year and save some money. That one year turned into 57 years!"
Education became McNeely's career. He taught at Glynn County's Risley High School, first teaching high school chemistry and physics, and coaching football, girls' basketball and track, before climbing the administrative ladder. Many years of his service to the school system were under what he described as "adverse conditions," relating to segregation and its nasty side effects.
"We certainly had inferior equipment," McNeely says. "We had hand-me-down books and the like. But we had dedicated teachers at Risley and many of our students went on and graduated from college."
McNeely recalls the grading system's tight point ranges; anything below 74 percent was a failing grade, putting many current grading scales to shame. "We had high standards," he says. "Five presidents of historically black colleges graduated from Risley."
McNeely says the secret to their success was parental and community involvement. "They made us successful," he says. "They expected us to make sure their children learned."
In 1971, Glynn County Schools desegregated. McNeely presided over the breakup of Risley High School as half of his student body was sent to Glynn Academy, the other half to Brunswick High School. By the end of his education career – he retired in 1994 – McNeely had been a classroom teacher and principal, as well as assistant, associate and interim school superintendent for Glynn County Schools. Upon his retirement, McNeely ran for the school board and served for another six years.
But there was more in store for him.
A nephew, a former investigator for the state of Georgia that McNeely "partially reared," moved back to the Brunswick area and opened a bonding business. McNeely was a partner in Brunswick Bail Bonding when his nephew died suddenly. "We had a lot of bonds out," McNeely says. "I had to get on it or we would lose money." He remains active in the business to this day, though his work schedule is timed to accommodate his fishing schedule.
McNeely's long service to the Glynn County community, which includes stints on the Coastal Area District Development Authority and the Economic Development Authority, was noticed in 1998 by someone in then-Gov. Zell Miller's office. "I got a phone call from one of [Miller's] assistants asking if I would send my vitae for a post on the Department of Natural Resources board," he says. "The next thing I knew I was up in Atlanta getting sworn in."
McNeely, who also served as board chairman, remained on the board until 2003 representing the coastal region and describing his job as, "listening to the people and passing along their concerns to the people who did the real work."
But one of McNeely's biggest surprises came in 2003 when he received a phone call from Sea Island Company president, Bill Jones III, asking if he would be interested in serving on the company board. "I asked him, 'Are you sure about this?'" McNeely says. "And he said, 'You're damn right I am.'"
Most mornings McNeely launches his boat from the marina on St. Simons Island and fishes in front of the King and Prince Hotel. On a good day, he brings in close to 100 whiting or maybe the limit on speckled trout or red sea bass.
And even then, McNeely is thinking of others. "I have a young man come over to help clean the fish," he says. "I put them in Ziploc bags and give the fish to people in the community, people in my church."