Meeting the Challenges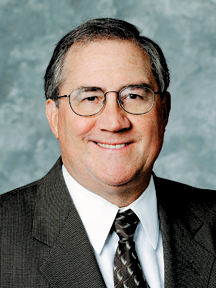 Reynold Jennings didn't know, when he was an undergraduate pharmacy student at the University of Georgia, that he would spend 32 years of his career developing a stellar reputation as a hospital administrator.
"Like most people who became pharmacists, I thought my career would be working in or owning a retail pharmacy," he says. Instead Jennings, 59, is chief operating officer of Tenet Healthcare Corporation, the second largest health care corporation in the United States.
A Dalton native, Jennings was the first in his family to go to college. His father was a custom home builder and though Jennings always thought he'd further his education beyond high school, college attendance wasn't viewed as a requirement for success. Returning to Dalton in 1972, Jennings began his career as a pharmacist at the Hamilton Medical Center where he eventually became director of pharmacy.
He thrived in the hospital environment, loving the interaction with doctors and nurses. "I was a people person and liked that side of my job, but I also enjoyed the clinical side," Jennings says. "It always felt great going home at the end of the day, knowing you had helped your community."
But Jennings was also an insatiable student. "I love learning and in the hospital setting there was always something new to learn in methods, pharmacology," he says. "There were constant opportunities to learn and grow."
Hamilton's CEO saw that spark in Jennings and spoke to him about getting into administration. The facility was about to undergo an expansion, and Jennings was given the invaluable experience of overseeing several departments as that expansion took place.
"I got my PhD through on-the-job experience," he jokes. Jennings also furthered his education, obtaining a master's degree in business administration from the University of South Carolina in Columbia; Hamilton's CEO sent Jennings to five different hospitals around the United States.
"I'd stay there for a week at a time, watching how they did things, taking notes," recalls Jennings, who says the process, "gave me an understanding of every single [hospital] department." By the time he left Hamilton, he had risen to senior vice president and COO.
Jennings moved up the administrative ranks in hospitals from Atlanta to Clearwater and St. Petersburg, Fla. He was instrumental in stabilizing the financial fortunes of Ramsay Health Care, Inc., a New Orleans-based hospital company, from 1993 to 1996. But his biggest challenges lay ahead.
He had a brief stint with Tenet from 1991 to 1993 and rejoined the hospital group in 1999 as senior VP of the company's Gulf States Region before moving to the position of executive vice president of Tenet's 34 hospitals and facilities in Alabama, Georgia, Florida, Louisiana, Mississippi and the Carolinas.
It was during that time that Tenet found itself in hot water with the federal government. A series of securities class-action lawsuits were filed against the company, beginning in late 2002, on behalf of persons who purchased Tenet securities between Jan. 11, 2000 and Nov. 7, 2002. The cases alleged that Tenet and a number of its former officers and directors made or were responsible for false and misleading statements concerning the company's receipt of Medicare outlier payments and other issues.
In 2004, while the cases were still pending, Jennings – whose reputation for personal and professional integrity had never been called into question – was asked to become Tenet's COO. Though the outstanding litigation would have been enough to give some executives pause, Jennings stepped into the role, guiding the company through a difficult period, including the sale of 31 hospitals that resulted in a workforce reduction. The lawsuits were settled in January 2006 for $215 million, and though other suits remain, Jennings believes all outstanding litigation will be settled by January 2007, if not before.
The Atlanta-based Jennings says there are "three things that keep me up at night," enumerating three major challenges that face the healthcare industry: the doubling of the body of knowledge that practitioners must learn; the declining numbers of doctors and nurses; and the learning curve of technology. "Introducing new technology is extremely complex and disruptive," he says.