LINKing with Miami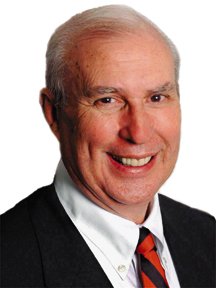 I just got back from a foreign country – Miami and South Florida. This is a joke, of course, and one that Miami leaders good-naturedly tell on themselves. Miami Mayor Manuel "Manny" Diaz told a story of how Secretary of State Condoleezza Rice was in town giving a speech, and when she finished turned to an aide and said "I've got to get back to the United States." The embarrassed Rice didn't realize the mike was still on.
The reason for my visit was my eighth LINK trip, sponsored by the Atlanta Regional Commission. LINK stands for "Leadership, Innovation, Networking and Knowledge." More than 130 leaders from Metro Atlanta's 10-county region participated this year, including county commissioners, mayors, activists, developers, journalists, chamber of commerce members and ARC staffers.
The main focus of these trips, which visit a different locale each year, is for the group to learn what other cities and regions can teach Atlanta area leaders about coping with problems such as traffic congestion, keeping our air and water clean, and, most important this year, how to handle explosive growth in the immigrant population.
During the 1990s, Miami and South Florida had the same enormous growth and change in ethnic population as we are experiencing in Atlanta, and in other parts of Georgia. The area's population increased by 23 percent, and shifted from majority to minority white. In Miami proper, with a 2.36 million population, the Hispanic/Latino population makes up 57 percent of the city. African Americans represent 20 percent and whites and others make up the balance.
During our visit we enjoyed several presentations, but the most important and dynamic one was a panel discussion about diversity and cultural issues facing the region. The panel was moderated by Cuban-American Mayor Diaz and was included a white, red-headed president of the Miami-Dade County Chamber of Commerce, a black Haitian-American member of the city council, and a Cuban-American council member.
We learned that Cuban immigrants enjoy special privileges not shared with other ethnic groups. In the 1960s after Fidel Castro was in power many middle-class and wealthy citizens had fled Cuba; following the embarrassing failure of the Bay of Pigs invasion, a sympathetic U.S. Congress granted all Cubans who come to the U.S. automatic citizenship after only a short time on American soil.
As a result Cuban-Americans make up the majority of Miami's Hispanic/Latino population and also control the city's political structure. There could be a major resentment among the area's white, African American, Haitian and other immigrant populations. Yet these leaders have worked out a structure in which they seem to get along together, and the community's civic will is focused on building a better Miami-Dade County.
Most visitors remember the Miami of the 1990s. The region at that time was awash in political and ethnic turmoil. Riots and civil unrest seemed to be a daily event, and the city government was almost bankrupt. Since that time a new mayor and city council have effected a complete turnaround.
We all marveled at how well the ethnically mixed leadership – the mayor and council – worked together. The white minority members, Haitian- and African-American council members had nothing but praise for Mayor Diaz for cleaning up the city's political structure and bringing the city from almost bankruptcy to "A" Bond rating.
Southeast Florida continues to lead the state in population growth, adding 175,000 people since 2004. The growth is being driven by a surging trade sector and by the arrival of immigrants, both documented and undocumented. Miami is going through an unprecedented building boom. More than 70,000 condo units are under construction. The city will soon open a major art complex.
Our LINK group learned that if a community stops fighting with its multicultural population, good things can happen. Miami's governmental policy of embracing ethnic diversity has a positive side. Condi Rice is incorrect in saying Miami is a foreign country. It may be more and more like Atlanta, Georgia and the rest of the United States. We can all look to this city's leaders to learn how to best deal with our own immigration situations, which are not going away anytime soon, if ever.
John Ahmann, Atlanta Committee for Progress/Ahmann Boyette
Clara Axam, Enterprise Community Partners
Charles Bannister, Gwinnett County BOC
Brandon Beach, North Fulton Chamber of Commerce
Eldrin Bell, Clayton County Commission Chair
George Berkow, Cowart/Berkow Development
Kip Berry, Benchmark Homes
Kay Beynart, Citizen Activist
Bill Bolling, Atlanta Community Food Bank
Lisa Borders, Atlanta City Council President
Jim Breedlove, BellSouth Corporation
Robert Brown, RL Brown & Assoc.
Kellie Brownlow, Atlanta Regional Commission
Amanda Brown-Olmstead, A. Brown-Olmstead & Assoc.
Michael Byrd, Cherokee County
David Connell, Regional Business Coalition
Jock Connell, Gwinnett County Board of Commissioners
Jack Conway, Forsyth County Commission Chair
Bill Cooper, Cobb Chamber of Commerce
Pat Corleto, CH2MHill
Steven Cover, City of Atlanta
Ann Cramer, IBM Corporation
Walter Deriso, GRTA
Gerri Dickerson, CH2MHill
Jeff Dickerson, Dickerson Communications
Douglas Dillard, Dillard & Galloway
Hattie Dorsey, Atlanta Neighborhood Development
Kit Dunlap, Metro North Water Planning District
Jim Durrett, Livable Communities Coalition
David Ellis, Greater Atlanta Home Builders Association
Todd Ernst, ARC Board Citizen District Member
Andrew Feiler, Metro Developers, Inc.
Shirley Franklin, Mayor, City of Atlanta
Sharon Gay, McKenna Long & Aldridge
Michael Gerber, Atlanta Regional Council for Higher Education
Virginia Gibbs, Fayette County Chamber of Commerce
Sara Gonzalez, Georgia Hispanic Chamber of Commerce
Kevin Green, Metro Atlanta Chamber of Commerce
Scotty Greene, Buckhead Community Improvement District
Jerry Griffin, Association County Commissioners of Georgia
David Hankerson, Cobb County Manager
Jason Harper, Henry County Commision Chair
Helen Hatch, Thompson, Ventulett, Stainback & Assoc.
Randy Hayes, Hayes Development Corporation
Rick Hirsekorn, Sandy Springs Service Team
Richard Holmes, Georgia Power
Douglas Hooker, PBS&J, Inc.
Kevin Isakson, Isakson-Barnhart
Vernon Jones, DeKalb County CEO
Maggie Joslin, McKenna Long & Aldridge
Raymond King, SunTrust
Chick Krautler, Atlanta Regional Commission
Steve Labovitz, McKenna Long & Aldridge
Tony Landers, Atlanta Regional Commission
Brian Leary, Atlantic Station
Tad Leithead, Cousins Properties
Loretta Lepore, Georgia Department of Economic Development
Eric Linton, Douglas County Government
Rob Lipson, WellStar Health System
Tim Lowe, Lowe Engineers
Stephen Macauley, The Macauley Companies
Ellen Macht, The Clean Air Campaign
Frank Mann, Trammell Crow Company
Thomas Martin, Gwinnett Community Bank
Penny McPhee, Arthur M. Blank Foundation
Michael Meyer, Department of Environmental and
Civil Engineering, Georgia Tech
Anna Millikan, Atlanta Regional Commission
Scott Morris, Gwinnett Chamber of Commerce
Lee Morris, Stevens, Wilkinson Stang & Newdow, Inc.
Emory Morsberger, Morsberger Group
Clair Muller, Atlanta City Council
Al Nash, The Columns Group, Inc.
Bill Nigut, Metro Atlanta Arts and Culture Coalition
Sam Olens, Cobb County Commission Chair
Al Outland, Georgia Municipal Association
Michael Paris, Council for Quality Growth
Carl Patton, Georgia State University President
Alicia Philipp, The Community Foundation
Ashlee Phillips, Atlanta Regional Commission
Kay Pippin, Henry County Chamber of Commerce
Cecil Pruett, Mayor, City of Canton
Laura Ray, Emory University
James Rhoden, Jr., Futren Corporation
Spurgeon Richardson, ACVB
Steve Rieck, Regional Atlanta Civic League
Malaika Rivers, Cumberland CID
A.J. Robinson, Central Atlanta Progress
Michael Robison, Lanier Parking Holdings
Rosa Rountree, State Road & Tollway Authority
H. Jerome Russell, H.J. Russell & Company
Maria Saporta, The Atlanta Journal-Constitution
Pam Sessions, Hedgwood Properties
David Sjoquist, Georgia State University
Steve Smith, Turner Broadcasting System, Inc.
Steve Stancil, GRTA
Shelton Stanfill, Woodruff Arts Center
Denise Starling, Buckhead TMA
Robert Steele, Oglethorpe Power Corporation
Jim Stokes, Georgia Conservancy
Eric Tanenblatt, McKenna Long & Aldridge
Pat Upshaw-Monteith, Atlanta Leadership Development Foundation
Ed Wall, MARTA
Harriette Watkins, AGL Resources
Tom Weyandt, Atlanta Regional Commission
Dave Williams, Southtrac, Inc.
J.T. Williams, Killearn, Inc.
Sam Williams, Metro Atlanta Chamber of Commerce
Yvonne Williams, Perimeter CIDs
Dottie Wise, Henry County Chamber of Commerce
Jere Wood, Mayor, City of Roswell
Tom Worthan, Douglas County Commission
Neely Young, Georgia Trend Magazine
Neely Young is editor in chief and publisher of Georgia Trend. Contact him via e-mail at publisher@georgiatrend.com.