Right Time, Right Place
In Southeast Georgia, Coastal Prosperity Is Gradually Moving Inland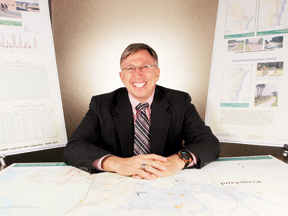 Ask Vernon Martin what's going on in Southeast Georgia and he sums it up in one word: Growth. Martin, executive director of the Coastal Georgia Regional Development Center, has worked in his Brunswick office and lived on St. Simons Island since 1969. He has held his current job since 1971, working with Georgia's six coastal counties and four other adjoining inland ones to plan and manage growth."
It's been slow up until now, but it's rapidly increasing on the entire coast," Martin says. "We've never seen this kind of growth and development before."
Anchored by Savannah on the northern point and Brunswick and St. Marys on the south, Georgia's coastal counties are experiencing an unprecedented boom in population, jobs and development – residential, retail and commercial. This part of the state is a powerful economic engine, driven largely by the ports of Savannah and Brunswick, with all the surrounding transportation, distribution and logistics businesses. The economy is stabilized by military bases: Fort Stewart, with its rapid deployment force, and King's Bay, home of the only nuclear submarine base on the East Coast. On top of that, the area is benefiting from a national trend of aging baby boomers migrating toward beaches.
Among those new high-profile coastal developments is a $2 billion mixed-use residential, retail and commercial project in Bryan County's Richmond Hill – Genesis Point. A similar project is under way in Camden County's St. Marys. Martin says his office has recently reviewed plans for 55,600 residential units, 1,000 acres of commercial and 18.7 million square feet of industrial development.
The Georgia Ports Authority reported 18 percent growth last year – and 50 percent over the past three years. Two major distribution centers opened near Savannah – Target and IKEA. In the Brunswick area, International Auto Processing on Colonel's Island has become the third largest business of its kind in the country.
"Our coastal region has the fastest percentage rate of growth in the state and that includes Atlanta," Martin says.
Growth is beginning to spread inland to some of the more rural counties that round out the Southeast Georgia region. "That area is sort of a mixed bag," says Doug Bachtel, a University of Georgia College of Family and Consumer Sciences professor. "You have some of those real rapidly growing coastal counties. Then you have the rest of those inland counties which are rural and dependent on the timber industry," he says. "Natural resource-based industry tends to go up and down."
Some owners have turned to greener pastures. "A lot of forest land is being converted to residential and some commercial," Martin says. "It is now more profitable to sell the land for development than to grow trees."
One of the best agricultural uses of former timber land is growing blueberries, which thrive in that type of soil, says John Tanner, executive director of the Bacon County Development Authority, who grows blueberries himself. Alma in Bacon County, he says, "is known as the blueberry capital of Georgia." The entire county has about 4,500 acres in blueberries and a half a dozen packing operations.
Other types of farming in the area have been in decline. The number of tobacco farms in Bacon County has dropped from a hundred to about a dozen, says Tanner, who is one of the displaced tobacco farmers. As the economy changes from agricultural to mixed industrial, labor force training becomes crucial. To assist in that effort, the county has used Special Purpose Local Option Sales Tax (SPLOST) collections to acquire a building and to lobby for state funds to start a technical college. The facility will be located in the old headquarters of the Satilla Rural EMC, which has built a new office.
Higher density development is under way even in the marshy green stretch between Savannah and Brunswick. "McIntosh has been probably the last county on the coast impacted by growth, and that's happening right now," Martin says. "High-rise condos are being built along the river in Darien."
As the coast develops and more forests become subdivisions, look for real estate prices to increase inland. "A lot of residential development with affordable housing will develop in Brantley, Wayne and outlying counties," Martin says.
Half a dozen new housing developments are under construction in the Jesup area alone, says Harry Yeomans, executive director of the Wayne County Industrial Development Authority. "We are getting people who like Southern weather but don't want to be inundated with water," he adds.
The state Department of Economic Development (DEcD) has been focusing on these counties for the past couple of years. Part of this effort is the Entrepreneur Friendly Communities program. Three Southeast Georgia counties have already achieved that status: Coffee, Toombs and Tattnall. A dozen more south of Interstate 16 are going through the process now, says Chris Clark, deputy commissioner for global commerce with the DEcD.
The entrepreneur program has helped organize the business community in the Reidsville area, says John Cheney, executive director of the Tattnall County Development authority. "We're an ag-based economy with heavy emphasis on state prisons," he explains, noting that the three state prisons in the county make up the biggest employment base. "We're trying to have planned growth." Part of the effort includes a leadership class, a new strategic plan and protective ordinances.
Coffee County's Douglas is often used as a model of small town success in Southeast Georgia. No interstate, no coast, no university. Strong leadership. Thriving downtown. Diverse economy. "Coffee County is one of the shining stars," Clark says. "They have really leveraged their resources. They are the small county that can."
Another up and comer is Appling County, which just last fall landed a 500-job high-tech manufacturing facility for Contender Boats. The premium sport fishing boat manufacturer announced it would invest $12.8 million near Baxley in the Appling County Industrial Park. The company plans to move the bulk of its manufacturing operations from its Miami headquarters.
Such an investment will have ripple effects on other nearby counties. A half dozen other boat manufacturers have relocated from Florida to Georgia, primarily in the Savannah and Brunswick areas. Effingham County has the Savannah Yacht Company. "It's something we're working on to see how we can continue to grow that niche," Clark says.
For the entire Southeast Georgia region, in 2005 state economic developers worked on a total of 20 locations with $375 million in new investment and 2,494 jobs – all those figures up from the previous year.
Rural counties are learning how to capitalize on their assets for their own brand of tourism. Hazlehurst in Jeff Davis County has developed a new river park that is attracting adventure seekers for hiking, kayaking and canoeing.
Screven County has invested in a new $3 million recreation facility that has begun hosting state tournaments for softball and baseball and attracting waves of visitors. "I think that's been important to our restaurants," says Nancy Edenfield, executive director of the Screven County Chamber of Commerce. Another important draw for visitors in Screven is the Tuckahoe Wildlife Management Area, which includes 15,000 acres open for hunting and fishing.
Screven is also looking for growth along a new four-lane highway to connect Augusta and Savannah – the Savannah River Parkway. Downtown Sylvania, located about half way between Augusta and Savannah, has been revitalized, with new sidewalks, underground utilities and street improvements.
Downtown renaissance seems to be a theme in Southeast Georgia, with dramatic improvements in a number of towns. "When you go into a community that's really progressive and growing, the downtown area is vibrant," says Allison Nalley Starnes, executive director of the Waycross-Ware County Chamber of Commerce. Waycross has completed a number of downtown revitalization projects, the most recent of which is the old Phoenix Hotel, built in 1892, which reopened this year as corporate headquarters for the Jones Company, owner of a number of retail chains, including Flash Foods.
Other counties are finding ways to grow their economies by attracting visitors, encouraging farm demonstrations and particularly heritage tours, following the lead of the super-successful tourism industry in Savannah. Savannah attracts more than 6 million visitors a year, generating $1.7 billion for the local economy, according to Erica Backus, public relations director for the Savannah Convention and visitors Bureau. A total of 16,000 people work in the Savannah tourism industry. "We've undergone a tremendous hotel boom," Backus adds, noting five new properties in the historic district.
The historic, natural beauty is coastal Georgia's finest asset and greatest challenge, given the current growth conditions. The Coastal Georgia Regional Development Center – through local officials – is strongly encouraging governments to direct growth by updating comprehensive plans.
"The biggest challenge is to get the plans down now before it's too late – so that we don't destroy what makes this a great place to live, work and play," says the Coastal Georgia Regional Development Center's Vernon Martin.