High-Tech Aptitude, Basic Skills
Technical Schools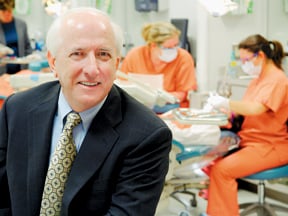 Motoman, Fanuc and Denso are not rappers or hip-hop stars, but when they are at work they make the kind of music that can send Georgia economic developers into dances of joy.
They are, instead, robotics manufacturers whose creations weld parts onto autos and tractors on some of the state's production lines. A Motoman product, for instance, doesn't have to take a break, go to lunch or request a day off to attend a wedding. All a Motoman needs is someone to tell it what to do.
With more and more manufacturing jobs being converted to machines, the people who manage those machines are becoming more and more valuable. And the skills they need require better education than ever before.
"In the past in manufacturing, a lot of the employees were parts changers," says Russell Vandiver, vice president for economic development at Gainesville's Lanier Technical College, and director of Georgia's new Center of Innovation for Manufacturing Excellence (CIME). "The manufacturing skills required today were not even known five years ago. I've seen production lines that have 20 or 30 robotic cells, and there have to be some technicians watching those robots to make sure they are doing what they're supposed to do."
Those robot watchers have to bring more than a toolbox to their jobs. "One of the most critical areas right now is knowledge in math skills," Vandiver says. "You have to be able to do calculations, to tweak a machine so it does what you want it to do. And you must be able to read and comprehend technical information." But, say manufacturers, those skills are sadly lacking among Georgia's modern manufacturing workers.
The 2005 Georgia Manufacturing Survey published by Georgia Tech reported a significant increase in concerns about the lack of basic skills among employees of the 650 participating manufacturers. The survey, begun in 1992, takes the pulse of manufacturing executives every two or three years.
What the respondents said in 2005 was surprising to some. "There was a dramatic rise in the concerns of Georgia manufacturers about the basic skills, with 26 percent noting this as a concern in 2005, compared with 11 percent in 2002," wrote Georgia Tech's Jan Youtie, one of the survey's authors.
Youtie doesn't point the finger at the state's secondary education system, but she does say, "People who take positions in manufacturing for the most part don't tend to migrate as much as people in high-level white collar positions, so whatever is going on in the state would be reflected there." She also notes the rising number of workers who don't have English as their first language as a possible cause of the concerns regarding basic skills.
"It might also reflect the fact that in manufacturing there is more to basic skills than there used to be in the past," Youtie says. "Today's basic skills require more technical capabilities, greater use of the computer and more understanding of manufacturing processes."
"About one-third of the technical school beginning students require remediation in either English or math, or both, when they come through our doors," says Michael Vollmer, commissioner of Georgia's Department of Technical and Adult Education (DTAE). "We have begun reaching out to eighth-graders to let them know of the wonderful careers out there for them."
The timing is right to begin building interest in manufacturing among the coming generations, according to another survey and another technical education expert. "We did an assessment to measure just what skill sets manufacturing will need down the road and to see what skills were becoming stale," says Dr. Tony Parker, president of Albany Technical College. "We wanted to know who is retiring in three to five years and what skills will be required to replace those individuals. The work force in this [Southwest Georgia] region is aging and approaching retirement, just like it is in the rest of the country."
Albany's Dougherty County is a good place to measure production employment needs. With a manufacturing base providing nearly 20 percent of the county's worker earnings, Dougherty is a state leader among metro counties in the category.
Beyond the need for better basic skills among manufacturing workers, the Albany survey found another concern centered on workplace culture. "Not only do today's workers need problem-solving skills, but they need to come to work on time, stay the entire shift and work the entire week," Parker says. "And they need to work overtime if they are needed and they need to be cooperative with their coworkers. We teach all that, and the manufacturers we surveyed said we need to continue to teach that."
Workplace Values
DTAE administrators and staff at every level seem to agree that in the evolution of the modern factory worker some old-fashioned workplace values have been lost. "Kids today don't realize that when an employer says 8:00 is the start time, he doesn't mean 8:15 or 8:30," Vollmer says. "Dressing properly for work, working in teams, all of this is part of a job. I know it is hard for someone 55 or 60 to comprehend this, but many of our young students don't understand the basic components of a job, so we have to teach them that. It is a required course in all our programs."
The key to getting qualified workers into Georgia's factories lies in getting qualified students into Georgia's technical schools. "We are reaching down into the middle schools," Parker says. And keeping the teens and preteens thinking about careers in manufacturing for even just a few minutes can be a challenge. "We have to understand that career decisions made by new generations are based on what looks good, feels good and sounds good," he says. "We have to make our pitch accordingly."
Albany Tech's pitch to middle schoolers is built around an automated machine called the can crusher, which does just what its name implies. "The can crusher was designed by a former student and it simply feeds cans into a crushing device that compacts the cans," Parker says. "It has action, it makes a noise and the kids like it."
Vandiver believes that capturing youngsters' attention can also help reduce Georgia's high dropout rate, a key to building the state's workforce. "If there is one thing we are trying to accomplish, it is to get more involved with high schools," he says. "I want kids to get oriented as to what manufacturing is today. The perception that manufacturing is the old textile mill, a hot dirty environment, is wrong. Plants today are clean and highly automated. In some cases, human hands touch the product only at the beginning of the line and at the end of it."
To reach out to these kids, Vandiver is planning tours, open houses, summer camps and parents' days at CIME. The theory is that if they can see the value of reading and math and understanding what they are taught is a means to a well-paying job, they'll be more likely to stay in school longer.
"We can use manufacturing to reduce the dropout rate," he says. "If we can cut the dropout rate 25 percent, the improvement in manufacturing productivity will be amazing. The exposure to jobs the kids can have will bring home to them why they need math and why they need the technology skills."
While working to improve manufacturing workforce skills, technical colleges are gearing up to land more factories – the homegrown kind. "We are trying now to locate offices from the Department of Economic Development in our institutions so that it could be a one-stop shop for entrepreneurs," Vollmer says. The goal is to have entrepreneurial centers where ideas can become manufacturing companies with employees trained on production lines equipped with the latest technology.
"We're probably not going to find a steel industry to locate in Georgia and hire 2,000 or 3,000 people," Vollmer says. "We're going to have to look at the smaller, entrepreneurial, high tech industries and manufacturers."
CIME is the model for the kind of high tech training such industries will need. The new 20,000-square-foot facility offers the latest in production equipment technology as well as a manufacturing education center and an adjoining entrepreneurial center where budding Georgia-grown manufacturers can blossom. "We think it is the first of its kind in the nation," Vollmer says.
Rapid Changes
The manufacturing center is funded with $2 million from a $14.6 million 2005 legislative appropriation that will also provide 150 new system-wide faculty positions and 200 new programs in several fields, including homeland security, health care and transportation. But manufacturing is at the heart of the CIME facility's mission.
"CIME means no Georgia manufacturer will have to go out of state for their training," Vandiver says. He adds that Georgia manufacturing technology is changing so fast that the technical college coursework designed by administrators often requires the talents of a futurist. "Two years from now the technology will change again," he says. "But we have to begin preparing now."
The recruitment of students as candidates for manufacturing jobs is not only beginning earlier in schools, it's also beginning later. "The old notion that [high school students] were either going to go to shop class or do research is dead," Vollmer says. "DTAE has students that already have a four-year degree, and the University System is getting DTAE-trained workers who are seeking a four-year degree. We've gone from industry and manufacturing needs that could have been met with a 10th or 11th grade education to those that are high in technical skills, skills that require a lively, analytical mind."
DTAE board chairman and Lakeland businessman Ben Copeland has been on one technical college board or another for most of the last 18 years. He can remember when schools trained auto mechanics and hairdressers, handed them a diploma and pointed them toward the job market.
"Before 1988, they were called vocational schools," he recalls. "And before that, they were trade schools. Auto repair, cosmetology, hands on kind of training was offered. Now it is technology-oriented training."
That is a modest description of the modern tech college. In the past decade, Georgia technical colleges have expanded curricula to include most of the economic sectors in business and industry, offering more than 900 credit programs in 100 career fields. New technical college courses are a response to the demands of the market.
"We are a ?bottoms up' system," Copeland says. "Rarely will the commissioner or the board press for a program. Because our local boards are composed of men and women from business and industry, and because every technical college works closely with local industries, they get marketplace information and needs straight from the sources."
This closeness to the industries in their service areas has produced a solid growth record for the state's technical colleges. In the '90s, DTAE enrollment grew by 110 percent; today the system serves more than 155,000 students, with another 85,500 participating in industry training programs.
Copeland is championing the youth recruitment movement to fill technical college labs and classrooms. Data from Georgia's Technical College Directors Association shows that joint high school/technical college programs resulted in a 98 percent high school graduation rate for participants, giving weight to the theory that technical colleges may hold promise in stemming the flow of dropouts.
"If we're going to compete worldwide in manufacturing, we have to start training people earlier," Copeland says. "They must know that we have a world of high-paying jobs out there that don't require a [traditional] college education. Our generation remembers when we were growing up our mothers used to tell us to eat our supper because the children in China and India were starving. Now we ought to be telling the kids at the supper table to get their homework done because the children of China and India want their jobs."