Entering a Brave New World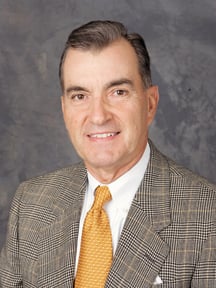 After the Atlanta Braves' memorable, magical 1991 Worst to First season, sportswriter Larry Guest approached Braves General Manager John Schuerholz with a book proposition.
But even though he'd already had success as general manager of the Kansas City Royals (1981-1990), Schuerholz took a chance that he might have more to write about if he waited a little longer before penning a memoir. "That could have been the end-all, be-all of whatever success I enjoyed in Atlanta," Schuerholz says. "Looking back it's accurate to say it was wise to wait."
Regarded as the premier general manager in baseball, Schuerholz, 65, has presided over the Braves unprecedented 14 straight division titles, three in the National League West and 11 in the East after the divisions were realigned. Through changes on the field and off, Schuerholz has managed to maintain a high degree of success despite challenges that would stop cold many CEOs: loss of personnel, changes in ownership and a $40 million decrease in budget.
And in his recently published book, Built to Win: Inside Stories and Leadership Strategies from Baseball's Winningest General Manager, Schuerholz takes fans of both baseball and business, "behind the curtain," to see how the wizard does his magic.
"It's not a how-to of how to manage or lead, though I do touch on those things," Schuerholz says. "The stories I tell in the book take baseball fans into what I think are interesting circumstances, trades made and trades fallen apart, contract negotiations, people I've met that are enjoyable and those not so enjoyable. I consider this book a reflection and a recollection of my interesting baseball experiences."
Schuerholz, a Baltimore native, entered the baseball business in 1966 after a brief stint as a junior high school English and World Geography teacher. He was hired by Lou Gorman, then Baltimore Orioles director of minor league clubs, a man whose style, especially with regard to staff, influenced Schuerholz.
"Boiling it down to its basic element, [Gorman believed] it's all about people," Schuerholz says. "Recognizing, appreciating and honoring the work that good people in your organization and department do, and giving the empowerment to do it and the support while they're doing it. That's been a basic operational philosophy of mine since I've become a baseball boss."
Observers believe Schuerholz has a keen eye for finding people who aren't just talented in their chosen profession, on or off the field, but who offer something extra. "The core nugget of whatever success I've enjoyed is good people," he says. "In my mind 'good people' are not only someone who has intelligence, a good work ethic, determination, knows no hours on the clock, but more importantly, someone who can be trusted, consistent of character and honorable. It's a mixed bag of elements, but those are the elements that are important to me."
And finding good people is a core value Schuerholz also uses to inform decisions about player acquisitions. "I try never to deviate from that element [character] of a player, which is the same I'm looking for in those people around me," he says. "It's as important to have guys wearing your uniform with those values as the guys wearing the ties."
Schuerholz's philosophies were front and center in August 2005 when he was the leadoff speaker at the first Governor's Leadership Summit, sponsored by the Georgia Leadership Institute. "I talked about the need to have a deep bench and developing young talent," he says, both of which were evident last season when 10 rookies made their major league debuts. "
Again, that was a tribute to the people who work in our organization," Schuerholz says. "They found these players and developed them so that when we needed them, they were ready."
Baseball fans may be sad to hear that Schuerholz describes himself as closer to the end than the beginning of his career in the game, but students of business and leadership strategies can look forward to seeing him on the speaker's circuit.
"You won't be surprised that I like to talk!" he jokes. "I get into deep, specific elements of team building and management in my corporate presentations."
And does the teacher turned baseball GM have any more books up his sleeve? "I'll never say 'never,'" Schuerholz says. "I told [my wife] Karen the other day that if I wrote another book it might be a novel. I don't have any real ideas for it but I like the creative aspect of it."