The Sportswriter's Sportswriter
Edwin Pope figured out early what he wanted to do - and he's still doing it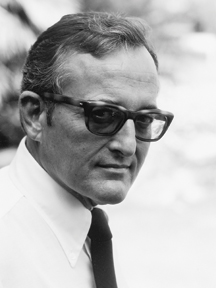 John Edwin Pope grew up in Athens but found a home in Miami.
At age 15 he was sports editor of the Athens Banner-Herald, and by the time he was 30 he was sports editor of The Miami Herald and recognized by his peers as one of the top sports columnists in America.
The late Jimmy Cannon of the New York Daily News called Pope "the best writer of sports in America."
Said Jesse Outlar, retired sports editor of The Atlanta Constitution, "Day in and day out, no one was better than Edwin Pope."
But no one thinks more of Pope than NFL Hall of Fame quarterback Bob Griese, who took the Miami Dolphins to three Super Bowls. "I appreciate his honesty. He wrote the truth. Unlike some sports writers who had their stories written before they interviewed me, Pope never did. He never fabricated. He listened to what I had to say. What he wrote was what I said, nothing more."
Pope has won numerous awards, including the Red Smith award for excellence in journalism, the Knight-Ridder award for editorial excellence, an unprecedented three Eclipse awards from the Thoroughbred Racing Association and the A.J. Liebling award for excellence in boxing journalism.
His hall of fame memberships include the National Sportswriters and Sportscasters Hall, the College Football Hall, the NFL pro football Hall and the University of Georgia's journalism school hall of fame.
Three times he was honored by the National Headliners Club as the nation's best columnist. He also was recognized by the Greater Miami Sports Council for "lifetime contributions to sports."
Pope started writing for the Athens Banner-Herald at age 11. When he wasn't in school he was covering ball games at the Athens YMCA. As a teenager he covered the Georgia Bulldogs and worked on the sports desk editing copy, writing headlines and drawing layouts for the next day's sports pages. He reported for work after school and was seldom home before midnight.
Pope is 77 years old and although "retired," he still cranks out 50-100 columns a year for the Herald. He's also written six books.
What makes Pope run? "At first," he said, "It was pure ego. I wanted to see my name in print. At the Banner-Herald I used to sit in the pressroom and grab the first paper to come off the press. I wanted to see my byline, 'By Edwin Pope.'
"After that whatever I achieved was out of appreciation and gratitude – for growing up with friends in Athens, supportive parents, my wife [Eileen] and son [David], Coach [Wally]) Butts, Johnny Rauch [the All-American UGA quarterback] friends like Dan Magill and Loran Smith and co-workers like you and Jesse Outlar and Furman Bisher, my mentor at the Constitution."
After graduating from UGA in 1948, Pope got a job with United Press, but Bisher hired him away two years later for The Atlanta Constitution. "Getting Pope was just what we needed, Bisher says. "He was not only an outstanding writer, but aggressive and the hardest worker I had ever seen."
When Bisher became sports editor of the Journal, he took Pope with him. But it was a brief stay; The Miami Herald made him an offer he couldn't refuse.
"Moving to Miami was the best thing that ever happened to me," Pope says. "I went down there as a columnist and assistant sports editor. After one year, the sports editor retired and I was named to replace him. I was still a kid."
To former Herald staff writer John Underwood, himself a star writer, Pope may have been a kid but he wrote like a pro. "His understanding of the subject matter was unparalleled. I worked with him for four years. He not only was the best columnist I ever knew but more importantly, he was one of the most caring human beings.
"'I know you can write well,'" he told me one day. "'But are you enjoying what you are doing? When you no longer enjoy it, it is time to move on.'"
For Pope, that time has not come. And it probably never will.
Gene Asher is a veteran sportswriter and businessman.