2006 TrendSetter Cities Of Excellence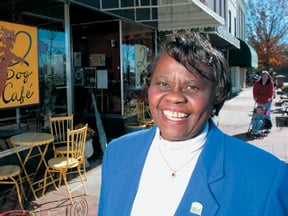 In Decatur, city officials have lopped 80 percent off the cost of a $5.2 million streetscape project, and are mining gold from the ideas of citizens.
In Hinesville, an idea hatched in the early '90s bore fruit a decade later when the city built a new fire station in the belly of a water tower.
Suwanee city leaders asked constituents how they'd like their property taxes raised by 120 percent, and homeowners said that would be just fine.
Jesup's officials love having their community known as the cheapest town in Georgia, and Gainesville is raising a whole new generation of gadflies to fight crime, reduce traffic congestion and make the city more beautiful.
In cities throughout the state, good ideas are zipping around like comets in the cosmos.
For the seventh year Georgia Trend and the Georgia Municipal Association (GMA) are continuing a partnership to recognize municipalities that have taken unusual steps to get the maximum from their budgets and widen citizens' participation in local government.
The 2006 Trendsetter Cities of Excellence Awards asked municipalities across the state to provide entries in two categories, Fiscal Fitness: Stretching the Public Dollar and Hearing Voices: Public Input in City Government.
One city, Decatur, so impressed the panels of judges assembled by the GMA that they awarded it the top honor in both categories.
This year's competition required two judges' panels to examine applications in the each category and then sit in on presentations by the finalists.
GMA was hoping to find some ideas it could share with members. "There had to be some value beyond just the recognition," says Tom Berry, a judge in the Fiscal Fitness category and former city manager of Thomasville, now retired. "And that value should be extended to other communities."
Winners in the Fiscal Fitness category were Hinesville in the large city group (populations of more than 25,000); Decatur in the medium-sized group (populations between 10,000 and 25,000); and Jesup in the group of smaller cities (populations less than 10,000).
In the Hearing Voices category, judges awarded the top honors to Gainesville for large cities, Decatur for medium-sized cities and Suwanee for small cities.
The judges found new ideas and uncommon approaches to common problems all municipalities face. "Fiscal responsibility is at the core of municipal government," says Amy Henderson, GMA's public information officer. "We were looking for new ways to make public funds go further. And we wanted portable ideas, ones that could be applied in just about any community."
After reviewing entries, the judges found cities that were stretching public dollars beyond the norm and inviting citizens into government processes in growing numbers, often with surprising results.
Read the cities' stories: