2006 Cities of Excellence – Suwanee
Hearing Voices Award - Small City Winner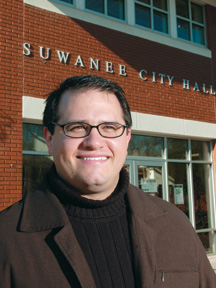 Suwanee mayor Nick Masino, whose city won a Trendsetter Award in the Hearing Voices category for small cities, says he is no politician. Yet he has been enjoying a political life that's the dream of most elected officials – running for office with no opposition.
Masino has kept his grip on municipal office even after endorsing a property tax hike of 120 percent back in 2001. Actually, the voters told him they wanted the tax hike – and the greenspace it would purchase.
All this is happening in a Congressional district whose representatives – first Newt Gingrich and now John Linder – have both championed less government and low taxes. "We are in a large Republican area," Masino says. "But we also have the best educated citizenry of any municipality in Gwinnett County, and they have high incomes and are engaged in the community and its government."
After the 2000 census, Suwanee residents woke up to the fact that their community was the fifth fastest growing in the state, and with that growth came a loss. "Our open spaces were disappearing," says Masino, a marketing executive. "People wanted [to stop] the growth, and I was telling them that you can't stop growth; what you can do is make sure it is the best possible quality growth. To do that we had to start acquiring property."
In November 2001, Suwanee's citizens overwhelmingly approved $17.7 million in general obligation bonds to purchase land for greenspace, parks and recreation sites, all to be paid for by property taxes, a vote that required such taxes to more than double. The voter turnout for that election was triple the norm. "Bringing the citizenry in early in any process may be a good idea politically, but getting reelected has nothing to do with it," Masino says. Through open houses, citizen task forces and the media, elected officials and municipal staffers here try mightily to find out what's on the taxpayers' minds.
If Masino and the Suwanee City Council seem to know just what those taxpayers want, it's because they have continuous and lively communications with them through a Web site, email, newsletters and advertising. "That way, we tell people what we are planning on doing, then we do what we said we were going to do and then we tell them what we have done," Masino says. "Entertainment, culture, parks, we just give them what they want. It would be silly to do it any other way. The more people you bring together, the better the results."
Suwanee citizens not only are willing to pay for quality of life improvements in their community, they will also roll up their sleeves to build them. At a public meeting during the process to acquire more property, locals informed their elected officials and their staff members of what they wanted in those spaces. "The citizens made clear their desire for a large, creative playground," says Kristi McCarley, special projects manager for the city of Suwanee.
But instead of hiring consultants and putting the project out for bids, civic leaders suggested another possibility. "We thought it a good idea if the very people who wanted the playground and who would be using it also helped design it and build it," McCarley says. "We thought if we gave the parents and grandparents the opportunity to provide such help, then they would have that much more of an investment in the park."
Local families jumped at the opportunity and nine citizen committees were formed to handle each step of the design and building, guided by a consultant from a company specializing in playground construction. The planning process took months; and after 1,200 volunteers donated their ideas and labor, the new PlayTown Suwanee was built in just five days.
"The mommies, daddies, grandparents and community-minded citizens showed up to work in one of three shifts each day," McCarley says. "This gives the parents a continuing interest in the condition of the playground. First of all, it will never be underused. And it will stay in excellent condition."
PlayTown Suwanee has the amenities citizens requested. There's also a wooden table with two benches. A chessboard is carved into the table's top and on it sit all the pieces needed to play. But chess pieces at a playground can get broken or just disappear. "That does happen," says McCarley. "Yet, when a piece disappears, it is almost immediately replaced by another hand carved piece. We have no idea who is doing this."