2006 Cities of Excellence – Hinesville
Fiscal Fitness Award - Large City Winner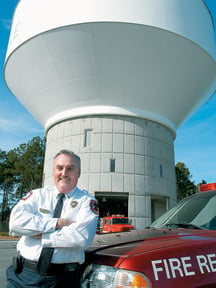 By encouraging everyone he works with to throw out ideas, Hinesville city manager Billy Edwards not only saved his town a lot of money, he also helped it capture the 2006 Trendsetter Award for cities of more than 25,000 in the Fiscal Fitness: Stretching the Public Dollar category.
Hinesville's entry was a lesson on the hydrapillar – not a water insect but a water tower – one that carries, in this case, a fire station in its belly.
"Everybody in our organization is paid to think," Edwards says. "Even those who are not regular employees." And back in the early '90s, Edwards had his ear out for a few good ideas. The city needed a new water tank on the west side of town and was close to needing a new fire station there. So, when an engineering consultant told Edwards about a new idea in water towers called the hydrapillar, his interest was piqued.
According to the consultant, the towers were competitively priced, and their bases could be used for other purposes, like housing fire stations. After traveling to Texas and Alabama to view a few of the oddly-shaped things, Edwards thought the hydrapillar/fire station combination made sense.
While there was a need and available funding for the water tower, "the area was not quite populated to the point where we needed to go ahead and build the fire station," he says. "And we didn't really have the money to build both."
Thus the water tower portion of the hydrapillar was built and the rest of the idea put on hold until funds were available. But as the west side of town continued to grow, the need for an additional fire station became more apparent.
"We had only one fire station and it was downtown, says Hinesville Fire Chief T. Lamar Cook. "Getting from the single station to a fire on the annexed west side of town could take eight to 10 minutes depending on the time of day," an unacceptable length of time to companies offering fire insurance to Hinesville homeowners.
"The ISO required that no building be more than five miles from a stationhouse," Cook says, referring to the Insurance Services Office, an industry agency that rates local fire departments. The ISO also required that the response time be less than five minutes. Hinesville homeowners would pay higher fire insurance rates until the response time was improved. Suddenly the 7,775-square-foot hydrapillar was dripping with potential. The idea got the go-ahead.
In 2002, bids were let to build the fire station but only one came back, and that with a $425,000 price tag – far beyond what the city could afford. That's when all eyes turned to the 10-year-old water tower.
"I had kept the idea alive in my mind," Edwards says. Then the fire chief came up with a few ideas of his own.
Putting Hinesville's second fire station into an existing structure like the water tower would eliminate a costly first step in construction – purchasing the land. Cook then decided to build his fire station using prison inmate labor, reducing a big part of the construction costs. But the job would require a set of skills not commonly found among local inmate populations. With the help of the local legislative delegation, the process of getting skilled inmates was streamlined but still agonizingly slow to Cook.
"Because no one [locally] had ever built a fire station inside a water tower, we had to wait until a department of corrections job site supervisor with the necessary experience could finish a job in another county," he says. "We were bringing in the necessary labor from counties all over Georgia. We had to get carpenters, masons and other skilled labor; and all of them were serving time." But the skilled inmate labor was found and the project completed.
In September 2004, Firehouse No. 2 was opened for business inside Hinesville's water tower, an oddly shaped concrete silo. The three-story fire station houses trucks and equipment on the first floor, with beds, a kitchen and rest area for firefighters on the second floor. A bonus third floor serves as a training room with seating capacity for 55. With no property or labor costs, and kitchen appliances purchased at a scratch-and-dent store, locals estimate the project savings at $175,000.
Firefighters at the new facility eat, sleep and sit just a few feet below 2.5 million gallons of water but they don't seem to care. "They like it there," says their chief.
By the end of October 2005, firefighters at the new station had answered 289 calls with an average response time of just 4 minutes, 48 seconds. Firehouse No. 2 has helped drop the ISO rating from a 5 to a 3, saving homeowners money on their insurance premiums while giving citizens in the annexed portion of the city an added sense of security.