2006 Cities of Excellence – Gainesville
Hearing Voices Award - Large City Winner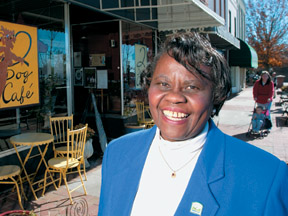 The only uniforms you'll see at the Gainesville Citizens' Government Academy are those worn by local cops giving a lecture on crime prevention.
The citizens' academy is a training program created in 2003 to show locals how the machinery of government works, and its success in combating such basic municipal ills as traffic congestion and shoplifting has earned Gainesville a 2006 Trendsetter Cities of Excellence Award in the Hearing Voices category for large cities.
What began as a crash course in government has led Gainesville's city leaders to educate new generations of gadflies to buzz in and kibitz at public meetings. "The academy grads are more interested in coming to meetings now and they can really help you get things passed," says Myrtle Figueras, a retired educator and nine-year member of the city council who is widely regarded as the mother of the citizens' academy, which got its start back in the 1990s.
That's when Gainesville's Hall County began to experience the kind of double-digit growth familiar to Metro Atlanta communities. With that boom came the scourge of suburbia, gridlock. The city's public servants were in serious pursuit of solutions to what seemed like a permanent traffic jam in and around downtown. Planners and engineers began to embrace the idea of a loop around the city to ease congestion, but that idea couldn't gain traction among residents.
Gainesville is surrounded on three sides by Lake Lanier, forcing any bypass route through the hearts of several older neighborhoods, and threatening residents' way of life. Anytime a loop idea was raised, Gainesville citizens swatted it down.
After a called traffic meeting attended by some 400 residents – most in opposition to any traffic routed along a bypass – the mayor and city council shelved the idea. But traffic still stacked up on Gainesville's roads. Finally the mayor and council said in effect what many an elected official has longed to say, "If you don't like our ideas, let's hear yours." What they heard were ideas and agendas – some conflicting, some pretty far out.
It didn't take long for the leaders to realize that some citizens needed an education in traffic control. That's how what locals called "Transportation 101" began. A retired Hall County traffic engineer put together some coursework to be taught by state, county and city transportation and land use planners.
Following the transportation crash course, Gainesville's better-informed citizens began examining congestion relief alternatives. After nine months of study and meetings held in homes, churches and restaurants, 15 specific proposals and three general recommendations landed before the city council.
The citizens' suggestions were striking in their simplicity and in their common-sense approach to problem solving. Soon Gainesville's elected officials were applying the academic approach to other municipal problems, and the Gainesville Citizens' Government Academy was born.
"Most of the [traffic improvement] ideas have now been acted on," says Figueras.
The Transportation 101 students' recommendations included the addition of new signs on busy Interstate 985 to route traffic around the city, new turn lanes, improved traffic signals and remote cameras. The council also endorsed a recommendation to hire a full-time traffic engineer.
"It was my biggest desire to have citizens learn all they could about what government is all about," Figueras says. "After all, citizens are the government, and once they become fully informed they learn there are no easy answers to many of the problems facing government. Actually, the original idea was that the more citizens know, the less they'll have to fuss about."
Mayor George Wangemann was present at the academy's birth and sees its potential in all municipal projects. "I sat as a member of the city council on the opening night of the academy," he says. "I spoke that night but I also heard from citizens and I got a greater appreciation for the ideas they offered."
Later, when locals spoke up for having a cleaner city, the council became more involved in making that happen, Wangemann says. "We partnered with Hall Beautiful to make sure the litter was picked up and the city clean. That's the kind of results you can see almost immediately."
The academy's success led to creation of the Business Police Academy in 2004, an instructional course in which business owners learn the latest methods to detect and prevent crimes such as shoplifting, identity theft and credit card fraud. Every class has been filled to capacity.