Twenty Years and Counting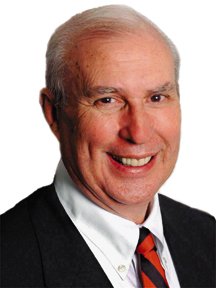 Almost seven years ago Tom Cousins and I purchased Georgia Trend, now 20 years old, from my friend Millard Grimes.
Our goal is to provide readers with a sense of deep civic responsibility, and at the same time give them the information that helps them understand what needs to be done in the Georgia community. Publishing a magazine in a vibrant, growing state such as we have is a great experience, and, quite frankly, a lot of fun. We are in the people business, and without you as readers, we have no purpose.
A magazine reflects the community it serves, and to a great extent the values of its owner. Millard Grimes' sense of justice and fair play contributed to building a great magazine for this state. We promised him we would continue this worthy tradition.
Millard has a deep love of this magazine and didn't want to sell it to a large chain. He wanted to sell the magazine to native Georgians, people he felt would take care of it and run it with the Georgia community in mind. Many major chain newspaper and magazine companies have a reputation for going in and "strip mining" an operation. When this happens, most of the local staff is replaced with folks from out of state. These people are mostly in it for themselves, and care little for the Georgia community. They write stories with little feeling for the readers or the communities they serve.
For the most part we have kept our promise to Millard. Our staff hasn't changed very much; many have been here 15 years, or more. Grimes expected this from us, because in our past purchases of his newspapers, we used the same approach, keeping most of the people who made the operation work.
Because any publication reflects the training and views of its owner, I thought you should know a little about who I am and those who have influenced me during the years.
Publications are not just ink and paper. They are flesh and blood, people who work hard, laugh and sometimes cry and sweat bullets over deadlines before each monthly issue is produced. These are the people who influence you every day through the years.
I've been fortunate to have been associated with some quality people since I began my career with a family owned newspaper, The Valdosta Daily Times. As a teenager, I was a clerk in the photography department, watching and learning from award winning photographer Robert Winter. My first boss (and first cousin), Tenney Griffin, was as tough as it gets. In those days (the late '50s), The Times was a strong advocate for civil rights, and Tenney wrote many an editorial promoting equal rights for all Valdosta citizens.
It didn't make us a very popular newspaper in that South Georgia community during those days. But Tenney won numerous awards, and helped Valdosta get through that turbulent era and become one of Georgia's best cities. It didn't hurt that Tenney was 6 feet 5 inches tall, weighed 245 lbs., and had played for the UGA Bulldogs under Coach Wally Butts. After leaving my hometown of Cedartown and graduating from UGA in 1965, I went to work full-time in Valdosta for five years.
I moved to Dalton in 1971 to work for The Daily Citizen-News, which people in the community lovingly called the Snooze. There I was able to observe a great journalist named Mark Pace.
In 1973 I moved to The Marietta Daily Journal owned by one of my fraternity brothers, Otis Brumby. There I was influenced by several great newspaper men including Otis, Harris Kettles, Jay Whorton, Bobby Nesbitt and Bill Kinney, who taught me the fine art of column writing.
Otis purchased the weekly Cherokee Tribune in Canton in 1974 and offered me my first editor and publisher position. I was one of the youngest publishers in the state – in other words, a greenhorn. I made a lot of mistakes, like running a front-page picture of a popular police officer passing out parking tickets, with the caption "He'll see you next week." He had passed away two days earlier. (We were able to reprint the newspaper, and take out his picture before delivery). Yet, some of the issues were distributed to racks and dealers. Our readers and his family forgave us.
Despite my many errors, running the Tribune was one of the greatest experiences of my life. The work was long and hard and there was never enough revenue to hire a lot of staff. A weekly editor does everything including writing editorials, taking pictures (my first love), processing advertising and sweeping the floor after closing. Sixty hours a week were normal, but the rewards were fantastic. When a weekly newspaper comes off the press, it's all yours. It was like painting a fresh picture every week.
Superior Court Judge Marion T. Pope became a good friend and helped me greatly over some bumps I ran into as an inexperienced journalist. He went on to become Chief Justice of the Court of Appeals of Georgia.
In 1977 I returned to Dalton as publisher, keeping Mark Pace as editor. I stayed almost 10 years and raised my family in this wonderful, small town community – making great friends like Maurice and Betty Sponcler. During this time I became involved in The Georgia Press Association and the Associated Press of Georgia, serving as president of each organization. Here I made many media friendships including Dink NeSmith, Bob Tribble, Quemby Melton, Kathy and Dennis Berry and many others. Most important, Georgia Press is where I got to know Millard Grimes.
In 1986 Charles Morris of Savannah offered me a CEO position running Morris Newspaper Corporation, a major chain comprising 30 newspapers in seven states. I was with Morris two years, managing existing properties and buying new ones. I gained a lot of experience working with Charles Morris, a great guy, and appreciate the added expertise he provided on operating a company at the corporate level.
Good friends from this time include Joe McGlamery and Randy Morton, both still with Morris today.
In 1988 I joined with Jim Minter and Tom Cousins to form Southern Publishing Company. Our first purchase was the Clayton County News-Daily and the Henry County Daily Herald, both strong newspapers located south of the Atlanta airport. The properties were owned by Millard Grimes.
During the next nine years, Southern Publishing was able to add 10 new publications to the company, by acquisition or by founding new papers. We sold the company to Community Newspapers Holding, from Birmingham, Ala., in 1997. It was my first sale of any publication, and I said a fond farewell to friends including Ellie Simon, Colleen Mitchell, Naomi Jackson, Tom Kirlen and many others.
I owe a great deal to Jim Minter, who before he left our company, taught me much about the news operation and how to put out a great newspaper. During a six or seven year span the News-Daily was voted the Best in Class by the Georgia Press Association and much of the credit goes to Minter.
After a year of retirement, I decided at 55 that I was too young to be hanging out with nothing to do but listen to my wife, Kathy, give "honey do" lists. Millard Grimes called and asked if I was interested in buying Georgia Trend. Tom Cousins and I teamed up again and purchased the magazine in 1998.
After running all of the above newspapers, it's been a joy working with Georgia Trend. What makes it nice for me as publisher and editor-in-chief are the terrific people at this magazine. Along with Editor Susan Percy, Advertising Director Amanda Patterson. Associate Publisher Ben Young and Executive Assistant Gail Aronoff, others include: Carolyn Gardiner, Jerry Grillo, Wayne Parham, Jane Robinson, MŽ Sha Golden, Ed Lightsey, Penny Alligood, Shannon Wilder, Clark Odom, Heidi Rizzi, Dana Jackson and Kristie Ahrenstedt. All of them make our operation run smoothly.
I have the best partner ever in Tom Cousins. Tom believes everyone he associates with has a responsibility to better their community. He encourages everyone to get involved and do their duty to the best of their ability, without interference or direction from him or his business interests. As an investor with Georgia Trend, he has never once asked me to voice any opinion or write any story. For almost 17 years, he has given me total autonomy, and I appreciate his confidence. On the financial side, Lillian Giornelli, Tom Charlesworth, Walter Ashmore, Paula Couey and Billy Wren have been invaluable.
Of all of the people named above who have had an influence on each issue of Georgia Trend, none has had as much as Millard Grimes. He is one of Georgia's great journalists. He, along with veteran writer Bill Shipp, helped guide me through the culture shock of learning to run a magazine. Editing a magazine is a completely different animal from standard newspaper journalism.
I thank you, our readers, who have supported our publication for 20 years.
We hope we will continue to earn your trust. We hope you find our publication informative, enlightening, entertaining, thought-provoking and an advocate for change for the next 20 years – and also a good read. I pray to be here 20 more years to see it happen.
Neely Young is the editor in chief and publisher of Georgia Trend.