20 Years, 20 Leaders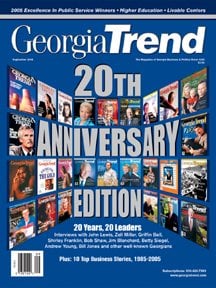 The editors have selected 20 prominent Georgians, individuals who have been actively involved in their fields of endeavor for all or most of the time Georgia Trend has been published. We assigned writers to talk to each of these leaders and find out exactly what they were doing in 1985, the year the magazine was born, then ask them to look back over the past 20 years at trends, highlights, challenges, successes – and, finally, to look into their crystal balls and project what might lie ahead in the next few years.
Our leaders represent government, banking, publishing, agriculture, real estate development, law, education, philanthropy and politics. They include Andrew Young, George Berry, Betty Siegel, Zell Miller, Otis Brumby, Alicia Phillip, John Lewis, Alec Poitevint, John Sibley, George Israel, Herman Russell, Jim Blanchard, Griffin Bell, Tommy Irvin, Bob Shaw, Mike Garrett, Jimmy Tallent, Bill Jones, Shirley Franklin and Bill Shipp.
Here are a few of their stories:
JAMES H. BLANCHARD, Banking On Values
James Blanchard, chairman of Synovus Financial Corp. in Columbus, has always believed that it's the people who matter most.
Blanchard has seen banking transformed from a time of tight restrictions to national mega-banks created through mergers and acquisitions, from limited operations to a full array of financial services. Through it all, he focused on the people: his employees and his customers.
Twenty years ago, deregulation created both opportunities and vulnerabilities. The Southern Compact allowed Southern banks to merge with each other; an alliance they hoped would keep them from being gobbled up by larger banks in the Northeast. Blanchard had been at the helm of Synovus Financial Corp. for 15 years, and he favored deregulation.
"It was not clear who the surviving players would be, but our bet was that the teams that had the most depth of talent would be the survivors," says Blanchard, 64.
The numbers tell his story. In 1970, when Blanchard became CEO of Columbus Bank and Trust Company, the bank had 200 employees, assets of $100 million and net income of $1.8 million. Under his leadership, CB&T Bancshares became Georgia's first multi-bank holding company. Today, Synovus Financial Corp., as it was renamed, has 12,000 employees, $26 billion in assets, and net income of more than $500 million.
In 1983, Synovus established TSYS, a cardholder payment processing company, and issued stock in 20 percent of the company. It now is the world's largest processor of credit, debit, commercial and retail cards.
Synovus has 41 member banks, but the company cultivates a community bank feel. Each acquired bank retains its name, board of directors – and local touch. Blanchard is committed to decentralized management, as is his successor, Richard Anthony. (In June, Blanchard announced he would be stepping down as CEO and would become chairman of the board.)
"I view the decentralized approach as an extension of our belief in the value of our people," Blanchard says.
Picture a local bank president, a 25-year veteran of a bank in Americus or Thomasville, with decision-making authority, competing against a junior officer in a branch of a mega-bank who has to call headquarters to get approval for a deal. Which one is most likely to get the business? "We think that's been our secret weapon, our competitive advantage in the marketplace," Blanchard says.
Meanwhile, Blanchard also grooms his "team members" (employees) in the company's Center for People Development and Leadership Institute. He is proud that his company has been named one of the best places to work in America by Fortune magazine for eight years in a row.
He says Synovus will carry on its culture of putting people first, and he predicts a rosy future in banking as Synovus expands in financial management services. "I think the banks have the greatest opportunity for growth we've ever had in our history as we diversify our offerings to our customers," he says, noting that Synovus provides brokerage services, trust services, insurance services and products, and money management.
"In 25 years, the numbers that will have occurred in Synovus will make the numbers under my tenure look modest," he insists. "I really think the best days of Synovus are out ahead of it." – Michele Cohen Marill
SHIRLEY FRANKLIN, Madam Mayor
Before the first vote was cast for Shirley Franklin in the 2001 Atlanta mayoral election, the city was $82 million in the hole, its sewers were rotting and overflowing, and faith in city government following the turbulent Bill Campbell administration had evaporated.
So, after taking office in 2002 as the first black woman mayor of a major Southern city, Franklin did the difficult things that had to be done.
She raised taxes, eliminated city jobs, cut her own salary and, in an effort to restore faith and sanity, she implemented a code of ethics. She also formed alliances across party lines, with the business community and state government, balanced the budget and started the much needed $3.2 billion sewer system overhaul.
Earlier this year she was named one of America's "five best big-city mayors." In May she went to Boston to accept the 2005 John F. Kennedy Profile in Courage Award, the only mayor to be so honored while still in office. But Franklin loves her job. She'd like to keep at it for another four years, so she says there's a lot of work left to do; and she grades her administration on the curve.
"I think we're earning a 'C' or maybe a 'B-minus,'" says Franklin. "The truth is, we're better than we were, but we're not where we should be."
So, Franklin lists the items on her to-do list, the stuff that better grades and perhaps four more years are made of: Adding parks and greenspace, the belt line, affordable housing, public education, water and sewers.
One of the top items on her list is the airport and its long-awaited fifth runway, scheduled for completion next year. Coincidentally, 20 years ago, when Franklin was the chief administrator for Mayor Andy Young (1981-89), the airport was in the midst of adding a runway. "We're expecting to continue construction [at the airport] up to about $6 billion over the next decade," says Franklin, who notes that since she left city government in 1991, the number of people passing through the airport each year has more than doubled.
The homeless issue is probably dearest to Franklin, whose father was homeless for a time. In 2003 she launched the Blueprint to End Homelessness. One result of that is the 24/7 Gateway Center, a safe haven for homeless persons, with showers, toilets, food, storage, beds. Services include medical and mental health care, job readiness and training, and specialized services for veterans, women and children.
"We can have a great airport, wonderful new water lines and an expanded sewer system," Franklin says. "But if we don't take care of the folks who are falling behind every single year, we really haven't built a great city."
So, she has a high approval rating and a clear mission for the next four years. Beyond that, Franklin sounds a little anxious, especially regarding water management, as Metro Atlanta is expected to add a population the size of Denver's (about 2.3 million) over the next 20 years.
"As a region and a city, we have a chance to plan for it together," she says. "But the people are going to come whether we're ready or not." – Jerry Grillo
GEORGE ISRAEL, The Face Of Business
George Israel could hardly have imagined a year as good as this one.
With a Republican governor and Republican-controlled legislature, the business community prevailed on 17 of the 18 bills it targeted in the 2005 session, Georgia cemented its reputation as a pro-business state.
Israel, 56, president and CEO of the Georgia Chamber of Commerce, has been working toward this day, laying the groundwork for success, for the past 20 years. "It was the most extraordinary session I think the chamber has had or will ever have. I don't know that we'll ever have one that good," says Israel, who counts tort reform and corporate tax reform among the greatest accomplishments.
Under his leadership, the chamber's membership has grown to 4,000. That translates directly into clout. "Every time we have a member join us, our voice goes up one decibel," he says. And Israel has made sure the chamber's voice is heard.
Each year, chamber committees discuss public policy issues and decide which bills to support, a platform that is approved by the chamber's board of directors. The chamber's Legislative Voting Reference tracks how legislators voted on those important issues. If there's a new bill or action at the Capitol, the chamber issues an immediate Web alert and blasts emails to members.
In that way, the chamber keeps business leaders across the state in the political loop. "We have legislators say, 'Is this going to show up on the reference guide?' It is actively used by our members," Israel says.
This is a far cry from the days before fax, cell phone, computer or PDA. The Georgia Chamber and the Business Council of Georgia represented business interests at the Capitol, but often focused on different issues. The two organizations merged in the mid-'80s.
In 1985, Israel was mayor of Macon, and he had just completed a successful stint as chair of the Reagan re-election campaign in Georgia. Newt Gingrich and Pat Swindall were the only Republican members of Congress, Mack Mattingly was the first Republican Senator from Georgia since Reconstruction, and the state legislature was still solidly Democratic.
Israel strategized with then-state representative Paul Coverdell, Gingrich, Mattingly and others about how to build Republican influence in Georgia. He considered a future run for governor, but stepped back from that and watched heavyweights Zell Miller and Johnny Isakson take center stage.
Instead, Israel returned to business leadership, including a stint with Secure Health Plans of Georgia, a managed care organization. He became chamber president and CEO in 2002.
Georgia has historically had a pro-business outlook. But with the changed political landscape, Israel finds even greater appreciation for the need to create a favorable business climate.
He'll need that support because the next issues on his agenda will be the most challenging. Tops on his list: health care. Health care costs are crushing businesses, he says. Israel favors reform that puts the consumer back at the center of cost, quality and access decisions.
"We're laying the groundwork now. We will be developing a conversation on Georgia's health care," he says. "I'm developing a passion for this issue just like I developed a passion for tort reform." – Michele Cohen Marill
JOHN LEWIS, Congressional Conscience
Since he was very young, John Lewis has dedicated himself to causing trouble for all the right reasons. It's part of his engine, what he lives for. The struggle. The push. To uproot something, you have to dig, stir up dirt, commit.
"The other day I told about 300 interns from the House and Senate – Democrats and Republicans; I told them they must have the ability to get in the way," says Lewis, 65, who is serving his ninth term in Congress. "I was inspired by Dr. King to get in trouble, get in the way. I told the interns how important it was to speak up, to get it out there."
In other words, have guts. That's never been an issue with Lewis, who was a nationally recognized leader in the civil rights movement before he was 23. He was jailed dozens of times, beaten countless others, including a vicious clubbing at the foot of the Edmund Pettus Bridge in Selma, Ala. Lewis was leading a peaceful march for voting rights in March 1965 when he was almost beaten to death by white police officers. He was causing trouble.
"I honestly didn't think John Lewis would survive the '60s," says political columnist Bill Shipp, who covered the civil rights movement. "He tops the list of the bravest men I've ever covered."
One afternoon late in October 1985, 20 years after "Bloody Sunday" in Selma and a few days after Lewis won a second term as Atlanta City Councilman, he had lunch with Julian Bond, an old pal and fellow peaceful warrior from the movement, and state senator at the time.
"A very interesting meeting," Lewis muses. "We'd just heard that Congressman [Wyche] Fowler was going to give up his House seat and run for Senate. We started talking about our future plans and it was downhill from there."
That's because each man announced to the other his intentions to run for Fowler's seat as U.S. Representative of the 5th District in 1986. "It was a very quick lunch," says Lewis, who upset the popular Bond in what was undoubtedly the most talked-about House race in the nation that year. "It was a very close, very difficult election, and we'd been friends for so long. Very tough. I never want to go through anything like that again."
Lewis has breezed back into office eight times since and has earned a reputation as the conscience of the Congress. He's a thorn in the side of what he calls "the most secretive presidential administration I've associated with," campaigning to preserve individual civil liberties, which he says have eroded in the name of national security; advocating for peace, the oppressed, the millions of Americans who don't have health coverage. Lewis isn't young, but he plans to keep getting in the way.
"In a sense, I feel like I've been fighting for 45 years, without stopping," he says. "I don't think there is any time to rest, or look back, because the struggle to create what I like to call a better society is not a struggle that lasts for a few years. It's the struggle of a lifetime." – Jerry Grillo
ZELL MILLER, Capitol View
Perhaps no one embodies Georgia's political and cultural changes in the last two decades better than a lifelong Democrat whose most recent work pointedly criticizes the party that "I didn't leave – the Democratic Party left me."
With two New York Times best-sellers under his belt (A National Party No More and A Deficit of Decency), Zell Miller, former mayor, state senator, lieutenant governor, governor and U.S. senator reflected on his long public career by telephone from his home in Young Harris, accompanied by his dogs Woodrow and Gus (named for characters from the Larry McMurtry novel Lonesome Dove).
"In 1985, I was finishing up my third term as lieutenant governor, getting ready to run for governor. At the time, people were calling me ?lieutenant governor for life' – no one had served longer. But I had been biding my time," he says. Among his varied colleagues over the years: Gov. Lester Maddox, for whom he served as chief of staff, and campaign strategist James Carville. "I couldn't have become governor without him," Miller says.
Among Miller's many notable efforts: An early, defeated attempt to change the flag, which nearly cost him re-election, and the HOPE Scholarship Program, so wildly successful that it's served as boilerplate for a phalanx of other states.
Miller says only, "I dreamed of doing something in politics. I never in all my wildest dreams imagined what would happen."
After making news with a contentious keynote speech at the 2004 Republican Convention, and sparring with MSNBC's Chris Matthews, Miller says he's taking a more reflective, advisory role these days. "I'm trying to move off the playing field and into the stands." He's currently a non-attorney policy adviser at law firm McKenna Long & Aldridge.
"The two biggest challenges in politics are first, the outrageous amounts of money it takes to run for office," he says.
"When I first ran for state senate, I spent $438. Today, that race would cost about $1 million to run. In 1974, when I first ran for lieutenant governor, I spent less than $200,000 – and never used any TV. I would drive all over this state, go to the courthouses, down Main Street, shaking hands. I'd look up in the sky and see an antenna, and make my way to the radio station, and try to get on the air for an interview. Today, the Senate sets its schedule around the fund-raising for individual members. That's the world of politics today. You lock yourself up in a room with a list of names, and you call them and beg. You get a TV spot. You never get out and see the people.
"Second," he says, "is how partisan politics have turned mean and vicious." He points to strong relationships with Georgia Republicans like Paul Coverdell and Johnny Isakson throughout his political career. "Today, Republicans and Democrats hardly speak to one another," he says. Moreover, "I don't know how you change it. And it worries me tremendously."
And to the inevitable question of whether he will ever actually leave the Democratic Party: "It's like being born and growing up in a house that's beginning to leak," he says. "The plumbing isn't good. Strangers have moved into the barn. But I'm not going to leave." – Krista Reese
ANDREW YOUNG, World Citizen
Mayor Andrew Young had been touting Atlanta's place on the planetary honor roll for years when Billy Payne approached him in 1988 with an opportunity to prove the city belonged there.
Let's bring the Olympics to Atlanta in 1996, Payne said.
The quintessential American statesman, Young had already served in the U.S. Congress and as U.S. ambassador to the United Nations under Jimmy Carter. Payne needed him, if for no other reason than Young was well traveled and knew a few things about working a multicultural, global room.
Then, while almost everyone else was laughing, Atlanta got the games.
"We did it because nobody believed we could do it, so there was nothing to fight over," says Young, Atlanta's mayor from 1982 through 1989. "We were laughed at in the early 1980s for saying Atlanta was an international city. But we had Coke and CNN, the Merchandise Mart, a new international airport. We already were an international city. And what I think really characterized that period, 1985 to 1990, was our belief that we could make our dreams come true."
Private investment from abroad helped. Even as the city shook from the effects of a worldwide recession in the early 1980s, new investors were bringing jobs and billions of dollars. Then, aided by Young's leadership and global chutzpah, the city won the 1996 Olympic Games, setting off another multibillion dollar chain reaction of economic growth for the region.
But in 1985, as Georgia Trend rolled off the press for the first time, Young was preparing for what would be a landslide re-election bid in the fall, and pondering the future of integration.
Atlanta had accomplished desegregation 20 years before, but was still in the process of completing the task of integration. "In some ways, we have accomplished that task," says the pragmatic Young, who understood early on that racial discord was bad business. "I've been very impressed with business integration in Atlanta and Georgia. Most of the major employers are fairly integrated at all levels.
"You know, white and black Southerners have had an inferiority complex that dates back to slavery and segregation, and it no longer applies. As one of the old timers said to me, 'Since we got air conditioning and integration, there's nothing we can't do in Georgia.'"
Lately, after decades of reaching across international borders and time zones, Young is thinking more about the little places close to home. "I think this is the time for small towns in America, particularly in Georgia, to come into their own," says Young, chairman of GoodWorks International, a consulting firm that helps multinational corporations and developing nations with global policy and strategy. "The future is in small town investment and economic development."
This realization came to Young in 1992 on a boat in the Mediterranean, during an Olympic visit to Barcelona. "Bill Simon, former president of the U.S. Olympic Committee, was living on the yacht, living all over the world," Young recalls. "He had one hour of satellite time booked every other day to conduct his business. I realized then that if you can run a business empire from a yacht in the Mediterranean, or the South Seas, or wherever, you can run a business from any little town in Georgia, or anywhere in the world." – Jerry Grillo