The Welcome Mat is Out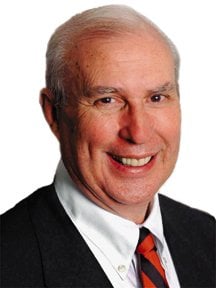 I have a suggestion for a new Georgia slogan: "Georgia, the Welcome State!" Come to Georgia, all you who are weary and are carrying heavy tax burdens, Georgia will give you rest. Our taxes and cost of living are some of the lowest in the country.
Tired of high taxes and cost of living in New Jersey? Come to Georgia, the Welcome State. You can sell your two-bedroom, 1,800-square-foot saltbox with a $3,700 yearly property tax burden for $350,000 and move here. In Georgia, $350,000 will buy you a 2,600-square-foot, four-bedroom townhouse with a gourmet kitchen and beautiful green common area, community pool and tennis courts.
Tired of high taxes? You can choose to live in several Georgia counties that have no school taxes if you are over 62 years of age.
In Cobb County, you could pay only $300 per year in property taxes on your $350,000 home. Cobb County pays more than 40 percent of its property taxes to help other school districts in the state.
If you want to move to other, more rural parts of our state, you will enjoy having your taxes subsidized by wealthier counties like Cobb, so your property taxes will still be less.
Have children in college? Tired of paying $30,000-plus to send them to Northern schools? We welcome you. If your children make a B average, they can go to school free — books included.
Many of Georgia's universities and colleges are rated among the top in the nation. If your kids don't make a B average, no worry. Our state has some of the lowest tuition costs in the nation, so you will still come out ahead, even if you are new to our state.
And for an added touch of welcome, our state government has recently cut funding to our school system by more than $750 million.
If you are from Asia or India you really have a leg up because your children are smarter in math than ours. You can move into our state and in less than one year have your children in our best schools. We are proud to have our own Georgia alumni's children go to smaller schools just because your children have higher SAT scores.
Tired of low wages and poverty in a neighboring country? Come to Georgia. We will give you good wages, in many cases free health care, and sell you tax-free groceries. Yes, we charge no sales tax for basic groceries. Send your earnings back home — you may not have to spend a dime to pay for the government infrastructure here in the good old U.S.A.
If you are weary of paying high utility bills and taxes for your industrial plant in Illinois, come to Georgia. We will give you rest.
Our state has some of the lowest utility rates in the country. And we have a governing regulatory agency called the Georgia Public Service Commission that punishes our utility companies for being successful by restricting future rate increases. Our utility companies can't pass on earnings to investors nor improve infrastructure.
In addition, our state legislature just passed a tax-friendly package; if you incorporate in Georgia, you will pay some of the lowest corporate taxes in the nation. Move your company to Georgia, the Welcome State!
If you live in California, and are tired of filling up your SUV for $3.10 a gallon for gas, come here. The price at the pump rarely goes over $2.10 per gallon for regular gas. Georgia has one of the best road systems in the country, and we welcome many travelers driving through our state to use our roads and fill up with low-tax gasoline. The citizens will help pay for the roads you travel and gladly pay the taxes for your enjoyment.
If you are one of the 2 million projected residents who plan to move to Georgia over the next 10 years and have doubts about the above facts, just ask the 2 million people who have moved here over the past 10 years.
Or ask the 6 million long-time residents who have paid taxes for government infrastructure for the past 50 years. It's all true. I wish we long suffering natives could figure a method to shift some of our tax burden to future newcomers. That dream will never happen.
Take the yoke from your shoulders and find rest for your souls in Georgia, where the tax burden is light. Georgia, the Welcome State, welcomes you. Boy, do we ever.
Neely Young is the editor in chief and publisher of Georgia Trend.