Out to the Ball Game
Business Casual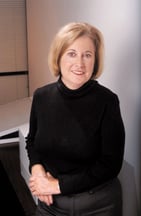 There were other Braves fans at Shea Stadium on the very cold Monday night in late April we had chosen to watch our guys take on the Mets – but not many of them. And those who were there were not making much noise.
Our immediate neighbors in the vicinity of Row H, Box 170, Seats 3 and 4, toward left field, were super-charged young New York fans in good voice, highly partisan and a little rowdy.
We had taken the No. 7 train from Manhattan, the one made famous by former Braves loudmouth John Rocker, now pitching for a minor league club on Long Island – an irresistible bit of irony for those who cherish such bits. (All of our fellow subway passengers looked pretty ordinary, with the possible exception of the young woman who was standing in the middle of the car crocheting for the entire ride.)
There were only something like 12,000 baseball fans in attendance that night at Shea, so individual voices carried. The closest obvious Braves supporter was a young man several rows down from us sporting a Furcal jersey. Every time he stood, the superfans around us would shout, "Sit down, Furcal!"
Don't wear any Braves gear at Shea, friends had warned us, and don't cheer too loudly for the Braves. The wardrobe part wasn't a problem – it was about 45 degrees too cold for T-shirts even if we had packed them. But the "no cheering" part didn't sound like much fun, even though previous New York baseball experience made it at least understandable.
On a visit some years before, my husband and I had watched the Braves and the Yankees in midsummer inter-league play. We were in the upper-upper deck at Yankee Stadium, the cheap seats; not a place for the faint of heart or those rooting for the visiting team.
Tom Glavine was still a Brave at that point, and he pitched a beauty against the Yankees, beating them soundly. There was a lot to cheer for, if you were from Atlanta, except that cheering seemed ill-advised given the cadre of tough customers who surrounded us. (They had already chased away a group of fresh-faced youngsters wearing bright green "Jews for Jesus" T-shirts and were just getting warmed up.) Even the longtime-New Yorker friends we were with seemed a little taken aback. So we muted our celebration.
This recent chilly night we were preoccupied with trying to stay warm. Layers of clothes that seemed adequate when we stepped out of the hotel were not quite up to the challenge of a windy night at the ballpark. (I'm not proud of it, but I actually bought a Mets cap, just to keep warm. I've since given it away.)
Still, our companions were clearly not feeling the cold. They focused much of their attention on Brian Jordan, perhaps because he was close by. "Jor-dan, Jor-dan," they hollered, to no avail. A Mets batboy started throwing to Jordan, and one of the fans got a little too anatomically specific about where he thought the ball should be aimed. This brought a stadium security guard with a warning.
Most Braves fans have heard friends from other major league cities rattle on about how Atlanta's fans aren't "real" baseball fans. They're too quiet, too polite, too busy checking SEC football schedules, whatever. I don't buy that – I've sat with too many die-hard fans at Turner Field and, before that, Atlanta-Fulton County Stadium. But the criticism rankles.
I was enjoying this game quietly until a point about the fourth inning, when I was completely alone – my husband was making a run on the concessions stand – and surrounded by the large and loud Mets fans I'd been listening to all night. But when Rafael Furcal stole second base in spectacular fashion, I couldn't help myself. I stood up, I clapped, I cheered. (That's why you go to baseball games.)
Besides, I had already figured out that the guys in front of me all probably had mothers my age and were unlikely to beat up someone who reminded them of Mom. So I kept on clapping. The kid in the Furcal jersey was clapping, too. Another couple of previously quiet Braves fans stood and started making some noise.
Then the biggest of the nearby Mets contingent turned around, grinned at me and said, "That was a good play."
It wasn't quite Turner Field, but it was a ball game. And fun. The Braves lost that night, but they won the next two games and took the series.
Susan Percy is editor of Georgia Trend.