Travelin' Man
Joe Kines helped take teams to 15 different bowl games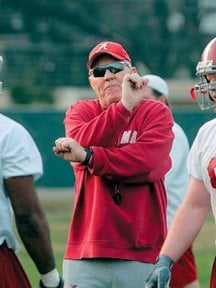 Austin Joe Kines, Jr. has finally found a home. Born on a train 61 years ago and traveling ever since, one of the nation's most respected defensive football coordinators has landed in Tuscaloosa, Ala. (for the second time) and has no plans to leave.
"I am going to retire here," he says. "My next job will be at the local Wal-Mart."
Right now, Kines is beginning his third year as defensive coordinator, linebacker coach and number one assistant to head man Mike Shula at the University of Alabama.
"Working with Coach Shula," Kines says, "is one of the biggest thrills of my life. He is energized, organized and tremendously enthusiastic. And he is solid in fundamentals. He is going to be one of the all-time greats in our profession."
Before joining the Tide, Kines was on the go, almost nonstop. He was at Arkansas, South Carolina, Tampa Bay, Florida, Clemson, Jacksonville State in Alabama, and the University of Georgia. In his 30 years of coaching, he has helped take teams to 15 Bowl games – including the Sugar, Orange, Gator, Outback, Peach, Independence, Sun, Aloha, Bluebonnet, Music City and Tangerine.
"In another year Alabama will be back in a major bowl and with one more good recruiting year we will contend for the national championship," Kines predicts.
I have seen Joe coach and I can tell you he can be wild-eyed and full of vim and vigor. I have interviewed him and can tell you he can be soft-spoken, mild-mannered, caring and empathetic.
About that train birth: Joe's mother wasn't expecting him to arrive early. So she took a trip from Cedartown to Piedmont, Ala. A short ride of about 25 miles became an eventful one when she went into labor and delivered Joe prematurely.
Kines grew up in Cedartown and was a fair-to-middling athlete at Cedartown High School where he played football, basketball and ran track. Football was his love. He played center and tackle on one of Doc Ayers' regional championship teams but not well enough to draw the attention of college scouts.
Thanks to Ayers' encouragement, Kines attended Alabama's Jacksonville State where he received bachelors and masters degrees. He was a walk-on to the football squad and played well enough to go on scholarship his last three years.
Although he calls Coach Ayers a "great motivator," his hero growing up was Erk Russell, when Russell was in charge of Georgia defenses. "I wanted to be just like Erk, a defensive coordinator. I never really dreamed of becoming a head coach." He had one taste of the top job when he was interim coach at Arkansas. It was bitter – the team finished 4-7.
Kines worked for some of the best coaches in the South and here is what he learned from them:
Bobby Bowden, FSU: "He's 75 years old but he showed me you are only as old as you feel. Here was a man in his 70s with the pep of the youngest man on the field – player or coach."
The late Charlie Pell, Florida: "By far, the best organizer. Every drill was on a schedule and it better not start one minute late. Pell shaped my career more than anyone."
Ray Perkins, Alabama and Tampa Bay: "Intensity. He coached with it and expected his players to play with it."
Ray Goff, Georgia: "By far, the best recruiter, ever. He not only related to the high school players, he built solid relationships with the high school coaches."
Coach Goff said of Kines, "In my seven years at Georgia, the best thing I ever did was hire Joe Kines. He knew how to motivate; he knew how to get the best out of his players."
"All we ask of our players is to reach deep down in their guts and get the best out of themselves. It is something they will remember the rest of their lives," says Kines.
Kines is married to the former Rubye Bell and they have one daughter and two grandsons.
"I hope," Kines says, "that when I retire, someone will say, 'I am a better person for having played for Coach Kines.'"
Likely there will be more than one saying it, everywhere from Clemson, S.C., to Tuscaloosa, Ala.