Making History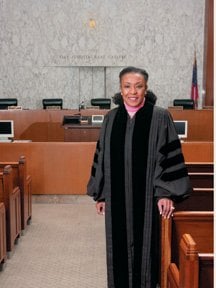 On the sixth floor of the state Judicial Building, across Mitchell Street from the Capitol, portraits of the men who have served as chief justice during the 160-year history of the Georgia Supreme Court line the hallowed walls.
Those distinguished gentlemen are about to be joined by a new face, and this one doesn't look like the others.
Leah Ward Sears will be sworn in June 28 as the Georgia Supreme Court's chief justice, becoming the first woman to hold that position. She will be only the second African-American in the job and is believed to be the first African-American woman to become chief justice of any state supreme court in the country.
The product of an unusual childhood, an early decision to study the law and an exceptional career, the new chief justice has the feeling of having prepared for this historic moment her entire life. "This is what I really always wanted to do," Sears says, "hear the big issues of the day."
"She will handle herself beautifully in all her appearances," says Justice George H. Carley. "She will run the court with a very fair style. She will certainly involve all justices in the decisions they need to be involved in. She's smart, intelligent, articulate, principled. I think she will do a marvelous job as chief."
Sears is the court's youngest member – she'll celebrate her 50th birthday this June as well. Even after completing the customary pair of two-year terms as chief, she will be only 54, well short of the mandatory retirement age of 75. But she has served the longest – 13 years – except for retiring Chief Justice Norman S. Fletcher and Justice Robert Benham, now 58, who served as chief before Fletcher, then remained on the court.
Despite her relative youth, Sears' credentials are formidable. She has 23 years experience as a judge. She has served 13 years on the Supreme Court. Previously she was a Fulton County Superior Court Judge for four years and an Atlanta City Court judge for six. Earlier, she practiced with a prominent law firm, Alston & Bird. She holds degrees from Cornell University, Emory University Law School and the University of Virginia Law School. Her resume includes a long list of community service jobs and honors, including Georgia Woman of the Year. She is also an accomplished writer, with articles related to the law and the legal profession for local and national publications.
She was born June 13, 1955 in Heidelberg, Germany – one year, she points out, after the United States Supreme Court's historic Brown vs. Board of Education decision – to Thomas E. Sears, an Army aviator, and Onnye J. Sears, a teacher. She was the second of three children and the only girl. The family took advantage of the father's overseas service to see as much of Europe as possible. By the time she first set foot on American soil at the age of 6, she had already visited much of Italy, France and even the famed Parthenon in Greece. What she had not seen was the prejudice and poor living conditions that African Americans endured.
Soon after arriving in the United States, she remembers riding in a car with her parents touring New York City, sitting in the back seat with her two brothers. When they drove through Harlem, she was shocked by the poverty. "I asked my parents, 'What is happening here?'" she recalls. "'Why are all the black people living like this and the white people living like that?'" It was her parents' silence that she remembers. "They didn't answer. They just looked at each other. I will never forget their stunned looks and what I thought was obviously not good."
An Early Decision
The next year, at the age of 7, Sears ordered her first law school catalogs. She remembers that all the pictures were white males. But she had already come to believe in the courts and the law as a way to make life better for people who were treated unfairly. She read everything she could about cases, decisions and the U.S. Constitution.
Her family moved to California and then to suburban Maryland when her father was transferred to the Pentagon. Every time they moved, her mother would find the best school available, get a teaching job and enroll her children. "I never went to a segregated school. I was always in a class with only one or two blacks. I was always having to prove myself," she says.
When she was 12, the family moved to Savannah, where her father took a one-year assignment. They expected to move back to Maryland afterward. But they fell in love with Savannah, her mother recalls, and decided to stay there after her father retired from the military as a colonel with Silver Stars from Korea and Vietnam. Once settled in Savannah, he earned a law degree and became active in the community. "His daughter is very similar to her dad: lots of energy, adventurous, strong, courageous, full of integrity," says Onnye Sears. "She really is like her dad."
Sears remembers one Christmas her father telling her, "All I really have to give you is good solid moral values and principles. The only gift I want from you is for you to live by those principles and to pass them on."
Both parents placed great value on education, travel and family time. Television was limited. Reading was encouraged. And always, the family sat down together for dinner and conversation at the end of the day. It was also important to the family that the mother and children went to school and came back home together.
It was driving home from school one day when young Leah told her mother she wanted to be a judge. She was inspired by a 6th grade book report about Constance Baker Motley, a trial attorney for the National Association for the Advancement of Colored People Legal Defense and Education Fund. After successfully arguing cases leading to desegregation of schools, restaurants and even colleges in Southern states, including Georgia, Motley became the first African-American woman appointed to the federal judiciary in 1966. The next year, 1967, her chief counsel from the NAACP, Thurgood Marshall, became the first African American on the U.S. Supreme Court.
Young Leah decided she needed to attend the best schools possible in order to become a lawyer and a judge. She knew she would need a scholarship. So she studied hard, earned top grades and won a full scholarship to Cornell University. Her parents moved her, along with two pink trunks, to Ithaca, N.Y., in a U-Haul.
After her graduating from Cornell, she married Love Collins III, a graduate of the U.S. Military Academy at West Point. She hyphenated her name to Sears-Collins – and he did the same. When he was posted at Fort Benning, Leah took a job as a reporter for the Columbus Ledger for a year. Then she entered Emory Law School, where she earned her juris doctor in 1980. She went into business and intellectual property law practice with Atlanta's Alston & Bird. Later, her brothers – after graduating from the U.S. Naval Academy at Annapolis and serving as Marine Corp aviators – followed her to law school and now are practicing attorneys in California.
While working for Alston & Bird, Sears volunteered for former Congressman and Ambassador Andrew Young's campaign for mayor. In 1982, Mayor Young appointed Sears to the Atlanta City Court, known as traffic court. The mayor's daughter, Andrea Young – also a lawyer and about Sears' age – had been telling her father that if he wanted to appoint judges who could go all the way to the Supreme Court, he needed to start them early. So when a vacancy arose, he took his daughter's advice. Sears was 27.
For the first three years, she worked part time as needed for the court and continued practicing law full time. In 1985, she became a full-time judge. It was during those years that she had her children: son Addison, born in 1983, and daughter Brennan, born in 1986.
"It was fun. I could be close to people," says Sears of her traffic court tenure. "It wasn't the most thrilling jurisprudence. I heard ?I didn't see it coming' or ?I thought the light was yellow' a lot."
After six years, Sears looked down the road and decided to run for Fulton County Superior Court judge. She had two opponents in a close race and she won, becoming the first African-American woman in that position.
Though her father died Nov. 19, 1989, which she describes as "the saddest day of my life," he saw her sworn in as a superior court judge.
The Appointment
Sears had been at superior court for four years when Gov. Zell Miller appointed her to the Georgia Supreme Court. The first African-American justice, Robert Benham, had been on the court since 1989. The predictable next move for the governor might have been to appoint a white woman, Sears says. But when a vacancy arose in 1992, Miller chose her.
"People were stunned – nationally – and it was Georgia, which everyone thought was old and backward," Sears recalls. "That was very, very different nationally."
The governor said at the time that he chose Sears "because she possesses in abundance the qualities an outstanding jurist should have: intellect, temperament and energy. I believe that this scholarly and thoughtful woman has the potential to become one of this nation's most brilliant and sensitive jurists."
The respected position she has on the court now contrasts starkly with those early days. At 36 and younger by half than her colleagues' average age, she says, "They didn't think I had paid my dues." But when she ran for her first full term later that year, she became the first woman ever to win a contested statewide election in Georgia.
"She was younger than my oldest daughter when she arrived here," then-Chief Justice Harold Clarke said in a 1993 National Law Journal article. "But she has been an excellent justice. She has brought a wonderful perspective of youth and vitality to this court that we badly needed."
Within a year, Miller appointed a second woman to the court, Carol W. Hunstein, the first white female, who is now the next most senior justice after Sears. So when Sears steps up this month to become chief, Hunstein will move into the number two job – presiding justice, who acts in the chief's absence.
Two years after joining the Supreme Court, in 1994, Sears was divorced. Five years later – April 19, 1999 – she married Haskell Ward, a former judge who was once deputy mayor of New York City and is now a senior vice president of the Guinea Aluminum Products Corp. The couple took each other's last names as their middle names: She is now Leah Ward Sears and he is Haskell Sears Ward. The entire Supreme Court attended their wedding.
These current justices have served together longer than any group in the court's history. The "junior judge," Harris Hines, has served for 10 years and is 61.
"I feel so comfortable," Sears says. "I love all my colleagues, really. I feel like their sister. It feels like we're sitting down at Thanksgiving dinner with a big family where we don't get along all the time and we get into these spats, but there's a great affection."
For example, Sears and Carley often disagree in their opinions, but their mutual respect is based on devotion to the law. "I know that she is reaching her opinion based on her interpretation of the law," Carley says. "We're the court of last resort. Every case has been to at least one court, sometimes the court of appeals, too. It comes down to a policy decision. It's not a political decision ever. This is why she and I are close. She never starts out saying I want to reverse this case. Sometimes the result we end up with because that is what the law commands is not the result we would like."
Together with a majority of her colleagues, Sears has helped to overturn the use of the electric chair, the sodomy law and mandatory life sentences. She has been targeted by conservatives for some of these decisions. Gov. Sonny Perdue campaigned against her in the last election and supported her opponent, who branded her a liberal. She still won more than 60 percent of the vote and carried 146 counties.
"If I was as liberal as all that, I'd have been turned out a long time ago," says Sears, who describes herself as moderate and says she wouldn't have been able to succeed in the non-partisan judicial elections without plenty of Republican and Democratic support.
"I ran three times, always with opposition, and I made it. I'm here," Sears says. "And people wanted to knock me off. I never got a pass. I had to work it all the way through. I'm actually very proud of that. No one can say I've just sat here and waited. No one can say I've lucked out. No one can say affirmative action put me here. My action put me here."
Supporters often bring up the potential for her future, given the position she reaches this month at such a relatively young age. Sears has been mentioned as a logical choice for a federal appeals court position – a lateral career move from the state Supreme Court and even for the U.S. Supreme Court. But she dismisses such suggestions.
For the moment, Sears seems to be making history enough where she is. Next month, when the seven justices enter the courtroom – one by one in their black robes according to their seniority and position, as is their custom – the first judge people see will be a woman. The second will be a woman. The third will be an African-American man. The white males will follow.