Going to Town
Business Casual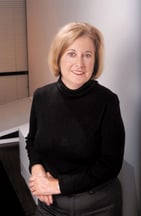 The reliable old No. 2 bus operated by the pre-MARTA Atlanta Transit System rumbled from Decatur, via Ponce de Leon Avenue and Peachtree Street, to downtown Atlanta in about 20 minutes. It just seemed to take longer on the days my school friends and I would make the trip, anxious to be parted from our babysitting earnings.
Hanging out on the square in Decatur at Woolworth's or nearby at Belk's was fine, but it paled in comparison to a trip to town and the lure of a movie at the Fox or the Loewe's Grand. Or, even better, lunch at the S&W Cafeteria and a bit of shopping at Rich's. That was exciting.
Throughout high school and to a certain extent on weekends home from college, downtown remained a prime destination for entertainment and shopping. It was always fun, even a little glamorous to be downtown after dark. A dinner date at Herren's? That was big time. I had a couple of summer jobs downtown; I loved the bustle of early-morning and late-afternoon crowds scurrying in and out of office buildings. The location made the jobs seem much more important than they actually were.
Downtown was off my radar for the years I lived away from Atlanta. But not long after we returned, my husband and I headed downtown one Saturday night for a celebration – we were back home; we had a baby on the way and a fixer-upper in Inman Park. We found Emile's Cafe, once a lively, sophisticated destination, sadly changed as was downtown itself. Both seemed grim and dull. The thrill was gone.
In the years since, I've gone downtown for various business and personal errands – Braves games, meetings, lectures, interviews, social gatherings, jury duty. Sometimes a trip downtown felt a bit like a chore; but there were times when it felt like the place to be.
On the September day in 1990 that Atlanta won its bid to host the 1996 Olympics, I went downtown with some office colleagues to eat lunch at Underground, where the city's dignitaries had gathered earlier that day to hear the good news. We just wanted to soak up some of the residual good feeling.
A little over a year later, I was among the thousands who lined downtown's sidewalks for the parade honoring the 1991 National League Champion Atlanta Braves after they came within a heartbeat of beating the Minnesota Twins and winning the World Series in that memorable "worst to first" year. Where else was there to be that day?
In the early '80s I interviewed city leaders for a story I was writing, for another magazine, about the "state of the city." Many of them were worried about the fate of downtown; the lack of housing and entertainment was on everyone's mind.
"Given the amount of rhetoric on the need for more nightlife and more of the mix of housing downtown, why is it so hard for Atlanta to get that?" one official asked in frustration.
The consensus was that downtown was dull, that there was no real reason for people to come unless they worked there and certainly no reason for workers to stay there after quitting time. "After-hours activity is largely restricted to the three hotel complex-fortresses — where everything turns inward and the atmosphere runs heavily to sameness and sterility. There is no special Atlanta flavor to be savored."
Over the years, the discussion and the hand-wringing continued. New projects and new initiatives were announced; momentum built and dissipated and built again. But lately things are sounding – and feeling – different. There is new resolve; there are new plans that bode well for downtown and those who care about it.
A recent conversation with Central Atlanta Progress's A.J. Robinson indicates a high level of optimism. "We're on the cusp of a new day," he says. He and others on his team are excited about the new Children's Museum, the new Aquarium, the new World of Coke, new streetscape improvements.
Perhaps best of all, there is more housing on the way. Some 6,500 new residential units under construction or in the planning stages will join downtown's 13,700 existing units. In terms of housing, Robinson says, "Atlanta was slow to get there, but it's exploding."
I hope downtown's future is to be a thriving residential community and a magnet for visitors. And I especially hope it's fun and exciting again – even glamorous.
Susan Percy is editor of Georgia Trend.