Great Coach, Better Man
Billy Henderson taught athletes to believe in themselves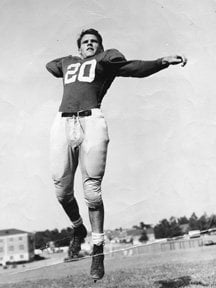 The biggest thrill Billy Henderson ever had was not winning three state football championships, nor was it whipping coach Wright Bazemore's Valdosta Wildcats three consecutive years. It wasn't even having the Clarke Central High School Stadium renamed Billy Henderson Stadium or being honored by the National Football Foundation and College Hall of Fame.
Although there were many victories and honors – 286 to be exact – they aren't what Henderson is all about. "My fondest football memory is the first time our team gathered in the gymnasium for a Thanksgiving meal. Besides the players, there were mommies and daddies, brothers and sisters.
"We bowed our heads for the invocation. I did not close my eyes. I looked around the gym and saw white hands holding black hands; hands of the rich and prominent holding hands with poor kids form the other side of the track. And I was thinking, if all human beings did something like this there would be few problems in this world."
William Bradford Henderson, one of the greatest all-around athletes and most successful coaches in Georgia sports history, will be remembered as much for treating the bench warmer with the same dignity and class as he did the star player. And working him just as hard. His value system encompassed dedication, courage and achievement but above all, honesty and decency.
Henderson organized and directed the Athens (Ga.) Sports Hall of Fame. His first inductee was an African-American, Pleas "Clegg" Starks, the longtime University of Georgia water boy.
Although 167 of his players were awarded college football scholarships, 14 making it to the National Football League and three playing in the Super Bowl, at the beginning of every season Henderson made it crystal clear to his players that their main purpose was to get an education.
"I want each of you to know," he would say at the opening fall practice, "you cannot play football all your life. Only a few of you will ever play a down in college football and only one high school athlete out of 12,000 ever makes it to the pros. So, study hard and find a career you can pursue with passion."
"Hiring coach Henderson was the best decision I ever made," says former Clarke Central principal Don Hight, who brought Henderson on staff in 1973. "He is a great coach but an even better man."
Working teams out twice a day during the start of summer practice and concentrating heavily on fundamentals and teamwork resulted in only two losing seasons out of Henderson's 23 at Clarke Central. In addition to three state championships, his squads won seven North Georgia titles, 12 region crowns and 14 sub-region titles.
Besides football, Henderson teams won three state baseball championships and one swimming championship. What's the key to Henderson's phenomenal success? Says Frank Malinowski, another one of Henderson's principals, "He made believers out of his athletes. He convinced them they were better than they were. He motivated by convincing them they could reach the highest level and that if they thought they would win, they would win." And they did.
Still, life hasn't always been easy. Henderson's son Brad was killed in an auto accident at 16, his wife, Fosky, is ill and Billy himself suffered a brain tumor in 1995 which left him deaf in his left ear, with occasional bouts of vertigo. He retired before the start of the '96 season.
Retired may be an overstatement. At 76, Henderson works with the Boys and Girls Clubs of Athens, the Athens Y, the Athens Hall of Fame and the Athens Champions Foundation, which he founded to promote spiritual values and patriotism.
William Bradford Henderson was born in Dublin, Ga., in 1928 but grew up in Macon where ol' timers called him "the finest athlete the city ever had."
At UGA, Henderson played on two SEC Championship football teams, and led the baseball team in hitting four consecutive years with a .345 batting average. He played two years of professional baseball in the Chicago Cubs' organization before joining the coaching ranks at Macon's Willingham High School. He coached at Macon's Mount DeSales High School, the University of South Carolina, Furman, Athens and Jefferson before beginning his 23-year reign as head coach at Clarke-Central.