Slow to Start, Finishing Strong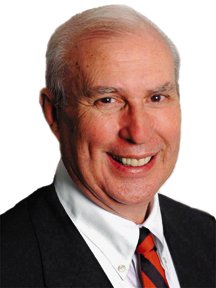 Gov. Sonny Perdue likes to use football metaphors in his speeches. His administration can be compared to the University of Tennessee's 1998 football team. They were slow to start, but finished strong.
In 1997, the Volunteers were picked to be number one in the nation, mainly because they had one of college football's greatest quarterbacks in Peyton Manning. Alas, they couldn't beat Florida. After losing Manning to graduation, Coach Phil Fulmer's next team was not supposed to be very good.
Fulmer described this 1998 team as being blue-collar. They had no stars, or potential All-Americans. But during the year they took on each opponent with workmanlike efficiency, by winning in the trenches. It was a slow process. They beat Florida, Georgia and Alabama. They got some breaks, like a fumble in the last minute of the Arkansas game. But they surprised everyone and went on to have an undefeated season. New Year's Day they won the National Championship. They had more stars than people believed.
Like that football team, Gov. Perdue's slow-working Commission for a New Georgia, two years in the making, is about to put some points on the board. Maybe we will produce a National Championship of sorts.
The commission is concerned with the inner workings of Georgia's government. Yet this effort should free up millions and millions of tax dollars. These are dollars that can go into upgrading our education system, and bring better health benefits for all Georgians.
Coached by Annie Hunt Burriss, and quarterbacked by All-American Lonice Barrett, the commission has produced 10 recommendations on tourism, space management, capital construction, leadership development, fleet management, administrative services procurement, strategic industries, competitiveness and workforce development. None of these recommendations had anything to do with the controversial legislation that concerned secrecy and eminent domain.
Most governmental reports of this nature, chaired by blue ribbon panels, are introduced with great fanfare, and then placed on a shelf to gather dust. But this one is being implemented! The general assembly has legislation for six of the recommendations. The administration is requesting $26 million from the legislature to make it happen.
In a recent interview, Director Barrett gave Georgia Trend a breakdown on what some of the recommendations will do for the average Georgia taxpayer.
Senate Bill 125 concerns the Commission's Task Force on Tourism, chaired by Phil Jacobs. It is designed to find opportunities to consolidate and coordinate resources to improve tourism in the state. The estimated impact on local and state tax revenues is a $69,069,000 increase. It established a tourism foundation that will bring together marketing and advertising efforts for the Department of Natural Resources, the state's Hall of Fame authorities and other state authorities including Stone Mountain, Jekyll Island and the Southwest Georgia Railroad Authority. It provides a central advertising and marketing system for these agencies through the Department of Economic Development, which is run by Craig Lesser. Barrett says it will provide private sources with a method to donate dollars for tourism promotion, something that hasn't been available in the past.
House Bill 312 implements the Administrative Services, Fleet Management and Procurement Task Force recommendations chaired by Jim Balloun. Potential cost savings: $135 million over four years (FY'06-FY'09). The legislation deals with procurement procedures, purchasing, bidding jobs, contracting and other methods of procurement. It provides $12 million in state revenue to hire an outside company to train and teach state employees modern methods in this area. One example of Balloun's task force recommendations already being implemented by Gov. Perdue's executive directive is the reduction of 2,100 state-owned automobiles by June 1. The directive should save $10 million the first year, and $20 million in maintenance costs in the next three years.
Senate Bill 158 deals with recommendations of the Space Management and Capital Construction Task Force chaired by Jim Carson and Larry Gellerstedt III. Cost savings: $32 million. It will give the state more flexibility in consolidating leases, disposing of surplus real property and implementing a statewide capital asset management data system. The recommendation will complete a State Construction Manual that has been in the works for many years. The manual will help reduce costs associated with construction and management of the state's capital assets. To achieve this goal the bill merges the Department of Administrative Services' leasing operation into the State Properties Commission and administratively assigns the Georgia Building Authority to the same properties commission. It also codifies the State Property Officer's duties. One example from Barrett: In some government buildings, one agency pays higher rent than another for the same amount of space. Barrett says the new plan will eliminate that kind of waste.
Governing magazine, based in Washington, D.C., recently published its "2005 Report Card on Government Performance." The report measured states' strengths and weaknesses in the ways they handle money, people, infrastructure and information. California received a "C" and Alabama a "C-minus." Georgia and Gov. Sonny Perdue received a "B." Major strengths were the Governor's hiring of top people to run the state. Weaknesses included Financial Controls/Reporting, Infrastructure Project Monitoring and Maintenance. Only Utah and Virginia received grades of "A-minus."
The Commission for a New Georgia addresses most, if not all, of Georgia's weak points in this performance evaluation. The proof of the pudding will be the amount of money the state actually saves by implementing the changes outlined above.
If things work out, Georgia could receive an "A-plus" from Governing next year. Such a ranking would make Georgia tops in the nation.
It would be similar to the University of Tennessee's 1998 football team winning the National Championship. My worst nightmare, though, would be if Sonny Perdue decided to make "Rocky Top" our state song. But since he's a good Georgia Bulldog, I am sure that will not happen.
Neely Young is the editor in chief and publisher of Georgia Trend.