Life Lessons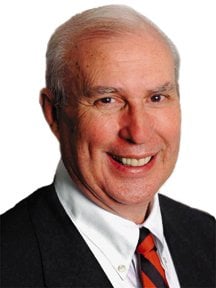 High school football and business have a lot in common. Growing up in Cedartown, Ga., in the late 1950s was a special time for me. The town's greatest claim to fame was its high school football team, the Cedartown Bulldogs.
Today high school football is pushed to the back of The Atlanta Journal-Constitution sports pages to make room for scandal, and who is being arrested for rape or drugs. But in an earlier time, high school sports ruled the front of the sports pages, especially during football season. In 1956 Cedartown won the North Georgia Championship by beating Decatur, and then lost to quarterback Stan Gann and Atlanta's Northside High School powerhouse in the state semi-finals. The Bulldogs were all over the newspaper, and consequently were known all over the state. A couple of years later, the biggest thrill of my life was to be listed in our local paper, The Cedartown Standard, as starting guard for the 1958 season.
Our town had a pretty good feeder system for good players, starting with a good midget football team that won many games over several years, then went on to play junior high and then varsity football. Starting with Ed Brewster, later an M.D., at quarterback, "Cool" Jule Peek, real estate exec, at tackle, and Lloyd Gray, banker, at center, most of my teammates and I had played together for six or seven years. We knew each other's strengths and weaknesses, and played well together. One business lesson gleaned from that would be that it is much easier to pay a good staff well and keep them happy. Turnover in any organization costs training time and money, as well as lost sales.
Our coach was Howard "Doc" Ayers, who had a successful career at Cedartown and later won a state championship. He then went to the University of Georgia as freshman coach and for many years was a top recruiter under Vince Dooley. He lives in Cedartown today and runs a charity golf tournament with his friend Georgia Tech great Ray Beck. His mission was not just to win football games, but to train young people to be the best they could be. Coach Ayers was and still is a great motivator. He should have been in sales. He could make you believe you could do anything. Our football team was small compared to the others in our league. Our quarterback was only around 5 feet 6 inches tall and weighted 145 pounds. Our starting line averaged only 165 pounds. Yet, we won the sub-region championship.
In almost every game we would be behind at the half. Doc Ayers' halftime pep talks were legendary. Right before we were to go back out on the field he would gather us up. During one game when we were not playing well, I expected we were in for a real chewing-out. Instead, he opened a letter. "Boys," he said, "this is a letter I received today from my mother.
"Dear Son," he read. "I know this is an important game for you and Cedartown High. I know that your boys will play their hardest for you and for the team. I want you to know that I believe with all my heart that this team is the greatest team in the state. I hope you will win and bring home the championship for Cedartown High. Love, Your Mother."
With a tear in his eye, Coach Ayers asked us to win the game for his mother. We were so fired up after that letter that we scored two touchdowns in the second half and put the game on ice.
Later, I discovered that players on the 1956 team had heard a similar letter, and also the 1957 squad. But it didn't matter, he knew how to motivate and we won! This story gives another business lesson: You can catch more flies with honey than vinegar.
Ayers had another rule that pertains to life. He never ran up the score. If it looked like the opposing team was on the ropes, he would bring in the second string. "It was just good sportsmanship," he said. (Are you listening, Steve Spurrier?)
This strategy had a practical side and another business lesson. He was resting the better players for the next big game. He was giving the younger tackles, ends and running backs playing experience. Most important he did not make a bitter enemy out of the opposing team and coach. How many times in business do we leave the first team in too long, only to find them bored, tired and listless with a bitter enemy at the gates?
Ayers held to the theory that the water boy was just as important to the team as the quarterback. At the end of each game he would take time to give praise to someone who was a substitute, who might have run in a play for one down. He always thanked the trainers, and mentioned the other staff. In sports and in business, team-building is a coach or CEO's main task — one that is sometimes found wanting.
The way Ayers treated his players had a major impact on my life. Soon after I was named to the first team, I tackled a small halfback named Jerry Cargo. He dislocated my right shoulder. This event should have ended my career. Yet I kept on playing. My parents took me to Atlanta and had me fitted with a leather strap that fit across my chest and help my right arm in place. I had to learn to play with one arm.
I had to get in position with one arm on the ground. My mobility was limited, and I spent the season on the kicking team, riding the bench during the games. Yet I wouldn't quit because Ayers made you feel special, no matter where you were placed. I made a block during one game that sprung our running back, Buddy Stevens, for a touchdown.
This is the last business lesson. Isn't it a great accomplishment for a coach or president of a company to take someone with limited ability, and make them into a major contributor? That is the best lesson sports has to offer.
Neely Young is the editor and publisher of Georgia Trend.