Inside the Administration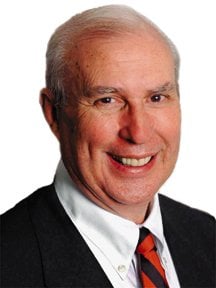 There are two sides to every pancake. Gov. Sonny Perdue has been cited for his disappointing performance in his first two years as governor. He still has two more years to make his mark.
When Gov. Perdue took over the reins of state government two years ago, he promised to make the state of Georgia run more like a business. He established the Commission for a New Georgia to streamline the state to achieve this end.
His first action in pursuit of this goal was to hire two retired bankers, Jim Lientz from Bank of America as his chief operating officer, and Tommy Hills, formerly with Wachovia, as his chief financial officer. These are two highly respected businessmen who have experience in running large operations.
A traditional business model differs a great deal from a city, county or state government. There are five components to a private business which include creating the product; producing and manufacturing the product; sales and marketing; distribution; and accounting. Governments differ from typical business models such as automobile manufacturing or running a restaurant. Government is not a business. The business mindset is completely different from the government mindset.
An automobile manufacturer spends lots of money marketing its product to convince people to buy a particular car. Governments collect their revenue via taxes. Governments provide services, such as operating a Little League ball field. If the use of the ball field drops off, governments have no way to encourage more people to use the facility. One key difference between government and a private business is that there are no sales and marketing plans for ball fields or for picking up people's garbage.
That said, Lientz and Hills have done a remarkable job of trying to change the mindset of our state agencies. Usually most organizations are genetically programmed to be conservative and preserve the status quo, and they are not inclined to accept new and different ideas. In an exclusive interview with Lientz, he outlined to Georgia Trend the methods used to attempt to change the way the state operates.
Operating on instructions from the governor, Lientz and Hills established an "enterprise" organization business model which provides state department heads communication, decision making, accountability, access and coaching. For the first time ever, he says, state department heads meet with each other, discuss common problems and take recommended action. Before, state government was like a bunch of smoke stacks standing alone. "Now we are working together." Lientz relates.
The CEO and CFO conducted searches for and have replaced 22 state department heads over the past two years. This has been a mammoth task, and if Georgia was a private enterprise, such turnover could be disastrous. Yet the state is functioning and systems at the top are in place.
They have established 14 task forces for the Commission for a New Georgia and hired Lonice Barrett, former head of the Department of Natural Resources, to head up the implementation phase. There are lots of studies of this nature, lying around gathering dust; yet for the first time since Jimmy Carter was governor, recommendations for reorganizing state government just might be acted upon.
The state has never had a business type accounting function. Now it does. Lynn Vellinga was recently hired as state accounting officer.
The state budget was previously done by "category of expenses," Lientz explains, to include personnel, automotive, rent, etc. When the word came to cut expenses, most departments took the approach of taking a percentage, and applying the cuts across the board.
Under this new system, the state has adopted a prioritized program budget. It changes the way cuts are made to make sure important services are not being hurt, while others that have little impact on the state are reduced or eliminated.
The state has had a practice of issuing bonds before they are needed, Lientz says. There have been unspent funds held by agencies for years. The governor has created a process to spend down these funds or return them to the state treasury. During the 1999-2002 period, back taxes increased from $750 million to $1.6 billion. Lientz says the Department of Revenue is being aggressive in collecting them.
According to Lientz, there is more cooperation among transportation agencies than in the past. The DOT, GRTA, Atlanta Regional Commission and other groups are working together to benefit the state. "The state has begun to establish a culture of accountability focusing on service, and doing more with less," says Lientz.
Reserves, once at a peak of $700 million, are now gone. Yet the state of Georgia is one of only nine states maintaining a AAA bond rating in the face of back-to-back revenue declines.
The Commission for a New Georgia will attempt to change the way government operates. For instance, Georgia's real estate is largely unaccounted for, and not properly managed. Construction projects are ill-managed. The state owns too many automobiles. There is much more to report on this. Stay tuned.
If the governor wants to turn the state into a business, he needs to learn from his own new system of governing. If all of the above is true, and my sources say it is, no one seems to know it. Perdue should hire another person to a new staff position called vice president of state sales and marketing. If his plans are to be successful, people need to know what they are and why. If not, he will continue to be a non-entity in state government, and his new programs will remain unknown and unappreciated.
Neely Young is the editor and publisher of Georgia Trend.