Doing It All
UGA's John Carson excelled in four different sports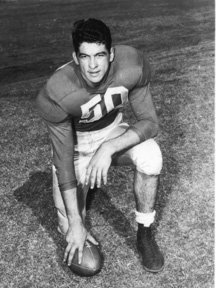 In the annals of University of Georgia athletics, there never has been an athlete like John Richard Carson. He is one of only two Bulldogs named All-American in two sports (Herschel Walker was the other). He is one of only two Bulldogs to earn letters in four sports (Mort Hodgson in 1908 was the other) and, says UGA historian Dan Magill, had he been able to work it into his schedule, he would have earned letters in six sports.
An All-American in football and golf and a regular on the baseball and basketball teams, Carson, Magill says, was good enough to earn All Southeastern Conference honors in tennis and track. But spring football practice and baseball left no time for that. No doubt about it, Carson was one of the most gifted all-round athletes in Bulldog history.
But if there was one sport in which he excelled above the others, it was football. Golf would come in second.
In 1953, he set Georgia's single season pass-receiving record with 46 catches for 663 yards, which led the nation in both catches and yardage. His UGA record stood for 16 years. He was named the SEC's most valuable lineman in '53 and was selected to play in the '54 College All-Star game.
The late, legendary coach Wally Butts called Carson "the best runner after catching a pass of anyone I ever coached." Carson is a member of Georgia's all-time football team.
In the seven years he played for the Washington Redskins, he led the team in pass receiving six times. He was a starting end in the 1958 Pro Bowl and a starting end for the Houston Oilers when they won the first American Football League Championship in 1960.
Asked what would he do differently if he had his life to live over again, Carson replied, "I would have concentrated on golf, not football." And if he had, there is no telling how good he might have become. He hit his first golf ball when he was four years old. At age 13, he bested a 41-year-old to win the Atlanta city amateur. He won the city prep golf title three consecutive years and the state title twice.
People still talk about his performance in the 1948 state prep championships when he fired a seven-under-par 29 on the front side of the Athens Country Club course. He finished with a record four-under-par, 36-hole total of 140 to win the championship.
Three times he was picked on the National Public Links team. Even when he was concentrating on football with the Redskins he won the Atlanta City Open (1955).
Today Carson is 74 and lives with his wife of 49 years, the former Betsy Earnest of Cedartown, in Green County.
Carson grew up in Atlanta's Cabbagetown. His daddy worked at the old Southern Spring Bedding Co. and played amateur baseball for the company team.
Meanwhile, little John, found his way – at age 4 – to the nearby James L. Key Public Golf Course. By age 6, he was not only caddying, but playing the caddies for quarters whenever they could get on the course.
By the time he entered Atlanta's Roosevelt High School, "little" John had grown to 6-feet, 3-inches and 170 pounds. At Roosevelt, golf had to share time with football, baseball, basketball and track. Carson was Roosevelt's one and only five-letterman and the only five-letterman in the city school system.
As a sophomore, he was all-state end on Roosevelt's first football team. As a junior, he led the basketball team to the state championship. He was a three-time All-City choice on the baseball team, once as a pitcher and twice as a first baseman. He lettered three times in track as a half-miler.
Although he had his pick of several colleges, he selected Georgia because of his fondness for recruiter Quentin Lumpkin, who, he says, "was like a father to me."
When Carson finished his playing days, as a collegian and as a pro, he became a scout with the Minnesota Vikings.
Last year Carson was inducted into the University of Georgia's Circle of Honor, the highest tribute paid to former Bulldog athletes and coaches.
Editor's note: Gene Asher was inducted into the Marist Blue and Gold Athletics Circle this fall. Although he did not attend Marist, he covered so many Marist games as an AJC sportswriter that he was given the name "Father O' Asher."