Meet "Mr. Nice Guy"
Art DeCarlo was among the most popular Georgia Bulldogs of the 1950s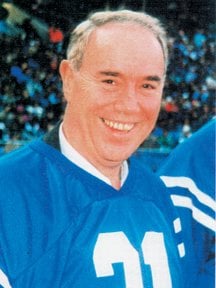 Arthur Arnold DeCarlo never met a man he didn't like. Rarely is seen without a smile on his face. Extends a warm greeting and firm handshake to everyone he meets. Never been known to be unhappy.
At age 73, if he had his life to live over again he would not change a thing. He would play college football for the University of Georgia and professional football for the old Baltimore Colts.
He is still in love with the girl he met on a blind date 48 years ago and married three months later — Mary Kerr DeCarlo. The happiest time of his life is when he is playing golf with his wife.
If the Georgia football teams of 1950-1952 had held popularity contests, DeCarlo would have won by a landslide. If Bulldog and Colts opponents had hit lists, DeCarlo would have been No. 1 — no contest. He drove the opposition crazy by snapping the ball from center on one play and then catching a touchdown pass from his offensive end position on the next play. He backed up the line with authority on one series and then confounded the opposition by showing up as a sideback or safety. Wherever the action was, DeCarlo was in it.
DeCarlo came out of Youngstown, Ohio — a 1940s and 1950s hotbed of Bulldog talent. You can look it up: All-Americans Fireball Frankie Sinkwich and George Poschner, All-Southeastern Conference Al Bodine and All-SEC honorable mention Anthony Joseph (Zippy) Morocco, one of the most deceptive runners of them all.
It was Bodine who recommended DeCarlo to Georgia but after taking a look at the 6-foot 3-inch tall player, who weighed a mere 167 pounds, the late coach Wally Butts was skeptical about offering him a scholarship. But Dick Barrett, DeCarlo's high school coach at Youngstown, told Butts, "Don't worry a minute about Art DeCarlo, his tremendous competitive spirit will more than make up for any weight shortage. He carries 30 pounds of character."
In his first four games at Georgia, he recovered eight fumbles; not bad for a sophomore who wasn't expected to play until his junior season. Four times he was picked on the Associated Press SEC "Team of The Week."
By his senior season, DeCarlo had grown to 195 pounds. He didn't lose a step from the extra weight. He caught 18 passes, three for touchdowns, and continued to menace the opposition from his linebacking post.
At the time, Coach Butts called him "one of the finest competitors ever to play for the Red and Black." Said former Bulldogs backfield coach Bill Hartman, "In 50 years, I never saw a player with a better attitude than DeCarlo. Wherever we played him, he loved it. He had tremendous agility and quickness. Talk about versatility, he played everywhere. To my knowledge, he never criticized any player or any coach. He had tremendous team loyalty."
DeCarlo was twice named to the "All-SEC" team, twice received honorable mention on the All-American team and was selected to play in every post-season All-Star Classic, the Senior Bowl, the Blue-Gray game and the coveted College All-Star game against the NFL champion Detroit Lions.
He played in back-to-back NFL championship games, including the 1958 classic, the first sudden death overtime game in which the Colts whipped the New York Giants. In 1966, DeCarlo received the post-graduate Achievement Award from the University of Georgia Chapter of the National Football Foundation Hall of Fame, given to former Bulldog athletes who have distinguished themselves in their chosen professions.
Over the years, DeCarlo pursued six different careers, distinguishing himself in each. In addition to playing seven pro seasons, five with the Colts and one each with the Steelers and Redskins, he operated a fast food restaurant, worked for the National Security Agency, was national sales manager for a copier company, built houses and owned four miniature golf courses.
Today, DeCarlo is retired and lives with his wife in Ellicott City, Md., a suburb of Baltimore. He attends an occasional Ravens' game and less frequently a Colts game in Indianapolis. Most of his leisure time is spent with his wife and their five children.