The Best and Brightest Young Georgians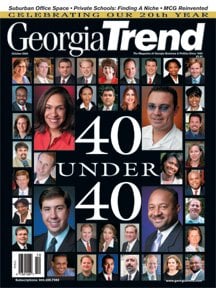 Once again it's time to recognize the cream of one of Georgia's most valuable crops: bright young people. Our eighth 40 Under 40 — a listing of the state's rising superstars — includes a mix of entrepreneurs, traditional businesspeople, civic leaders, public servants, academics and nonprofit workers from every corner of the state. Indeed, the number of nominations this year was far and above that of previous years, making the task of narrowing the list down to just 40 tougher than ever.
But with Georgians like these to choose from, most of our picks were no-brainers. In these pages you'll meet, among others, a non-profit director whose work with urban kids has drawn presidential approval, the state's first black solicitor general, a lawyer who works to keep cases from going to trial and the restaurateur responsible for the phrase "Welcome to Moe's!"
Georgia Trend's editors made these selections, aided by nominations from readers. Individual profiles were contributed by writers Matt Bolch, Carol Carter, Mary Anne Dunkin, Jerry Grillo, Jennifer Hafer, Karen Kennedy, Melanie A. Levs, Ed Lightsey, Bobby Nesbitt, Patty Rasmussen and Michele Taylor.
Appearing on the opposite page are (clockwise from top): Francisco Palacios, publisher La Voz; Brooke Jackson Edmond, senior vice president/principal, Jackmont Hospitality; Benjamin S. Richardson, solicitor general, Muscogee County; and Allen Nance, founder, Mansell Group.
Brooke Jackson Edmond
Senior Vice President/Principal
Jackmont Hospitality
Atlanta
Age: 36
Brooke Jackson Edmond started Jackmont Hospitality in 1994 with two partners, Daniel Halpern, a friend from Cornell University's School of Hotel Administration, and her father, Maynard Jackson, the late former mayor of Atlanta.
"My father was adamant about integrity," Edmond recalls. "It was a character issue that translated into the way we did business." Edmond says she's amazed at the way some businesses cut corners for the sake of quicker, bigger profits but adds, "That's not what we're about."
Jackmont is about conservatively growing the food service business on two fronts, the casual dining and the contract services sides. After owning and operating the T.G.I.Friday's restaurant at Hartsfield Jackson International Airport for eight years, Jackmont acquired four Friday's locations in Maryland, Washington, D.C., and two Philadelphia sites: all markets traditionally serving urban populations. "We waited for the right locations to come along, holding off on some underperforming locations," Edmond says. "We wanted to be set up for success. We're in this for the long haul."
In the contract services business, Jackmont currently partners with Sydexo to manage on-site food services at Atlanta Public Schools and area colleges including Morehouse, Spelman and Emory in Atlanta. While pursuing joint ventures in contract services, Edmond says Jackmont will continue to grow its own contract food services and is committed to building four to five more Friday's restaurants in the next five years.
Edmond graduated from Spelman College and "took a detour into construction" before returning to the hospitality industry. "I worked in hospitality when I was younger and I studied it in school," Edmond says. But her construction experience isn't wasted. As manager of new construction for Jackmont, Edmond says, "I don't run into any problems once [workers] realize I can read blueprints and I sign the checks!" The company has an exemplary reputation among its workers. Jackmont was recognized recently for "outstanding employee retention," a direct result of its commitment to sacrificing profits to give proper health and retirement benefits.
Edmond is also passionate about maintaining balance between work, home and community. A busy mother of five, Edmond mentors young women through The Links, Inc. and maintains close ties with her church. It's her father's lessons, still resonating. "If we were given a so-called 'advantage' through affirmative action programs," she says, "Then we must fortify the community with our gain." — P.R.
Allen Nance
Founder, Mansell Group
Atlanta
Age: 29
Allen Nance is living proof that, contrary to a popular myth in the business world, timing is not everything.
In 1999 when he founded Mansell Group, a computer technology company, the technology bubble was exploding and young dot-com entrepreneurs were selling their Jaguars and mansions as they looked for paying jobs. "I was young (26) and starting a technology-based marketing company," Nance says. "In 2000, when most people thought of a successful entrepreneur, the words 'young' and 'technology' were not high on the list."
Failure — and the fear of it — has never given Nance pause. In fact, Nance was Republican before Republican was cool. He worked as a capital aide for Republican legislators when he was just 21, and labored in Bob Dole's presidential effort and in Guy Millner's 1998 run for Governor, both losing causes. "I enjoy the difficult times as much as I enjoy the good times," he says. "The bottom line is that this is still America, and in America anyone with the nerve to try and the willingness to work hard can pursue whatever dreams they have."
In earlier times, Nance found that absorbing information from successful people was helpful in his efforts to make a mark in the business world. He calls himself a sponge. "From my father, to my first job at the state capitol, to [being] an aide to Guy Millner, each person I had the opportunity to meet turned into a mentor." And location is important, too. "The biggest influence on my professional and personal life has been the support and encouragement I have received from the Atlanta business community," Nance says. "This has to be the single greatest city [in which] to start a company and live."
With clients such as AirTran Airways, Sony Music, Moen faucets, AARP, the American Cancer Society and 200 others, Mansell Group annually produces 600 million e-mails used in marketing and measuring customer satisfaction with everything from products to frequent flyer programs. The company also offers database management and customer intelligence to its clients.
Nance mixes sunny optimism with Republican ideals. "It feels good that with the jobs I help create, real people buy houses, get married, have children, pay for college and save for retirement, he says, "and have a little fun too." — E.L.
Francisco Palacios
Publisher, La Voz
Dalton
Age: 31
A political tempest was ripping through Mexico in 1994. Assassinations at the highest levels of government culminated with the arrest of the president's brother on a murder rap. The introduction of NAFTA caused disenfranchised Indians to revolt and the lower-middle class to stress over the future of their homegrown businesses as Wal-Marts and McDonalds proliferated. To Francisco Palacios, born in San Francisco, it seemed like a good time to move back to the United States.
"It was a time of great crisis," says Palacios, 31, who grew up in Ameca, a small city between Guadalajara and Mexico's Pacific coast. "It was time to leave."
With family in California and North Georgia offering sanctuary, he chose Dalton and Whitfield County, where a cousin owned a restaurant. Armed with a marketing degree, he worked in the restaurant, improved his English, sold cars for a few weeks and thought about his future. When Dalton's Daily Citizen newspaper started publishing a weekly Spanish language edition to serve a swelling Latino population, he offered his assistance. Before long, the former advertising agency employee was running the show. "I was writing and editing stories, selling ads, doing layout," he says. "Just about everything." After several years of that grind, Palacios decided to feed his entrepreneurial urge and started a competing weekly newspaper, La Voz, in 1999.
"We started out with a circulation of 5,000 and we're up to 9,500 today," Palacios says. "We try to print only local news, and I think that's what makes us unique."
Whitfield County's Latino population has surged to 22,000, about 25 percent of the county total. And Palacios says they are hungry for information. "My goal is to get the message across," he says. "I want to tell the Latino community about everything that is available to them."
In 2001 his message and business interests grew when Clear Channel purchased a local Spanish language radio station. "They weren't sure what to do with it, so I pursued a license management agreement," Palacios says. "I have ties to the Latino community and business owners so it was a comfortable arrangement."
Now Palacios devotes most of his time to running La Voz Radio 1430 while partner Ricardo Rios edits the newspaper. But it is Palacios who has put a positive face on the media mini-empire with his work in the community. A graduate of Leadership Dalton-Whitfield, Palacios has served on the city's recreation commission, on a community advisory panel for the Carpet and Rug Institute, and counsels local firms on the best ways to earn the trust of the Latino population. "He has a knack for bringing people together," says David Mansfield, owner of Dalton Beverage Company, a local beer distributor. "Francisco is an excellent businessman, but I think he's even more effective as a community leader." — J.G.
Benjamin S. Richardson
Solicitor General, Muscogee County
Columbus
Age: 37
If a character modeled on the professional life of Ben Richardson ends up in a Hollywood film, his friends will not be surprised. In fact, Richardson himself might write the screenplay.
As Muscogee County Solicitor General, Richardson would certainly have sifted through a treasure trove of misery, despair and dark comedy in dealing with the petty and not-so-petty crimes his office prosecutes; enough human tragedy to at least produce a television series. And he does write screenplays. "I guess every lawyer has a little Hollywood in them," Richardson says. "Creativity definitely helps in our profession. In fact, one teaching tool that we use for new prosecutors is the concept of theme. It helps the jury if you can put the facts and evidence [into] a common theme. It seems to bring the case to life in a storybook fashion."
Richardson's job is to prosecute those accused of crimes. But if he had his way, he'd lower the number of prosecutions by practicing crime prevention. "In my job I usually have four options: jail, fines, community service and/or counseling. Though punishment is an important option, I feel in some cases community service and counseling may help with rehabilitation."
As the first African American in Georgia to hold the position of solicitor general, Richardson's appointment in 2003 by then-Gov. Roy Barnes attracted immediate attention. Richardson used that focus to generate audiences when he spoke to Columbus youth in schools and the spotlight gave him a high profile in civic activities. "Ben would be the last one to boast about his tremendous achievements," says Greater Columbus Chamber of Commerce President and CEO Mike Gaymon. "[He looks] back to his roots [and strives] to make a difference and serve others."
"He learned early in life to give back to his community," says Muscogee County Tax Commissioner Lula Lunsford Huff, a longtime courthouse observer. "He is a role model for black youth, specifically boys, and spends much of his time coaching and mentoring these youths."
Richardson also works with Columbus youth by speaking at schools and maintaining a high profile in civic activities. He serves on the boards of the local Red Cross chapter and the Columbus Symphony; he also has a term as president of the Columbus Bar Association under his belt. His strong presence in the classroom as well as the courtroom has earned Richardson a number of local public service awards and a growing appreciation from Columbus' civic leaders.
"The awards help me remember that I am a prosecutor, not a persecutor." In Columbus, Ben Richardson has already scripted an award-winning reality show, to the applause of a grateful public. — E.L.
Stacey Y. Abrams
Deputy City Attorney for Government
Counsel Development and Infrastructure,
City of Atlanta
Atlanta
Age: 30
Stacey Abrams, Atlanta's deputy city attorney for government counsel, development and infrastructure by day, has an alter ego.
As Selena Montgomery, Abrams has published four novels, the first written during her law-school days at Yale. The latest psychological thriller, "Never Tell" (St. Martin's Press), was released in June 2004 and received the Top Pick! designation from Romantic Times. "I watched 'Mission Impossible' as a child," Abrams says. "But finally had to admit I wouldn't be a spy. I get to live out my fantasies in my books."
Abrams may not travel the world as a spy, but she's spent a great deal of time overseas as a 2004 American Marshall Memorial Fellow, a Freeman Fellow on U.S.-East Asian Relations in 2002 and a Salzburg Seminar Fellow in 2000. And when she's not in far-flung corners of the globe looking for ways to improve the world, she's turning her considerable energy toward her own community. Abrams currently serves as a board member for the Atlanta Black/Jewish Steering Committee, Hands-On Atlanta and the Atlanta Girls School. She's also a member of the 2004 class of Leadership Georgia. _ K.K.
Tina Anderson
President, Moultrie Technical College
Moultrie
Age: 39
When someone graduates from Moultrie Technical College, says Tina Anderson, he or she has a career. "But that's not where it ends. We just affected that person's children. We just affected that person's grandchildren. Even on my worst days, I can say I helped change somebody's life in a positive way."
Perhaps Anderson thinks like this because she sees something of herself in the nearly 2,000 students on Moultrie Tech's five campuses _ two in Moultrie and one each in Tifton, Ashburn and Sumner. "I've worked my whole life toward this job," she says.
And it's true: This Ellaville native holds two degrees from Georgia Southwestern State University in Americus and a doctorate from Georgia Southern University in Statesboro. Before taking her current position in Moultrie, she was vice president of instruction at Middle Georgia Technical College in Warner Robins.
"Neither of my parents graduated from high school, but they are very bright people with a tremendous work ethic, and they had the expectation that their children would go to college. They knew that was the key," Anderson says. _ C.C.
Detria Austin
Assistant Vice President of Administrative Services, MCG
Health, Inc.
Augusta
Age: 30
Detria Austin is a quick study. Just four years ago, the Arkansas native began a two-year fellowship in health care administration at Augusta's Medical College of Georgia (MCG). Today, she's assistant vice president of MCG Health, Inc., a not-for-profit corporation operating the MCG Medical Center and Children's Medical Center as well as other MCG facilities.
Austin manages a number of MCG services including food and nutrition, greeter services and the hospitals' cafeterias and gift shops. She is also charged with developing and managing MCG's new Culturally and Linguistically Appropriate Services department, which will provide staff translators to work with health-care providers and non-English-speaking patients.
A graduate of Atlanta's Spelman College, Austin had a long-time interest in both business and medicine. She began her fellowship at MCG after considering medical school but instead pursued a master's degree in health care administration. "When I found health care administration, it was as if I had found my perfect fit," she says. "Your goal is always to provide great patient care and meet the needs of your community, and as an administrator you're challenged to find creative ways to do that. That's what keeps me coming back every day." _ M.A.D.
Karen Baynes
Associate Director
Carl Vinson Institute of Government,
University of Georgia
Athens
Age: 37
Karen Baynes could have stayed at Alston & Bird, where she started working in 1992 after graduating from Berkley law school. But volunteering with Atlanta's Truancy Project changed her focus. "I could have gone about my professional career and never realized the state of what's going on with children. It's a reality that is very sobering," the 37-year-old mother of two says. "It makes you dig a little deeper in saying, "What can we do?'"
What this Maryland native did, after leading Atlanta's Court Appointed Special Advocates (CASA) program and working in the Fulton County juvenile court system for six years, is move to Athens. She now oversees UGA's Carl Vinson Institute of Government's new child and family policy initiative, which brings together experts from across the state to create systemic change for children.
Baynes believes her work on policy now is crucial to the future of Georgia's children. "It's much better for this state to look at the data and see what is projected in future and work from that, as opposed to dealing with the unfortunate death of a child and having a knee-jerk reaction to putting policy in place." _ M.A.L.
Frank Bell
CEO, Intellinet
Atlanta
Age: 38
It's not surprising that Frank Bell runs a technology company. He was one of those little boys who liked to take things apart. "Let me take out the screws and see what's in there," Bell recalls as his youthful mindset.
What may separate him from other technophiles, though, is that Bell also has a passion for people. He likes to use technology to help people. Bell's three priorities for his company are, in order, client satisfaction, employee satisfaction and profitability. "If you get them upside down," Bell says, "and you start driving profitable growth first, you'll run over the customers and your people."
Intellinet, the most certified Microsoft partner in the world, helps its clients solve problems via Microsoft technology. The company is the only single-location Microsoft partner with gold certification in five areas _ business intelligence, enterprise systems, collaboration, security and commerce solutions.
A company becomes certified by attaining certain defined competencies.
"We're in the business of helping people," says Bell, who, while not technically an Atlanta native (he was born in Florida while his father served in the Navy) has a provenance that goes back five generations. "We just use technology to help accomplish that goal." _ C.C.
Michael A. Braswell
President, SouthStar Energy Services, LLC
Atlanta
Age: 39
As president of SouthStar Energy Services, which does business in Georgia as Georgia Natural Gas, Mike Braswell is committed to making his company a leader in the natural gas industry. He is also committed to making it a leader in community service.
"I believe it is critical for a company to be involved in the community," says Braswell, an Atlanta native who is a graduate of Georgia Tech (industrial engineering) and Georgia State University (MBA).
Under his leadership, Georgia Natural Gas has developed one of the strongest community affairs and employee volunteer programs in the state. The company has been honored for its volunteerism by being named a national Points of Light Award winner and a Georgia Corporate Champion for Children.
Joyce Yamaato of the YMCA of Metropolitan Atlanta knows first-hand of the company's volunteer work with the Centennial Place Family YMCA and says, "Such a strong commitment to community service has to start at the top of an organization and Mr. Braswell has shown in word and deed that he intends for Georgia Natural Gas to be a visible leader in this community." _ B.N.
Chris Campbell
President, Gilmer County Chamber of Commerce,
Co-founder, Franklin-Campbell Real
Estate Investment
Ellijay
Age: 33
"You've got to be willing to take a risk to get the reward," says Chris Campbell in the drawl of his native LaGrange.
He should know: In 1999, his boss at the Re/Max agency where he'd worked since relocating to Ellijay in 1993 retired, gambling on a then 28-year-old Campbell to take over. Campbell outdid himself, increasing sales from $10 million to $30 million in five years, and more than doubling the staff. Meanwhile, Franklin-Campbell Real Estate Investment, a firm he co-founded, is in the process of building its first commercial site, a 10,000-square-foot medical complex.
As current president of the Gilmer County Chamber of Commerce, Campbell's main goal is managing the county's explosive growth. "How do we get our arms around it so we control it instead of it controlling us?" he asks, noting that it requires cooperation among cities, the county and the chamber.
Campbell's driving philosophy is simple: "It's treating people the way you want to be treated and being as honest as you can. When you get down to the basics of life, health and happiness are more important than anything." _ M.A.L.
Chris Casey
Vice President,
Bec-Don
Oxford
Age: 39
Chris Casey found his way in the world before finding his way back to the family business, Bec-Don, a leading supplier of fabricated concrete reinforcing steel and related products throughout the Southeast. And the benefits of that outside experience are readily apparent.
He's been involved with Bec-Don since Day 1, when the office consisted of a 30-by-100 rented trailer in an industrial slip in Lithonia. He recalls helping with paperwork, making tags and later doing accounting work.
Along the way, Casey graduated from Georgia State with a bachelor's degree in management and an MBA in information systems. He went on to found Bytewise Consulting, becoming a recognized authority on Y2K issues.
Since returning to Bec-Don, Casey has been instrumental in expanding the business to Northwest Georgia with a second plant. In fact, the company was nominated for this year's Georgia Small Manufacturer of the Year Awards.
"It was fortunate for me that I decided to do something else," Casey says. "Making a conscious decision to come to the business allowed me to gather tremendous experience and confidence on my own." _ M.B.
Eric Clarkson
Owner, EC Enterprises,
Chamblee City Council
Chamblee
Age: 39
In his third year on the Chamblee City Council, Eric Clarkson has developed a reputation as a consensus builder.
He is credited with working among the city's diverse groups to achieve unanimous approval for a once controversial Wal-Mart Supercenter scheduled to open this spring that's now being heralded as a new model for the retailer's growth within large cities.
"I think Wal-Mart was looking for a real success story," Clarkson says, deflecting the accolades. The store, under construction on Peachtree Industrial Boulevard at Clairmont Road, lies within a Livable Centers Initiative district, which has tight controls on building placement, aesthetics, signage and parking. Wal-Mart officials agreed to numerous changes and plan on buying additional acreage to help further a multiuse trail planned for the area.
A Colorado native, Clarkson has been civic-minded since junior high, deciding shortly after settling in Chamblee to run for the council the next time his district came open. As a licensed real estate agent, Clarkson favors mixed-use projects. "That's where I see the future," he says. "The way Atlanta has grown just doesn't cut it." _ M.B.
Kecia Cunningham
Relationship Manager, Government Banking, Wachovia
Commissioner, City of Decatur
Decatur
Age: 38
Kecia Cunningham is the first openly gay African American elected official in the Southeast. At the time she was running for her first term as a city commissioner for Decatur in 1999, she didn't realize the significance of that fact. "I was running and running hard," she says, and focused on serving her city. "In the end, potholes are not going to ask who you're partnered with."
After Cunningham served on the Decatur Development Authority, Decatur Mayor Elizabeth Wilson, who was retiring, asked her to run for one of five commissioner's seats. In her position, Cunningham sets policies and helps create strategic plans for Decatur, the county seat of DeKalb.
Her work as commissioner complements her full-time job as Wachovia Bank's relationship manager for governmental agencies; she joined the bank after graduating from Agnes Scott College in 1987. "While I appreciate the technical things, if you can't see the problem and draw conclusions out of it, you're missing something," Cunningham says. "Banking is about interacting with people, and in the end, you need to be able to communicate and understand what someone's hot-button issues are." _ M.A.L.
Manny Dominguez
Principal, Thompson, Ventulett, Stainback & Associates, Inc.
Atlanta
Age: 38
Manny Dominguez, principal at Thompson, Ventulett, Stainback & Associates, Inc. (TVS) cut his architectural teeth on some tasty projects, including the 1996 Olympic Aquatic Center, now the Georgia Tech Aquatic Center. "There's a different feeling designing an Olympic venue," Dominguez says. "It's a once-in-a-lifetime opportunity."
As team leader and design director at the firm's office in Dubai, United Arab Emirates Dominguez, who splits his time equally between Atlanta and abroad, is engaged in another such opportunity. In 2002 he was a major player in the design of Dubai Media City; a creative community for the media industry, similar to Silicon Valley in the United States, giving extraordinary incentives to the 850 companies located there. Back home, Dominguez remains involved in the Midtown Heights redevelopment project anchoring the 17th Street Bridge corridor. He calls the New Urbanism design trend a return to "simpler times."
Believing mentors are the key to success, Dominguez is active in the mentoring program at TVS. But his greatest joy is working with talented people, at any level. "I love being part of the vitality of a group working on a design," Dominguez says. "It keeps you sharp!" _ P.R.
Karl Douglass
Vice President of Licensing, AFLAC
Columbus
Age: 35
Karl Douglass didn't expect to end up as vice president of licensing at AFLAC, a corporate giant in his hometown of Columbus. "I think the opportunity found me," says Douglass, who holds degrees in both economics and political science from Yale University. "Managing relationships is managing relationships whether you're dealing with the media or agents or governments."
Douglass' staff of 53 employees makes sure that the 60,000 independent AFLAC insurance agents comply with individual state regulations that must be adhered to. He also reports to AFLAC's director of compliance for, keeping him apprised of changes in licensing laws. "We don't deal with legislation, just implementation," Douglass says.
That's enough to keep anyone busy, but Douglass also devotes time to his passion, the YMCA. As chairman of the board for the YMCA of Metropolitan Columbus, he oversees a major facility expansion campaign. He also chairs the South Columbus Revitalization Task Force, an organization trying to "breathe new life into the southern portion of the city." _ P.R.
Gary Field
President/Founder,
Southeast Exchange
Savannah
Age: 39
An idea born out of need, refined during the heady e-commerce days and resurrected out of serendipity keeps Gary Field busy.
He describes Southeast Exchange as "eBay for barter," serving businesses in the Lowcountry from Savannah to Beaufort, S.C. Field expects 200 businesses to participate by year's end, swelling to 500 at the end of 2005. "It's hard to sign the first 50; then it gets easier to sign the next 50," he says.
Members use Southeast Exchange as the clearinghouse for barter, with Field linking businesses and keeping accounts.
After bartering with customers at frame shops he owned in Atlanta's Toco Hills and later in south Miami, he developed the online barter concept and presented it to investors as the high-tech sector started to collapse. Field shelved the concept and went to work for a copier company, eventually winding up in Savannah.
At his first chamber of commerce event, barter seemed to be on everyone's mind.
"I'm not that much of a religious person, but I thought that God must be telling me something," Field says. _ M.B.
Robert "Robbie" Kamerschen
Vice President, Law & Public Policy, ChoicePoint, Inc.
Atlanta
Age: 36
Robbie Kamerschen has found his "niche." A long-time interest in law, government and politics has guided his education and career path steadily upward to his current post as vice president of law and public policy for ChoicePoint, Inc., the multibillion dollar Alpharetta company that is the nation's leading provider of identification services. In his current role, Kamerschen focuses on managing strategic issues and opportunities for ChoicePoint companies in the public sector.
The Athens native was a star athlete in high school and college. He played on championship baseball and football teams at Clarke Central High in Athens and Stanford University in California, which he attended on scholarship.
After receiving his bachelor's degree in political science, Kamerschen served briefly as deputy press secretary for U.S. Sen. Richard Shelby in Washington, D.C. An academic scholarship to the University of Georgia School of Law brought Kamerschen back to Georgia. He received his law degree, cum laude, in 1994, and joined the law firm of Troutman Sanders in Atlanta, where he focused on state and local government issues. In 1999, he joined EzGov, Inc., an e-government software company, as vice president of legal and governmental affairs. He joined ChoicePoint in 2002. _ B.N.
Faron Winslow King
Tax Administrator/Chief Appraiser
Towns County Tax Assessor's Office
Hiawassee
Age: 37
It's a good thing Faron King runs marathons. Other-wise, he couldn't keep up with himself. He became Towns County's chief tax appraiser at age 27 and received his level 4 certification at 26: the youngest in North Georgia to achieve that rating and one of the youngest in the entire state.
He became president of the Georgia Association of Assessing Officials at age 32, making him the youngest president in the association's 54-year history. He has been chairman of the board of the Towns County Chamber of Commerce. He either is currently or has been on the boards of Towns County Tourism Association, the Mountain Arts Association and the Licklog Players, a community theater.
"You can't expect to get anything out of your community unless you're willing to give," says the Towns County native, who has no plans to leave the area that he describes as "the nearest thing to God's country that I've ever seen." _ C.C.
Raymond B. King
Senior Vice President for Community and Governmental Affairs, SunTrust Bank
Atlanta
Age: 38
Raymond King is involved in a broad array of civic activities, everything from the Metro Atlanta Chamber of Commerce to the Southeastern Flower Show. But the arts hold a special place on his busy schedule.
"If Atlanta is to continue as a growing, thriving community, it is important we have a rich cultural environment," he says. "The arts are important for quality of life ? they enrich the mind and the soul, but the arts also help tremendously in our community's economic development and the education of our children."
King currently serves on the boards or committees of some 15 organizations, including the Georgia and Metro Atlanta chambers, Atlanta Convention & Visitors Bureau, Metropolitan Atlanta Arts & Culture Coalition, Theatre in the Square, Theatrical Outfit and the Woodruff Arts Center, which has honored him with its Charles R. Yates Award for Outstanding Community Service.
The Atlanta native received his B.S. in management from Georgia Tech and has spent his entire career at SunTrust. In his current post, he oversees the bank's various civic and philanthropic activities. _ B.N.
Laurel Payne Landon
Partner, Kilpatrick Stockton
Augusta
Age: 36
A member of the litigation practice group of Kilpatrick Stockton's Augusta office, Laurel Landon has also achieved the heady status of being named one of Georgia's "Super Lawyers," for 2004 by Law & Politics magazine.
That's probably because Landon, whose practice focuses on employment law and commercial and class action litigation, prefers to avoid trials when possible. "I enjoy the counseling end of my work," she says. "I help companies understand employment law practices and offer sexual harassment training _ all in an effort to try to prevent litigation."
Landon was sworn in as president of the Young Lawyers' Division of the State Bar of Georgia in June 2004. "Young Lawyers is the service arm of the bar," she says. "We provide a place for young lawyers to get involved in serving the profession or public."
Landon's commitment to service is further evidenced by her work as a member of the Children & the Courts Committee of the state bar and former board member for B.A.S.I.C.S., the state bar committee that provides job training for inmates and helps them make the transition back into society. _ K.K.
Paul Leath
Manager, Atlanta Gas Light
Macon
Age: 37
Paul Leath's background includes years of military service in the U.S. Army, 82nd Airborne Division, where he attained the rank of captain and lived in places as disparate as Germany and Fort Bragg, N.C.
Now Leath, who hails from Aberdeen, Md., is trying to save an Air Force base in his own back yard. As treasurer of 21st Century Partnership, which functions as the community focal point providing support for Robins Air Force Base, Leath is involved in helping Robins through the 2005 Base Realignment and Closure process. The goal of 21st Century is to demonstrate to the Department of Defense that Robins should remain in middle Georgia for the long term and expand its missions.
But Macon isn't pinning all its hopes on the Air Force Base. As a member of the Macon Economic Development Commission, Leath says "the commission is taking a targeted approach to recruiting businesses. We landed Kohl's Southeast Distribution Center, which over the next two years will employ more than 300 people." In addition to his work in the business community Leath, who came to Atlanta Gas Light from GE Lighting in Hendersonville, N.C., also chairs the 2004 Macon Cherry Blossom Festival board of directors. _ K.K.
Brad Lofton
President and CEO, Effingham County Chamber of Commerce and Development Authority
Springfield
Age: 27
Last year, while in Jamaica on his honeymoon, Brad Lofton jumped from a 100-foot cliff into the Caribbean.
It wasn't the first time he's leapt into uncharted waters. In 2001 when Lofton arrived in Lee County as executive director of the Chamber of Commerce and Development Authority, he found the two organizations without two important tools taken for granted in most growing counties. The development authority had no public property to sell and no formal incentives to offer new industry. "My biggest challenge was to develop a program," he says.
Lofton might have had another handicap – his age. When he took the leadership of Lee County's economic development efforts at 24, Lofton became the youngest person in Georgia to head such an organization.
With a 60 percent jump in population during the '90s, Lee County became one of Georgia's fastest growing counties and remains the category leader outside the Atlanta metro area. To help manage growth, Lofton secured the county's first industrial park, helped acquire $6 million in development authority property and assisted in shaping a generous retail and manufacturing incentives package. Along the way, he saw chamber membership soar by 400 percent.
Lofton became chairman of a multi-county development authority that included several of Southwest Georgia's poorest counties. Though living and working in one of that region's most prosperous counties, he became something of a missionary, leading rural Georgia to better times. "I believe there is still unfinished business in economic development in rural Georgia," he says. "There are still two Georgias, and an increasing gap between the haves and the have-nots."
Lofton's successes brought him into the cross-hairs of headhunters representing several Georgia chambers of commerce and economic development authorities. The high bidder on the first round draft choice was Effingham County, where this month Lofton began his duties as president and CEO of that coastal community's chamber and development authority. Lofton says he has moved from the nation's 51st fastest growing community to the 65th. "It's basically the same set of circumstances I am familiar with," he says. "Only now I'm 10 minutes from the Port of Savannah and 10 minutes from Hilton Head." This time Lofton is leaping into more familiar waters. _ E.L.
Mike Miller
Attorney, Hartley Rowe and Fowler
Chair, Douglasville Downtown Development Authority
Douglasville
Age: 32
An internship at the state legislature showed Mike Miller "the effect that law had on every individual in society." After graduating from Alabama's Cumberland School of Law in 2000, he inherited a newly appointed judge's law practice. "I wanted to be a small town lawyer," he says, "to come back home and help the folks I grew up with."
Since February 2002, Miller has been an associate at Hartley Rowe and Fowler PC, working on development issues in Douglas County. A graduate of several area leadership institutes, he also chaired the Douglasville Downtown Development Authority, and advocates multi-use areas. "It takes lot of salesmanship to change the paradigm that you need houses in one area and commercial in another area and offices 20 miles away," Miller says.
Miller also is active in the Republican Party, appointed by Gov. Sonny Perdue to the state's construction licensing board, founding a regional young Republicans group and serving on the Douglas County Republican Party board. Would he ever run for office himself? "If I ever have the opportunity to run, I want to be very qualified and run in a position that will promote the best interests of the state." – M.A.L.
Lynn Murphey
Director of Community and Government Relations, Cox Communications
Macon
Age: 35
An average day for Lynn Murphey, director of community and government relations for Cox Communications, might start with a phone call from a local media outlet and end with disbursing funds for a valuable community project.
In-between, Murphey might also be found answering questions about the highly regulated broadband telecommunications industry with local, state or federal officials. "It's the variety of my job that turns me on the most," she says.
As community liaison to the Air Force Materiel Command (AFMC), Murphey, a Conyers native who now lives in Macon, has traveled the country learning more about the Air Force and how to educate the middle Georgia community on the economic importance of Warner Robins Air Force Base.
Murphey was recently named at-large representative to the Georgia Commission on Women, appointed to the four-year post by Gov. Sonny Perdue. "We have a pretty substantial charge," Murphey says. "We'll study a range of women's issues, health care, economics and how state laws and regulations impact women. I'm looking forward to expanding my understanding [of these issues] from a local to a statewide level." – P.R.
Sanjay Parekh
Chief Strategy Officer and Co-Founder, Digital Envoy
Norcross
Age: 30
When Sanjay Parekh turned 14, his dad made a solo move to Atlanta to take a job with the Centers for Disease Control. He turned management of the books and payroll of the family's Lexington, Ky., alterations shop over to his teenage son. "And, I have to say, we didn't lose any money," Parekh recalls. "Nothing was screwed up while I was on watch there. I think that kind of instilled in me the ability to start and run my own business."
So maybe it naturally followed that he would launch a company when, on March 17, 1999, Parekh (a Georgia Tech grad with a degree in electrical engineering) conceptualized IP-based intelligence while visiting two Web sites that asked him what country he was in before showing him any content, a step he thought should be unnecessary.
Thus, that very night, "In my head, I architected a solution to the problem." IP-based intelligence uses IP addresses (Internet Service Providers automatically assign one to every computer) to supply non-personal information to clients so they can provide services such as better security, focused advertising or fraud protection for their customers. – C.C.
Carlianne Patrick
Director of Research and Planning,
Carroll Tomorrow
Carrollton
Age: 24
Long gone are the days when local civic leaders invite new industry to town on a wing and a prayer. Today, economic developers like Carlianne Patrick, who serves as director of planning and research for Carroll Tomorrow, a public-private development initiative, must weigh the cost of tax abatements and other incentives against the fiscal and economic impact on the community.
Despite her youth, at 24 Patrick is well-equipped for her job, having graduated magna cum laude – with dual degrees in international economics and psychology – from the State University of West Georgia. She also holds a master's degree from the London School of Economics, where she had the distinction of being the youngest graduate ever in her program.
But actions speak louder: In the last three years Patrick, has helped woo more than $160 million in capital investment, and up to 1,100 new jobs to her new hometown of Carrollton (she relocated from East Cobb to attend SUWG and never left). The resulting fiscal impact: more than $5 million.
She credits student experience with the Model UN with teaching her a lot about economic development. "Ultimately, it's about helping people and helping improve their standard of living through an analytical process." – J.H.
Jonathan Pope
City Solicitor
Canton
Age: 34
"From the time I was able to frame my thoughts, I wanted to be in the courtroom defending people," says Jonathan Pope, adding that his father, former Appeals Court Judge Marion T. Pope, had little sway over his career path. "He tried to discourage me [from law] more than anyone!" Pope admits.
A graduate of the Citadel (1992) and Georgia State University's College of Law (1995), Pope began his career at Atlanta's Chambers, Mabry, McClelland & Brooks, now Mabry & McClelland, before heading back to his hometown, Canton, to work in a much smaller practice, Hasty & Ball. Pope made partner at 30 and shifted his focus to wrongful death and catastrophic injury cases.
And if that weren't enough to keep him more than busy, Pope also serves as city solicitor of Canton and treasurer of the Young Lawyers Division, the community service division for the State Bar of Georgia.
Pope credits his Citadel education for his work ethic. "We were taught the importance of preparation and preparation is the paramount rule for trial lawyers," Pope says. "In the courtroom, preparation is the great equalizer." – P.R.
Courtland Reichman
Partner, King & Spalding
Atlanta
Age: 35
Courtland Reichman's passion is helping people who can't afford representation gain access to legal services – a surprising choice for a partner in one of the state's largest law firms – especially one with a client list that includes such corporate luminaries as Coca-Cola and UPS.
But Reichman, a graduate of Swarthmore College and Emory University Law School, got into law knowing he wanted to do pro bono work. "I saw the pitiful state of indigent defense in Georgia while working on some cases through the Southern Center for Human Rights and knew something needed to be done."
Now he heads the Indigent Defense Project, King and Spalding's effort to represent impoverished defendants in rural Georgia. He also leads the firm's pro bono representation of the Atlanta Commission on Homelessness; is a member of the board of directors of the Southern Center of Human Rights; and is president of the board of directors of the Living Room, a nonprofit that finds hosing for homeless people with HIV/AIDS.
Reichman takes his work for indigent clients as seriously as he does his work for the high-profile clients in the firm's intellectual property practice. "The only way to do pro bono right is to treat the pro bono clients like the billable clients," he says. – K.K.
Glen Rollins
President, Orkin Pest Control
Atlanta
Age: 38
In Glen Rollins' corner office at Orkin Pest Control hangs a painting depicting a large white figure with a smiling face and a red blotch on its lapel. Crawling all over the figure are big, gray bugs. "That was my Father's Day present," Rollins smiles proudly. "It's me as the Orkin man."
Rollins, named president of the company in February, has been an Orkin man since he was 14, working with his father and grandfather, who founded Rollins, Inc., Orkin's parent company. After graduating from Princeton University, Rollins returned to Orkin and worked throughout the South before returning to his native Atlanta in the late 1990s.
As executive vice president in 2001, he shifted corporate strategy from garnering new customers to securing existing ones. "We've moved pretty dramatically to focusing on selecting and keeping great people, and targeting customers from whom we can earn loyalty," Rollins explains, adding that the two concepts reinforce one another.
Today, he has much to be proud of, including Orkin's top-rated training facilities for 8,500 employees nationwide, and its new partnership with the CDC on pests and public health.
His advice to others? "Pick a terrific organization," he says. "Work for an organization that you admire and whose leadership you admire." His son would approve. – M.A.L.
Terrance Ross
Executive Director, Haynes, Hutchins and Ross, Inc.
Stone Mountain
Age: 35
Terrance Ross credits his mother's commitment to public service with inspiring him to become a civic leader. "My mother taught me that giving back means public service, and public service is everyone's responsibility," the West Point native says.
As executive director of Haynes, Hutchins and Ross, Inc., a project management company, Ross created the DeKalb Microenterprise Institute, a 12-week program designed to help budding entrepreneurs build a business.
Among his many civic endeavors is chairing the DeKalb Bond Advisory Board on Greenspace. Under his leadership, the county has successfully leveraged a $125 million bond referendum to access additional state and private dollars to grow the greenspace program. He's received numerous honors for community involvement with youth-related groups, and is a member of 100 Black Men of America.
Ross, who is pursuing a master's degree in public administration at Alabama's Troy State University, has political aspirations as well. Even his unsuccessful 2002 bid for DeKalb County's House District 61 Seat), hasn't dimmed his fervor. "I love politics; I love the process of politics," he says. "I believe holding a public office is one of the most selfless things a person can do." – J.H.
Brad Serff
President, Exchange Bank
Milledgeville
Age: 38
Brad Serff is a banker who puts "community" in community banking. As president of the Exchange Bank in Milledgeville, he has helped lead his institution to record growth by practicing the belief that civic contribution paves the road to success.
"You only have a certain amount of time to do things in your life," he says, "and I look for opportunities to make my community better and other people's lives better."
The University of Tennessee graduate came to Atlanta in 1988 to begin his career with C&S Bank, moving up the ladder as C&S became NationsBank.
In 1997, Serff was recruited by First Liberty Bank in Milledgeville to work as city president. In 1999, he moved to Exchange Bank and, in January 2004, was named president of the 101-year-old community bank.
As his responsibilities increased over the years so has Serff's community involvement. He has served in volunteer leadership roles with such organizations as the Milledgeville Convention & Visitors Bureau, Georgia College and State University, the Rotary Club, United Way and Habitat for Humanity. – B.N.
Mitesh Shah
President/CEO, Noble Investment Group
Atlanta
Age: 36
In March 2004, Mitesh Shah was named to Newsweek magazine's list of "20 South Asians of Power and Influence." Listed alongside such pop cultural heavyweights as filmmaker M. Night Shyamalan, singer Norah Jones and professional golfer Vijay Singh, Shah was humbled.
"I get a lot of credit for the organization," he says, "But I'm surrounded by a lot of talented people."
The president and CEO of Noble Investment Group, Shah took a small family business, a "hodgepodge of assets," and forged a hospitality industry leader. The company is made up of two divisions; Noble Management Group; operating hotels and conference centers, and Stormont Noble Development; specializing in creating public/private hospitality platforms, like the new 400-room Marriott hotel in downtown Raleigh, N.C., which will be part of the city's new conference center.
Noble has developed more than $700 million hospitality projects, during hot and cool economies, with few signs of slowing down. And Shah says he intends to maintain balanced growth, developing projects and acquiring properties, with Noble out in front as revenue and market share leaders. – P.R.
Jill Sieder
Coordinator, East Atlanta Kids Club
Atlanta
Age: 39
If it ain't broke don't fix it, but if it is – do something. That was Jill Sieder's philosophy after listening to complaints of boredom from kids in her East Atlanta neighborhood, some of whom were throwing rocks at abandoned houses to pass the time.
Rather than ignore this, Sieder, then a full-time freelance writer, decided to try something. She offered to coordinate summer activities for the kids at her local rec center. "I went to Toys "R" Us and bought about $100 worth of art supplies and games," Sieder says. "I made fliers and passed them out to kids on my bike."
That was 1998. Today, Sieder is fulltime director of the East Atlanta Kids Club. Last year, 150 kids (ages 7 to 13) participated in everything from field trips to the African American Rodeo and their current project: a documentary on changes in East Atlanta. President Bush congratulated Sieder personally on her success on a recent visit. "I'm proud of our consistency," Sieder says. "We've created an organization that operates like a family. The kids keep coming back and the parents are involved." – M.T.
Lynda Lee Smith
Executive Director/CEO
Intercountry Adoption Congress
Alpharetta
Age: 36
There are times when Lynda Smith says she and her staff feel like they're trying to push a reluctant elephant up a steep mountain, but the goal is well worth the effort. Smith heads Alpharetta-headquartered Intercountry Adoption Congress (IAC), an international nonprofit human rights watchdog organization that uses a combination of advocacy, diplomacy, education efforts and technological solutions to help governments around the world oversee and improve adoption processes.
IAC is not an adoption agency, however. "Our focus is on the rights of the child," Smith explains. "We work with governments worldwide to protect the orphans and abandoned children. Our goal is to streamline the adoption process and eliminate the corruption that can be involved."
Smith, a South Georgia native, has a background in business, fund-raising and nonprofit work, including leadership roles with the American Heart Association and the American Cancer Society.
Despite the difficulties IAC often faces in trying to reach its goal, Smith says, "It makes me feel good knowing that what I do has an impact on someone else's life. These children are completely helpless, they are voiceless ? but we can speak on their behalf." – B.N.
Martin Sprock
Founder/CEO
Raving Brands
Atlanta
Age: 39
Martin Sprock has to move fast to juggle the popular franchises he's founded, starting with Planet Smoothie in 1995, which now has locations in more than 20 states. His biggest success story to date, however, is Moe's Southwest Grill. Since its founding in 2001, the Moe's franchise has exploded, with 125 locations in some 30 states, and 150 more set to open this year. Moe's was named 2004 Hot Concept of the Year by Nation's Restaurant News.
But Sprock isn't resting on his laurels. Raving Brands, the company under which he operates, acquired New Orleans-based PJ's Coffee in 2002 and launched Mama Fu's Noodle House last year. Doc Green's Gourmet Salads started this summer.
Sprock, a Greensboro, N.C., native, came to Atlanta to sell commercial real estate after graduating from the University of North Carolina in 1987 with a degree in political science. In his "spare" time, he resurrected Atlanta landmark pub Clarence Foster's, building it into a small chain before selling it in 1993. He poured his bar experiences into creating a franchising plan because, he says, "I wanted to create an American dream opportunity." It worked. "We sold 1,000 franchises last year with zero advertising," he says. "I'm so proud of that." – M.B.
Michael Toma
Associate Professor of Economics
Armstrong Atlantic State University
Savannah
Age: 39
Michael Toma readily admits that economics can be dry and uninteresting – "awful sometimes" – for undergraduate students. That's why he emphasizes practical applications in the courses he teaches. And it's why he brings students in on research projects at AASU's Center for Regional Analysis, which he directs and was instrumental in masterminding.
"They are in it up to their necks, from the conception of an idea and making sure we understand what the funding entity wants, to gathering data and developing models and presenting the data in a form that's understandable."
The center has, for example, worked with the Savannah Economic Development Authority to create a list of industries suitable for Savannah and with the Coastal Georgia Greenway to project usage and impact assessments.
When Toma isn't teaching or researching, he authors the quarterly Coastal Empire Economic Monitor, which includes two Toma-constructed indices of economic activity for the Savannah area. – C.C.
Brencleveton "Donta" Truss
Director, TRIO Programs, Andrew College
Cuthbert
Age: 31
At age 31, Brencleveton "Donta" Truss, director of the federal TRIO programs at Cuthbert's Andrew College, is well situated to do his current job – attracting students from poverty environments onto the college campus.
After two years on the job, Truss has written or co-authored $4.3 million in grants that have been used to serve nearly 2,000 college students who might have otherwise had no opportunity to get a higher education. To achieve such success, Truss says he had to become focused. "The toughest challenge I encountered was realizing that I could not save the world," he says. Last year, the Georgia Association of Special Programs Personnel recognized Truss' leadership abilities by naming him president of the professional organization.
The young recruiter and counselor, who got his start eight years ago while studying for his master's degree in counseling and guidance at Alabama State University, believes he has found a home on the college campus. "Hopefully, I can lead a college or university as the president somewhere in my near future," says Truss, who is now working on his doctorate in educational leadership, policy and law. – E.L.
Leanne West
Research Scientist
Georgia Tech Research Institute's Electro-Optics, Environmental and Materials Laboratory; Coordinator of Assistive Technology Research, GTRI and Georgia Tech
Atlanta
Age: 35
When Leanne West entered graduate school at Georgia Tech in 1994, she chose to specialize in optics because of a lifelong love of astronomy. "I thought I could work on things like the Hubble telescope," she says.
But 10 years and two master's degrees later (one in physics, the other in engineering science), her career has taken an interesting turn. Not only does she explore distant galaxies, she's also discovering new ways to help people here on earth.
As coordinator of assistive technology research at Georgia Tech Research Institute, West encourages colleagues to join her in seeking new uses for existing defense technology – for example, to diagnose health problems as diverse as dental cavities and internal injuries and to help people with disabilities function better.
One of her latest accomplishments: patenting a portable captioning device that people with hearing impairments can take with them to movies, sports venues, plays and places of worship.
"I think my work is interesting because it changes every day," says West, who has undergraduate degrees in math and science from Vanderbilt University. "It allows me to think outside the box to see how to make things work better for people." – M.A.D.
Deidre Williams
Manager, Training and Development Team, TSYS
Columbus
Age: 28
It wasn't enough for Deidre Williams to lead a team of 12 employees in her role as manager of the Training and Development Team at TSYS (Total System Services, Inc.) in Columbus.
Nor was it a stopping point to help her company exceed the goal of $561,000+ for its annual United Way Campaign by raising more than $691,000. This rising star also spent two months in Australia representing her company in the Rotary International Foundation's GSE program for young professionals. And she isn't done yet. "I've not even touched the tip of the iceberg," Williams says.
As part of the Rotary program, Williams traveled