Master Of The Greenways
Charlie Yates is steady, skilled and sportsmanlike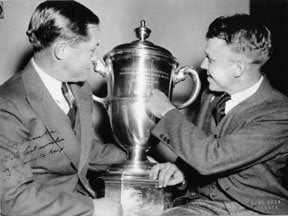 This being the month of the Masters, thoughts turn to 90-year-old Charlie Yates who attended 68 consecutive tournaments, played in 11 and was low amateur in five.
He became secretary of the Augusta National Golf Club in 1950 and for years was host extraordinaire to the national and international media.
Yates will not be attending this year's Masters. He is ill and pretty much confined to his home in northwest Atlanta.
Next to Bobby Jones, Yates is the most successful amateur golfer the city of Atlanta or the state of Georgia ever produced.
In 1938, at the age of 24, he won the British Amateur at Royal Troon, which was tantamount to the World Amateur Championship. He was captain of one Walker Cup team and honorary captain of another. He brought one Walker Cup trophy back to America.
He twice won the Georgia State Amateur, once won the Western Amateur and played in nine U.S. Amateur Championships.
In 1980 he received golf's most prestigious award — the Bob Jones award for sportsmanship. As famous as he was for his golf game, he was equally well known for community involvement and charitable causes. Although he is a Methodist, he was a staunch supporter of the National Jewish Hospital and Asthma Center. He was president of the Atlanta Arts Alliance (now the Woodruff Arts Center), the Georgia Chamber of Commerce, the Atlanta Symphony and the Rotary Club of Atlanta. He was southern regional chairman of the USO and vice-general chairman of the United Appeal.
Yates also was an officer of the old First National Bank and later became vice president of two railroads — the Atlantic Coast Line and the Louisville and Nashville.
Charles Richardson Yates was born on Fourth Street in northeast Atlanta. His family moved to East Lake, a few steps across the street from the East Lake Golf Club, when Charlie was a tot. He was literally raised on East Lake course No. 2 which is now a public course named in his honor — the Charlie Yates Course.
His dad, the late Presley Daniel Yates, gave him his first golf club, an inexpensive one which turned out to be extremely costly. Young Charlie would swing at a ball on his front lawn, miss and gouge out a huge hunk of turf, leaving holes all over the lawn. The Yates family never did have any grass.
Charlie won his first cup at age 11 in the city junior tournament and at age 12 took the city junior championship. He attended old Atlanta Boys' High School and Georgia Tech. At Tech he won the national intercollegiate crown.
When he won the city amateur at age 17, more than 400 kids, many of them caddies, took the day off to watch their hero play.
When he went to Scotland for the British Amateur, Bobby Jones gave him his "lucky, red flannel, long john underwear." In the final round, using an old, rusty putter he bought from an Atlanta caddy for one dollar, he sank an 8-foot putt to win his 36-hole match.
The entire gallery of 7,000 unloaded a terrific shout, disregarded ropes and marshals and mobbed the new champion. Yates simply stood there until police grabbed him, put him in a police car and took him to the clubhouse.
On his return to Atlanta, he was met at the old Terminal Station by Mayor William B. Hartsfield, Bobby Jones and thousands of well-wishers.
Three years later, at the start of World War II, Yates enlisted in the Navy, served three years on a destroyer and participated in the major landings in Italy.
Before his dad died, he said of Charlie, "His character is as steady as his golf game. He is clean and fine and every- thing a son ought to be. He neither smokes nor drinks. As marvelous as his golf game is, I am more proud of his character."
George Sargent, his golf instructor at East Lake, said of Yates, "He was not only the ranking golfer of the world, he was the most popular player known in the game."
Charlie and his wife, the former Dorothy Malone, will celebrate their 60th wedding anniversary in May. The Yateses have four children, Dorothy, Charles Jr., Sarah and Comer.
Charlie's two brothers, Dan and Alan, were both fine golfers; Dan also was a state champion.