The Franchise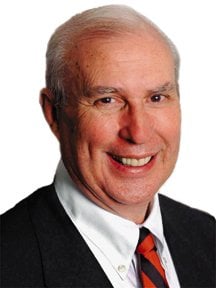 "This is a personal piece. This is about working comfortably in a warm corporate cave for nearly three decades, then stepping out onto an ice floe to fight off polar bears. It's about passing birthday No. 50, then starting over."
That's a quote from a column written for Atlanta magazine some 15 years ago by Bill Shipp. At the time, 1988, Shipp had just resigned his job as The Atlanta Constitution's top political writer and associate editor of the newspaper's editorial page.
He had just started what he called a "small-time publishing" newsletter venture called "Bill Shipp's Georgia." He was editor and publisher, and he was worried that "in the end the enterprise may sink to the bottom."
What a difference 15 years makes. His new venture became a major success and solidified Bill Shipp's reputation as Georgia's premier political journalist.
I have always called Shipp, Georgia Trend's longtime political columnist, the "franchise," meaning that he is our most valuable writer. In addition to his newsletter, he writes a twice-weekly column for almost every daily and weekly newspaper in Georgia. With his weekly appearance on Sunday's television show "The Georgia Gang," Bill reaches more than a million Georgians each week.
Shipp recently turned 70 and wants to cut back on some of the column-writing grind. That means he will no longer write his political column for Georgia Trend, though he will continue to take on some special editorial projects, such as our cover story this month on Emory University's new president. He will keep his newspaper column and stay with his television gig.
Shipp, of course, should have been named editorial page editor of the The Atlanta Constitution back in the 1980s. He left the paper after Bill Kovach, former Washington bureau chief of The New York Times, was hired as editor, tasked with winning Pulitzer Prizes for the newspapers.
There are choices a manager can make in such a situation. One is to work with the people who are already on staff, and bring in new people at a slower pace. The other is to fire the old staff, and bring in your own people. Kovach took the second approach. He dismantled the newsroom staffs of both The Atlanta Journal and The Atlanta Constitution.
Kovach was a great journalist, (the papers did win a Pulitzer on his watch), but a lousy manager. He believed he was above the publisher, and that he answered to no one. He would threaten to resign when upper management disagreed with him.
People often ask what the newspaper term "publisher" means. The publisher is the head of the company. He controls the purse strings and is responsible for all newspaper departments including circulation, advertising, news and administration. In smaller newspaper companies (and at Georgia Trend) the editor and publisher are the same person. If the owner of the newspaper is the editor, he is the publisher, or president of the company. At larger newspapers, the publisher and editor are separate. The editor has an independent mandate to direct the newsroom and editorial pages. But the publisher must also be concerned with morale and the overall performance of the operation.
Kovach made a final demand in a meeting with publisher Jay Smith and threatened once again to resign. This time Smith accepted his resignation, and all hell broke loose. Their editor/publisher relationship became a national media cause. Newspapers all over the country were indignant that the publisher accepted Kovach's resignation. Editorial pages defended him as a champion of free speech.
Kovach supporter Pat Conroy made national news when he led a protest rally and march down Peachtree Street to the door of the AJC's offices on Marietta Street. It was quite a circus.
Kovach went on to head the Neiman Foundation at Harvard. He never took another editor's position. I wonder if he ever considered that things might have been different if he had tried the other management option and worked with the people who were already on staff, making changes at a slower, more measured pace.
Jay Smith brought in a new editor at the AJC and gave him free rein to run the newsroom without interference. Smith is now head of all of Cox newspapers, and the AJC has won Pulitzer prizes without Kovach.
Smith surely must have considered what might have happened had he hired Bill Shipp instead of Bill Kovach. I'm glad he didn't. Shipp has given Georgia Trend a wonderful legacy of strong political writing over the years. Among his many readers and fans, including me, Bill Shipp has been and will ever be primus inter pares, "First among equals."
Neely Young is editor and publisher of Georgia Trend.