Georgia's Top Public Servants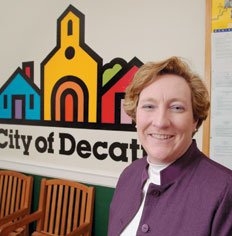 When Ken Breeden recently sat down with his 17-year-old son, Matt, to discuss post-high school plans, he was pleased to learn the youngster wanted to take his interest in computers to another level. Although a university campus was a real option – Matt scored 1300 on his SAT – the younger Breeden liked the possibilities available at a technical college. The discussion with his son brought back to Breeden memories of a talk he had 23 years earlier with his eldest son, Mike. "He wouldn't go to a technical school because of the stigma attached to it," says Ken Breeden. The difference in the two generations is the difference Breeden has made in Georgia workforce development.
Thirty years ago, Georgia's technical colleges — now numbering 34 — were known as trade schools, places where girls learned the latest hair-styling techniques in cosmetology classes and boys dived under the hoods of cars to work on engines as they trained for careers in auto repair. Educators believed there was little else to offer those who were not college-bound. "That world was clearly defined for young folks," says Breeden, Georgia's commissioner of the Department of Technical and Adult Education (DTAE) and winner of this year's award for Excellence In Public Service for state officials. "If you were in this business 30 years ago, opportunities were divided into three groups: There were the trade jobs, about 25 percent of the workforce, which required training; the unskilled jobs, about 60 percent, and the 25 percent of the jobs requiring a college degree." Now, says Breeden, the numbers have reversed, with skilled jobs accounting for about 60 percent of the workforce, unskilled jobs at 20 percent and jobs requiring a college degree still about 25 percent. (Breeden's approximations include skilled jobs that also require a college degree, making figures exceed 100 percent.)
The change in workforce demands, fueled by the evolution of technology, has sparked a change in education. Training a workforce in and for this new environment has become an essential part of economic development. Few in Georgia have watched this evolution in job skill demands as closely as Dr. Kenneth Breeden, and none have shaped the state's response more dramatically.
Setting New Standards
In 1984, Breeden was hired by Governor Joe Frank Harris as the executive director of the State Board of Post-Secondary Vocational Education and given the responsibility of improving the direction of training in what were then called vocational schools. In 1988, when his job was abolished along with the state's antiquated approach to vocational training, Breeden was hired as Georgia's first – and so far, only – commissioner of the Department of Technical and Adult Education.
Breeden is credited with bringing new, high-quality and consistent standards to the schools. He changed curricula to reflect the requirements of the new job market. And Breeden left each school with a board of directors chosen from the local populations. These board members are drawn from leaders in businesses, industries, professions and economic development and represent a lobbying force of about 300 well-connected men and women in 155 of Georgia's 159 counties. Another 300 local leaders serve on foundation boards. "We had these local boards during the transitional period," says Breeden. "We figured out later that they were also extremely valuable because of their contacts and leadership with local and state elected officials." That nice connection to all of the state's legislative delegations could be a part of the reason the DTAE has enjoyed more than $1 billion from the state for construction, renovations and repairs since Breeden took the helm of the training agency. Those dollars have translated to 2.4-million square feet of new buildings and new technical colleges (two years ago, the schools were renamed colleges to reflect the change in their missions). Eighteen major satellite campuses and 50 technical education centers were added as well.
Breeden is modest about his political acumen. "I set up these local boards because it was the right thing to do," he says. "We want to preserve local control and local leadership. And who better to tell us what their community needs in the way of job skill development?" Board members serve three-year terms and no more. No dynasties here.
Economic Development
Breeden has also led the charge in reaching into underserved areas of Georgia that have missed out on economic boom times. "In the 'other Georgia,' our colleges are a vital part of economic development," he says. Breeden encourages his 34 college presidents to become deeply involved in local economic development. "People who produce things have to be productive or die," says Breeden. "It is quite natural that we partner with them. We are much more vitally connected to the business community and the economic development community than ever before."
While Breeden is quick to encourage his presidents to become active in local economic development, he is just as quick to discount any notion that he might be a micro-manager. "No way," he says. "We believe in the empowerment of our presidents, our boards. We give our presidents wide latitude but we do measure performance." Not only are the performances of staffers regularly measured, but the technical colleges routinely measure students' performances on the job years after they have graduated.
"I'm no micro-manager. But I do believe in setting the parameters," says Breeden. "I believe I should always be clear with everyone about just what we expect and what our mission is. I believe in customer responsiveness and meeting customer-driven specifications. I believe our only business is workforce development and our goal is to be the best in the world at that."
— EL
Peggy Merriss: In A Small Town
From her office on the square, Decatur City Manager Peggy Merriss has seen significant change come to her community in the last two decades, mostly the good kind – rising popularity alongside a relatively manageable growth rate. Decatur is truly a small town, only four square miles. Atlanta's closest neighbor has maintained an urban charm that makes it the envy of many metro communities, thanks largely to Merriss' thoughtful efforts both behind the scenes and out in the street. She is the winner of the Excellence In Public Service Award given to appointed city officials.
"We're in our 18th year of doing festivals downtown," she says. "It started pretty small, with neighborhood groups doing poetry readings, and has become huge; some events attract as many as 10,000 people a day." The concerts and festivals on the square promote both community and economic development, says Merriss.
They also mirror other efforts Merriss has spearheaded to bring the city to the community, including budget focus groups and Decatur Government 101, low-key "classes" designed to engage citizens in the management of city affairs. It's a way for citizens to better understand the process of running this vibrant city, if not necessarily to reach a consensus on how it should be done, says Merriss. "If 40 people know now what we're doing, they can tell their neighbors and multiply. It's a whole set of ambassadors," she says.
Merriss has incorporated environmental concepts into city services. Decatur is the second city in the state to create a stormwater utility; citizens pay a stormwater utility fee corresponding to the amount of surface parking on their property. In its third year, the utility is already affording capital improvement projects to control runoff. Five years ago, Decatur also began a "pay as you throw" sanitation collection project requiring residents to purchase special bags for collection as an incentive to recycle. The project has caught on and reduced landfill deposits by as much as 40 percent, nearly twice the state requirement.
Mayor Bill Floyd, who nominated Merriss for the award, notes that she was instrumental in Decatur's being named a City of Ethics by the Georgia Municipal Association. In typically modest fashion, Merriss, who is the youngest and first female president of the 7,000-member International City/County Management Association, says Decatur is simply too small a town to get away with any funny business. "Since the city commission appointed an ethics committee to review complaints, no one has filed a complaint," she says. "We all know each other, and can tell if someone's trying to pull something."
Still, it says a lot that this administration has operated in so much sunshine, as growth-related pressures have turned up the heat on city services. As in much of Atlanta, rising property values threaten to change the way of life that has attracted so many to the town. "It's the biggest challenge we face right now," she says. "We have to grow and change with the times, but we don't want to leave people behind. Our location, 15 minutes from downtown Atlanta, puts pressure on our real estate market. Which is positive, but we're struggling. We don't want to become an insular, homogeneous, semi-gated community."
Merriss has reason to be optimistic. After all, in August she celebrated her 20th year here, and has seen downtown blossom into one of the state's flowers. "Decatur even 20 years ago had a great reputation in city management circles," she says. "It's been a good ride for me. Many of our staff members have been here between 15 and 20 years. There's definitely an argument to be made, that such stability has helped make Decatur a better city."
And with progressive policies already in place, the city looks to stay well ahead of the growth circus that perpetually plays in Metro Atlanta. Decatur's pedestrian-friendly reputation has made for the kind of thriving downtown district every community wants, and Merriss takes her dedication to the environment home. "I have a 1999 Ford Explorer with only 27,000 miles on it," she says proudly.
— BY
Jim Burgess: Front Line
Ask Jim Burgess any question about municipal government and he takes off on an informative but exhausting riff that can last several minutes. "Am I rambling?" he asks.
Well, not really, but the man can deliver a treatise on just about any facet of city government, a natural response from someone who is widely regarded as the final authority on all matters municipal. During the last 40 years, Burgess, a lawyer, has served as an assistant city manager, city manager, instructor in law and government at the University of Georgia, associate city attorney for Atlanta and in many capacities as a consultant to city governments and as a mediator in disputes between local governments.
Twenty years ago, he was named executive director of the Georgia Municipal Association. He retired from that job in 1995 and moved to Social Circle. Just two years later he was offering himself for election as the little town's mayor. He is the winner of the Carl Vinson Institute of Government's first Excellence In Public Service Award for an elected municipal official.
Holding so much knowledge about municipal government can be both a liability and a benefit when seeking public office. While he was campaigning for mayor, Burgess, found himself knocking on doors to ask for votes. "I didn't like doing it," he says. "I felt I was intruding in people's homes." But Burgess discovered that voters had questions about delivery of services, and boy, did he have answers.
"I was staying in some homes for an hour, explaining how municipal government works," says Burgess. "Finally my wife told me I talked too much, that I was spending too much time in the homes." It didn't matter to Burgess. "I didn't expect to win anyway," he says. "I was an outsider and had only lived in Social Circle for two years."
But Burgess won by a wide margin. Then the expert and theorist woke up one morning to find that he was now on the front line. "After all those years of working for elected officials, I was one," he says. "It was like being in an experimental lab where you can implement your ideas." Except it didn't take long for Burgess to realize that running a city, especially a small one, is a sweaty job filled with minutiae and inglorious successes.
The new mayor found himself standing between warring neighbors in heated arguments about who was putting their trash in the wrong spot. He got another call about trash when the local garbage truck missed four houses tucked into a cul de sac on its pick-up route. He's even had to turn detective to track down the killer of a cat. (It turned out to be a neighbor's dog.) In most cases, Burgess has been able to use a soothing tone and solid reason to calm warring neighbors and aggrieved pet owners.
It makes sense. After all, this is the same man who found ways to unite the City of Atlanta and Fulton County in disputes over the delivery of services. In fact, Burgess is a licensed mediator, a job that requires the most delicate people skills, gentle persuasion – and the wisdom of Solomon. Or, as Burgess puts it, "More like the patience of Job."
When Burgess is not dealing with the municipal nitty-gritty, he turns his attention to the "vision thing," the steps that must be made to improve his community. Burgess has convinced his council to farm out a number of city services to the county, an extremely difficult task in Georgia where turf protection, intergovernmental suspicions and old jealousies still hang in the air. "I think these old political boundary lines are ridiculous," he says. "All the citizens want is the service. You think they care who provides it?"
Sometimes Burgess is called on to use all of his skills, including those of mediator, lawyer and politician. When he needed a truck bypass to get big eighteen-wheelers out of downtown Social Circle, he went to the Department of Transportation with a deal: If the city can get the engineering done and the land donated for a road easement, would the DOT build the bypass? The department said yes and Burgess went to work using his persuasive powers to get six citizens to donate their land for the right-of-way. The county threw in $500,000 in engineering work, and the $4.6-million first phase of the bypass will be finished and open before the new year.
With his lifetime of contributions to municipal Georgia, Jim Burgess has become the sage of the cities. And he'll be glad to answer any questions you might have.
— EL
Charlotte Nash: On The Money
Charlotte Nash seems obsessed with the long view. Her financial planning is cast 50 years into the future, and she can peer into the past to revisit the birth of Gwinnett County's growth. Nash is the Gwinnett County administrator and the rarest of creatures in Metro Atlanta's doughnut governments – she is a native of the county she serves.
Nash has played a key role in managing the delivery of services to a population that in 20 years grew from 167,000 to 588,000. She is the winner of the Excellence In Public Service Award in the county appointed category.
"I never expected to spend my career in public service," says Nash. "But I didn't have a good feel about what was being done [in Gwinnett County] with water and sewage and some other planning for services that the citizens need." So, after a four-year stint making sure the county complied with grant regulations, in 1981 she took the job of county budget manager. "I will tell you this," says Nash. "When you deal with the budget of any government, you get a better sense of the overall scheme of things, but that sense doesn't happen overnight."
For two years, as she explored the mundane world of costs connected to getting potholes fixed and sewage treated, Nash, an accounting magna cum laude graduate of the University of Georgia (Class of '75) struggled to make sense of it all. Then she seemed to have a sort of numbers-cruncher's epiphany. "Things began to click and the organization began to make sense and that gave me the thought that I might have a career in Gwinnett County," says Nash. "The separate entities like water and sewerage all came together and I saw clearly the big picture." Connecting the dots on the spider web of county budgets might seem to rate low on the scale of interesting possibilities, but in these intricacies Charlotte Nash saw the possibility of a life's work. "I began to understand the power of the budget and all its possibilities," she says.
But Nash was not content to grasp the day-to-day functions of budget and service. And the three- to five-year projections and plans seemed to her only temporary fixes. So she developed a 50-year growth plan for all the service responsibilities of the Gwinnett County government to its citizens. It is most likely the only plan of its kind in the nation. If budget planning was so important, could the official county economist be far behind? "It is most unusual," Nash admits. "In fact, we don't know of another in the state, but it is one of the best decisions we have made. We can focus on the economy and the budget to build a model which we use with state agencies and the Atlanta Regional Commission to make economic projections and that gives us a better basis for revenue projections." Thus the ability to plan for changes in demands for services.
Nash has been country administrator since 1995, having served as grants management officer and finance director during 24 years of service to the county. During that time, Gwinnett County has benefited from a fiscally sound government that has translated to saving taxpayers millions of dollars in interest when using bond issues to pay for projects, like the $219 million infrastructure construction now underway in Gwinnett.
Strong fiscal management isn't always a headline-grabbing event. But Wall Street sure takes notice. In 1997, under Nash's leadership, Gwinnett County became one of eight counties in the nation to receive AAA bond ratings from all three major rating agencies – Standard & Poor's, Moody's and Fitch. Gwinnett still holds the rating today.
Nash's careful stewarding of county funds has earned her an affectionate nickname from some Gwinnett County Commissioners. "Some of them call me 'Mama,'" she says. "I'm still not sure how I feel about that. I think it comes from my almost maternal concerns about the financial health of the county."
— EL
Stephen Gooch: Turnaround Artist
Stephen Gooch has taken Lumpkin County from sub-zero to 60 in just a few years. Educated in business administration, he worked at the nonprofit R-Ranch mountain resort for 18 years, finishing his master's in public service administration in 1998 before running for sole commissioner in 2000. The aggressive campaign was not nearly as difficult as what he faced after taking office in January of 2001 – a $17-million cash flow problem.
"On my first day, the doors were locked, the lights turned out, the staff quit, our bank accounts were frozen," recalls Gooch. "We were shocked. We knew there'd be some surprises, but we had no idea it would be so severe. Checks in excess of $4 million were bouncing. State law wouldn't allow us to declare bankruptcy; there was no precedent we could turn to for guidance. We were in uncharted waters. I didn't sleep for awhile."
Included in the bad checks were payments to the IRS for $1.5 million for employee withholdings for the entire year. Short term notes exceeding $5 million were past due at local banks. Construction projects were over budget and underfunded.
Gooch, who is the winner of the first Excellence In Public Service Award presented to an elected county official, credits his business experience and a fresh approach to governance for helping him get through the crisis. "One advantage of our sole commissioner government, is that I was able to make spontaneous decisions," says Gooch. "I was able to run the government like a business." In the first year he reduced staff by 20 percent, and put together a Public Finance Committee of citizens to act as a sounding board. He created a Public Building Authority, arranging a 15-year loan to pay the debt, for which voters passed a Special Local Option Sales and Use Tax. The SPLOST was passed to service the debt by paying off the loan in five years instead of 15, saving about $3 million in interest.
Lumpkin County has emerged as a regional leader and a model for progressive ideas. Gooch says he "sees the wave coming up Georgia 400," and has set a course to meet its future. "We have our first comprehensive Land Use Ordinance Draft, 150 pages worth, as an alternative to zoning," he says. The future here is green: Lumpkin County now has conservation subdivisions allowing for smaller lot sizes in exchange for more green space, and qualified for the state Green Space program. "I'm a Republican," says Gooch, "and I believe in preserving our heritage, if the people get behind it. And I think they will. They see what's happened south of us."
The fiscal crisis is over. "We brought in half a million dollars in excess revenues our first year, a $1-million surplus our second year, and have accumulated enough money to finish a 92-acre park started by the previous administration just below the reservoir," says Gooch. Public-private arrangements will provide bowling, skating and gymnastics facilities at the park. Next, Gooch hopes to have a privatized sewer system in place before term's end. Lumpkin will then be poised for growth on all levels.
It may come as no surprise that Gooch's biggest challenge has been time management. "When I say I work half-days, I mean 8 to 8," he jokes. His term of office will be Lumpkin's last sole commissioner administration; starting in 2005, the body will switch to a five-member, part-time board of commissioners. "I haven't made a decision yet," he says about whether he'll seek the county manager role. "I'll consider it, but I'll cross that bridge when I come to it. I want to use my education and my public administration background – possibly even on a state level."
Gooch is understandably proud of his accomplishments; He's actually been able to drop Lumpkin's millage rate by a few tenths while in office, and the county has benefited from numerous grants it aggressively sought from state and federal sources. Most recently, Lumpkin received $200,000 to build a recycling center, and Gooch says Dawson and White counties may participate as well, in a regional approach that allows the counties to market their recycled goods at a higher rate.
His tight-fisted, sunshine approach to finances includes a code of ethics, as well as travel and purchase policies unlike anything Lumpkin had before. "There were a lot of loose accountability standards, so this is more professional," he says. And beneficial – county employees now have a retirement system and benefits, which allows Lumpkin to be more selective in its hires. "Working at The R Ranch,
I learned you have to watch the money very closely," says Gooch. "Some accuse me of micro-management, but that's what this county needed."
— BY