Collecting and Investing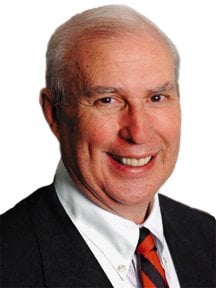 In this issue we feature Georgia Trend's Silver Spoon Awards, for which our restaurant critic, Krista Reese, has traveled the state to select the best restaurants in Georgia. So I want to share my own best dining experience; I enjoyed a great meal, and learned how better to collect and profit from wine.
I am a member of a group called the Marietta Wine Club, which likes to meet in different and unusual places. Our group had a recent meal in a wine cellar. It was not a cellar like you would visit in Napa, Calif., full of antique furniture and 17th-century paintings of Louis XIV. This cellar in this five-star restaurant and lodge, The Cloister at Sea Island, is actually a large wine warehouse. There was a plain old wooden table in the center of the room that had cases of wine from all over the world stacked around it. The cellar has 24,000 bottles worth more than a million dollars, according to Cloister Sommelier Tyler Wesslund.
Sea Island's Executive Chef Thomas Rogers knows how to make a group feel like royalty; his background includes having prepared a meal for Queen Elizabeth. He and Wesslund put together a special dinner called "10-10-10." It included 10 tapas or small dishes with 10 different matching wines for 10 people.
The feature menu included:
Butter-Poached Lobster with 1997 Iron Horse Sparkling Wine "Russian Cuvee," Sonoma.
Seared Foie Gras with 1999 Humbrecht Pinot Gris "Rotenberg," Alsace, France.
Barbecue Tuna with 2000 Charles Melton Rose "Virginia," Australia.
Roasted Beets and Goat Cheese with 2002 Ata Rangi Sauvignon Blanc, New Zealand.
Mustard-Cured Salmon with 2000 Cristom Pinot Noir "Mount Jefferson Cuvee," Oregon.
Wild Mushroom Strudel with 1997 Barolo "Boscareto," Piedmont, Italy.
Duck Pancakes with 2000 Truchard Roussanne, Carneros, Napa.
Prosciutto Rabbit with 1999 Valpolicella "Ripassa," Venice, Italy.
Pepper-Seared Venison with 1999 Domaine de la Mordoree Lirac "Cuvee de la Reine des Bois," France.
Fresh Figs with 1998 Guntrum Riesling, "Eiswein," Rheinhessen, Germany.
In a later interview, Wesslund and others at the cellar recommend ways to build a personal wine collection. They suggest buying three types of wines: early or young wines, two to three years old; mid-range wines, from four to 10 years old; then late wines, those made to last 10 to 30 or 40 years.
Buy by the case – some to drink now, and others for later. When you find a good wine, buy two cases; drink one now, then save the other for 10 or 15 years. You can sell the one you save and that will help pay for your hobby later.
The experts say that every cellar should be made up of three segments.
First, the affordable wines. These young wines are in the $10 to $25 range. They consist of Australian reds, California whites and cabernets, Spanish reds, South American reds. These are your everyday drinking wines and should be placed first in your cellar, because they are handy, easy to get to.
Next, add the mid-priced wines. These wines are in the $25 to $75 range. They are made up of good to excellent California cabernets, boutique red zinfandels, New Zealand whites, and Alsatian French reds and whites that have a Robert Parker rating of 90 to 98. Samples include cabernet reds from Napa such as Kenwood, Cakebread Cellars, or B.R. Cohn or French reds including Chateauneuf-du-Pape (the wine of the Pope) from southern France, or Penfolds Hermitage from Australia. These wines last longer and should be stored in the middle, and pulled out for special family events or company.
Third: This is the fun part, Wesslund suggests. You should add to your cellar collection wines priced at $100 and above. These wines should be treated as 10- to 20-year investments. They are the heavy Bordeaux and Burgundies that bring $250 to $500 a bottle. Some examples include: Chateau Mouton-Rothschild and Chateau Latour from Bordeaux and Romanee-Saint-Vivant or Echezeaux from Burgundy. If you don't like French wines, you can collect California reds such as Heitz Cellars or Caymus Reserve. You have to shop carefully and find a price around $100 to $150 or so. Hold these wines for 10 years and they may be worth $500. They are to be placed in the back of the cellar, and have to be properly stored at 55 degrees.
Wesslund says that to round out your cellar you should add wonderful Ports and Madeira sweet wines for after dinner or with special cheeses.
If you are careful, over the years you may have up to a $35,000 investment. It can grow to $50,000 and might produce a nice profit. You can start your collection with as little as $1,000 a year, or go a little higher. As a Georgia resident, the only place you can sell your wine collection is at New York wine auction house like Morrell Wines on Fifth Avenue.
There are many wine collecting books; especially recommended is any book written by Robert Parker or Michael Broadbent. The Wine Spectator is a must subscription. Wine collecting is a fun hobby, and it could also be a good way to help pay for your children's or grandchildren's education.