My First Boss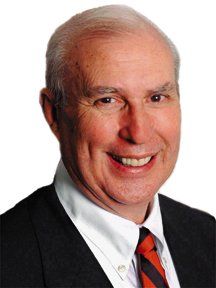 Tenney Griffin was a great journalist and a great mentor. During the height of the civil rights era in the late '50s and early '60s he was managing editor, and later publisher, of The Valdosta Daily Times. It was a period of great conflict, and Griffin was deep into leading this Deep South community out of the Jim Crow mindset that permeated the region. Partly because of his efforts, Valdosta turned out to have an easy racial transition, rivaling Atlanta as a city "too busy to hate."
Under his leadership, the paper won a slew of Public Service Awards from the Associated Press. He was a judge on the Pulitzer Prize awards committee, and The Valdosta Daily Times was mentioned as one of the nation's top newspapers in the novel Capable of Honor, written by Allen Drury.
But one of his most notable achievements was not in the written word. Griffin produced a training ground in Valdosta for some of Georgia's best and brightest writers, editors and publishers. They have populated newspapers and magazines all over the region. When young people begin their careers, right out of college, that first boss has a tremendous influence on their management skills. If the first boss beats up on his employees, is too demanding and unfair, this is a pattern that carries forward with his employees.
Some bosses have the attitude that if you resign for a better opportunity, you are disloyal. Others are threatened by new ideas on how to run the company. Griffin was just the opposite. He was the kind of employer who surrounded himself with people who were, as he said, "smarter than I am, because if they do a good job it makes me look good." He then provided an atmosphere in the newspaper that encouraged growth and development. He would work on your writing skills, and teach his employees how to "get the real story" from people. He believed that accuracy ruled. He believed the true character of a good story included both sides. If both were mad about a published article, he would be pleased. "You got everybody angry," he would say to a reporter. "Good job. But follow up." Most of the time no one would question stories, because they were so well written and accurate.
Julian Miller, who is now president of the Augusta Herald, remembers an incident when he was a cub reporter in Valdosta. "Tenney came out to me and said there was an opening at the Thomasville Times-Herald. If you are interested, I'll make a call for you. I didn't even want to leave," Miller said. This was typical. Tenney Griffin was interested in your development as a person and it was his greatest pleasure to help people along their career path.
Miller is included with hundreds of people who left, or graduated from Tenney Griffin's journalism college. These include Rema Lane, who left Valdosta to be a correspondent for Newsweek; and Steve Sumner, who had a brilliant career with Thomson Newspapers and recently retired as one of the company's top executives.
Others include Earl Braswell, who ran the newsroom for the Albany Herald for many years; Kay Powell, who handles the wonderful obituaries for the Atlanta Journal-Constitution; Ed Lightsey, who was a television anchor for Albany's only television station and is now special correspondent for Georgia Trend; Otis Rayburn, now a top executive for The Rome News Tribune; Stanley Warren, group publisher for the Morris Newspaper group in Florida; and Joey Ivansco, an award-winning photojournalist for the AJC. There are hundreds of others.
In any profession it is your duty to do a good job. But your legacy is made by how you teach and mold your co-workers. Tenney Griffin passed away in 1986. Today he would be proud to know how far and wide his influence has been felt. He was my first boss, and an inspiration.