California on My Mind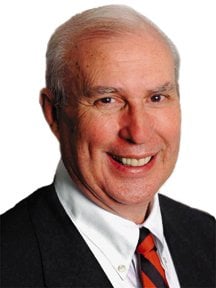 Why did you come here? We can't get along with each other, much less our regional neighbors," San Francisco's charismatic Mayor Willie Brown told Atlanta region visitors recently. A group of more than a hundred civic leaders from 13 counties had come to the Golden Gate city to learn how their counterparts solve problems of clean air, transportation, water resources, and other regional issues. Mayor Brown gave a hilarious speech that basically said, "San Francisco is a mess.
"We can't teach you any lessons here," Brown said. "You can go home after your trip and say that Atlanta is in much better shape than San Francisco."
Each May for seven years Atlanta region representatives have visited other major cities to meet with their counterparts. The program, called LINK (for Leadership, Innovation, Networking and Knowledge), is sponsored by the Atlanta Regional Commission. The idea is to learn how things are done and how county commissioners, mayors, business, government and charitable leaders in the Atlanta region can better work together. In addition to San Francisco, LINK participants visited surrounding cities San Jose and Oakland, where they listened to a talk by Mayor Jerry Brown, former governor of California and one-time presidential candidate.
Regional diversity was present in the group that included Rep. Kathy Ashe of Fulton County, Clayton County Commission Chairman Crandle Bray, Atlanta Mayor Shirley Franklin, Atlanta Food Bank Executive Director Bill Bolling, Gwinnett Chamber President Richard Tucker and Emory University's Betty Willis.
Last year LINK visited Chicago, which proved to be one of the best-run cities in the country. San Francisco is another story. The reason: California's state government is $12 billion in the red, and fiscally, San Francisco is almost as bad off. Proposition 13, famously passed in the late '70s, froze property taxes on individual homes. Now the state, counties and cities have no tax base, and no way to raise taxes. They have to respond by cutting government services. They have cut fat from the budget year after year, and have now cut deep into the muscle and bone, decreasing money for schools, transportation and social services.
One of the first impressions one has of the Bay Area, after looking at the Golden Gate Bridge, is the number of homeless people. They are everywhere: Officials estimate that between 8,000 and 15,000 live in the city. If you are homeless here, you receive almost $300 a month in cash. Many soup kitchens are available for food, and free clinics make health care available as well. The climate is wonderful, and there are many parks available to sleep in. (It is against the law to sleep in the parks, but the code is rarely enforced. On our trip, police officers were hard to find. Oakland's Mayor Jerry Brown describes the effort to help the homeless in his own political theory, "The more you find solutions for problems like the homeless, the worse the problem becomes." Oakland doesn't have many homeless, because Brown says the benefits across the Bay are much nicer.
Because of the more recent financial crisis, however, everything is about to change. Headlines in Bay Area newspapers tell of cuts in homeless stipends to $50 a month. One headline says "Crisis in Health Care: Bay Area hospital emergency rooms will be overwhelmed as free health clinics will close due to cut backs."
Budget cuts have forced San Francisco's school district to all but eliminate summer schools. Social workers fear potentially explosive situations, as too many kids will be left with too little to do during the summer. Thousands of teachers are being laid off for the coming year. Other services have been reduced as well.
Lessons learned: Atlanta and the rest of Georgia could be like San Francisco if we institute tax reduction plans that include elimination of state income taxes for senior citizens. Senior citizens are the fastest growing and largest demographic in Georgia, and health care and other social services for this segment of the population will increase dramatically in the years ahead. Younger citizens will not be able to pay enough taxes to make up the difference. If we are not careful, Georgia and the Atlanta region could feel the same impact as Proposition 13 has in California and in San Francisco.
San Francisco was one of the best trips LINK has produced. For all of their problems, the city's leadership, including Mayor Willie Brown, approaches the situation with refreshing humor. And many areas of the city work amazingly well, including the transportation system, which includes seven different agencies. This city smiles, and hopes the world smiles with them.