Most Respected CEO
Super Citizen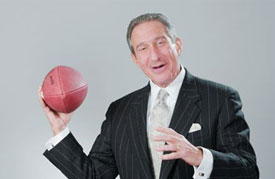 There he sits, in the flesh, a debonair multi-millionaire who looks the part – the essence of urbane sophistication in a tasteful dark wool suit, perfect tie, black wingtips, crisp white shirt with French cuffs and gleaming silver cufflinks, all of it topped by the thin slash of a salt-and-pepper mustache that has become his signature since his evolution into a popular sports mogul – retracing the trail that has brought him, the son of a struggling Jewish druggist in Queens, to luminous heights in Atlanta, of all places, corporate heartbeat of the South. Arthur Blank: co-founder of The Home Depot, new owner of the Atlanta Falcons, chairman of the Metro Atlanta Chamber of Commerce, husband of a cool young wife who could pass for the actress Nicole Kidman, a man with his checkbook out, giving millions of dollars to good works ranging from building a new venue for the Atlanta Symphony Orchestra to restoring green space in the inner city to helping such nonprofits as Outward Bound and Zoo Atlanta. It's a blustery morning in late January, two days after the Super Bowl in San Diego, toward the end of a chat in the Chamber offices, and he has just been asked what might be the roots of all this. Why such largesse?
"The robbery." He laughs and shrugs. Robbery? Isn't it something, he says, how events from your childhood can stay with you for so long and leave such a lasting impression? "I was about nine or ten, and it was late one Sunday morning when there was a knock at the front door. My father was home, since the drugstore was closed, and he answered the door without even looking through the peephole to see who it was. Two guys with guns shoved the door open, knocking bicycles and everything out of the way in the foyer, which doubled as our parents' bedroom, saying they wanted 'the money.' My dad was just a pharmacist, didn't own the store, but they didn't know that. While one of 'em held a gun on my father to go find the money, my mother and my brother and I sat on a couch in the living room with the other one, sitting there with a gun, keeping his eyes on us. The thing I remember most is that she started telling this guy that what he was doing was really wrong, that he ought to think about doing something else for the rest of his life, that this was not the right way to earn money, that he could be a more positive force in society. I mean, she was giving this guy a lecture and he was sitting there with a gun on his lap while this other guy is dragging my father around the apartment looking for money we didn't have. It's that kind of commitment to principle she had, to do the right thing. That was one of my mother's favorite sayings: 'Do the right thing.' She must have said it a zillion times. So I think a lot of my own values in terms of community responsibility and being my brother's keeper, not staying on top of the mountain and studying the issues but coming down, have stuck with me since that day. And a lot of that also has to with our faith and our religion: to be involved, to be a catalyst for positive change."
In fact, Arthur Blank has come to understand that nearly everything he has come to stand for in his adult life is rooted in lessons from his past. The symphony: "We didn't have television in the house when I was a child, but there was always classical music. Mom believed in it. Every Saturday she would take me by bus and subway to Carnegie Hall to hear Leonard Bernstein's regular children's concerts. I was interested in sports and I felt like I was being dragged down there, but I really enjoyed spending time there and with her."
Green space: "I was 31 years old before I lived in a real house, in Savannah, before the Home Depot days. I thought it was a huge house, even though we had only 1,200 square feet on a third of an acre with no grass. But we had our own yard and that was amazing to me. I'd come home from work every day and get out the hose, watering seeds, watching grass grow, feeling like a boy again, and I loved it. That was 'green space' to me, at that time, and I learned right there that people need time to get in touch with themselves, with community and family and nature, before getting back to the intensity of life."
Owning a National Football League team: "What I've done with the Falcons is an extension of what we did at Home Depot. Our customers knew that we would do anything to take care of them, that we were more interested in the relationship than the transaction. The fans are our 'customers' and the players are our 'associates.' This is Atlanta's team, not mine; I'm just the custodian, the watchdog. It's all about people. If you're right on the people side of the equation, with the players, the staff and the fans, the numbers will work out. That's the formula. It's not very complicated. It's really very simple stuff."
The Falcons
Just as he and Bernie Marcus discovered and developed the potential market for a handyman's heaven, so did Blank begin circling the woebegone Falcons during the '90s. The bloom had long left the franchise since its establishment in 1966. Except for the 1998 team, which lost to the Denver Broncos in the Super Bowl, the Falcons had won exactly one playoff game in their 35 years under the stewardship of insurance magnate Rankin Smith and his son Taylor. Atlanta was dismissed as "Losersville" during much of the '70s and '80s, and the Falcons were in utter disrepair. The team was losing, unhappy fans were rattling around in the new Georgia Dome, and the only time Atlantans could see the team on television was when it was on the road.
A "sports person" all his life, a Falcons season-ticket holder during all those bleak years, Blank had heard the relentless rumblings from contacts inside the NFL: What's wrong with Atlanta? "I told them what was right with Atlanta: the population's there, it's football country, the city will support a winner." Throughout the '90s he routinely inquired about the club's availability, only to learn that the Smith family wasn't yet ready to give it up, but late in the 2001 season they relented and he pounced. Eyes rolled when he paid $545 million for a franchise generally valued at only $400 million.
Blank went straight to his "associates" and "customers," just as he had done at Home Depot. "The season wasn't over yet, so I began talking to the players in groups of three or four. I'd say, 'I'm going to be your owner, so tell me what I can do.' They all said the same thing: 'Fill the Dome, it's embarrassing, we have no home-field advantage, we hear more noise on the road, make it fun again.'" Then he took it to focus groups of fans, as he once had pulled aside Home Depot customers to find out what they wanted, and he heard their calls for lower prices, better parking, tailgate opportunities, a better game-day experience, a winning team ("They simply wanted a competitive team every year, not necessarily a team that goes to the Super Bowl every year, which they understand is unreasonable to expect"). "And so we set about to do those things and not surprisingly Atlantans stepped up." In Blank's inaugural season as owner, the Dome consistently sold out, even during a 1-3 start, "before Mike Vick became Mike Vick," and suddenly a Falcons ticket was a hot number. Advance sales of season tickets doubled.
Perhaps a better illustration of Arthur Blank's mode of operation, and a promise for a long and happy future for the Falcons, is the way he went about signing Warrick Dunn, a free-agent running back, during the winter preceding the '02 season. The Falcons badly needed Dunn to complement the dazzling running and throwing of Vick, who was ready to take over as quarterback, and Blank was intrigued by the former Florida State star's personal background: the oldest of six kids whose mother had been shot and killed in the line of duty as a policewoman in Baton Rouge, Dunn had used his salary from the Tampa Bay Buccaneers to establish a foundation, Homes for the Holidays, to help poor families buy their first home. "Warrick was heavily sought-after," says Blank. "My wife and I had lunch with him here after he'd flown in all night from the West Coast, and that night some of the others took him to dinner. I went into the office the next day, when he'd gone back home to Tampa, and when I asked how it'd gone and was told that he thought the offer should've been higher I asked if it would be all right if I called him. 'Sure, it won't hurt,' they told me. To make the story short: I called Warrick and we talked for an hour, and we never once mentioned football. We talked about his life, what had happened with him and his five siblings, about his foundation. I told him how one of my goals was to help my players think about their life beyond football. It sounds self-serving for me to say it, but Warrick has said he signed with Atlanta because of me."
It works both ways. In an era of absentee owners and – worse – meddling egocentric tyrants like Al Davis of the Oakland Raiders and George Steinbrenner of the New York Yankees, Blank has become involved in a deeply personal way. "I really am interested in each one of these fellas," he says. "Personally and professionally, in their families and their kids and their interests and their foundations, and how we can help them with their life's work. I care for them. I suffer when they're injured. I wish our fans could be down on the field and see these guys. They go to the locker room and I see the blood, see the throwing up, see the pain. And what you see on the inside is worse. They've laid it on the line for themselves and for their teammates and for the city. It's not about money. They play with a tremendous amount of pride. It's a huge commitment they've made. I came in the day after our last game [a loss at Philadelphia in the playoffs] to say goodbye. I gave 'em each a hug and told them thank you for what you've done for this city; you've turned this community around, made them feel connected again; told 'em I wish there were four-and-a-half million people who could be in this room and give you a collective hug. It's all about caring."
The Philanthropy
Despite a sharp drop in the worth of Home Depot shares that knocked him off Forbes magazine's list of billionaires, putting Blank's net worth at $740 million, the money train keeps rolling. The Arthur M. Blank Family Foundation's gift of $15 million seeded the attempts to build a new center for the Atlanta Symphony, and another $20 million spread over three years goes toward buying up green space inside the Perimeter. There was much celebration around the Blanks' home on Tuxedo Road in Buckhead when late last year the foundation reached the milestone of having awarded grants totaling $100 million (80 percent of it in the state of Georgia) since its creation in 1995.
Blank had been a major player on the Atlanta business scene for years, from the birth of Home Depot in 1978, but he was content to be the silent partner to the older and more flamboyant Marcus. ("Bernie was a pitcher in his high school days, the star of the show, and I was a catcher who just wanted to be in on every play.") Insisting that their employees call them "Bernie and Arthur," they wrought a hugely successful business for themselves and their stockholders and their "associates," about a thousand of whom are millionaires today. In the meantime, Blank was forming close friendships with such leaders as Jimmy Carter, who had asked the Blank family to support The Carter Center. "But I felt connected to him in a deeper sense," says Blank. "He's a carpenter, you know, a big fan of Home Depot. Every time he was driving back home to Plains he'd stop at the last store south of Atlanta to pick up some more stuff. Then I went on a trip to North Carolina with his family, rafting and backpacking and hiking, and it was a wonderful experience that got me interested in Outward Bound. He's a great guy."
When Bernie Marcus retired and announced a huge gift to start an aquarium in Atlanta, Arthur Blank must have sensed that his time had come. Building an aquarium is nice, a fine addition, but owning the Atlanta Falcons is downright sexy, making Blank something of a god in a town that dearly missed the larger-than-life antics of Ted Turner since he was no longer involved with his beloved Braves. ("I know Ted fairly well; both of us care about sports and philanthropy.") Now Blank is in the news every day, it seems, on both the sports and the business pages – chairing Chamber meetings, giving away more family money, personally recruiting free agents for the Falcons – still managing to get in his 20 miles of jogging in the neighborhood, hoping to find time to visit his 5,000-acre dude ranch in Montana. Completing his rejuvenation has been a second marriage, to a woman he first knew as "the redhead in Design" at Home Depot. A graduate in interior design at Appalachian State in Boone, N. C., she was 25 to Blank's 50 when they met, only two years older than the oldest child from his first marriage – and now they have three young children. Stephanie Blank plays a serious role in the family foundation; she can be playful, too, as it turns out. Arthur was holding forth on a local sports call-in radio show when a "Jill" cooed that he was "so well-dressed, such an attractive man," discombobulating Blank until he recovered: "Honey? Is that you?
The Flag
Except for the fiasco of Bill Campbell's mayoralty, Atlanta has been blessed over the years by courageous leaders, the most celebrated being Ivan Allen, Jr., whose first official act as mayor was to dismantle the "colored only" signs at City Hall in 1962, clearing the way for the city to prove it was, indeed, "too busy to hate." Blank met a similar challenge early this year when incoming governor Sonny Perdue insisted on fulfilling a campaign promise to allow Georgians to vote on whether they wanted to reinstate the 1956 state flag, the Confederate battle flag, originally adopted in defiance of federal desegregation laws. At first the Metro Atlanta Chamber of Commerce came out with a lukewarm statement that the '56 flag was "divisive to many Georgians and hurts our economic growth."
As much as he needed Perdue's support in all of his philanthropic efforts, Blank knew the message should be much stronger. Within 48 hours, he was issuing a personal statement of his own. Essentially, it was this: No way. That flag, he said, is "a hurtful and repugnant symbol to a significant portion of the state," is "not a viable alternative," and shouldn't even be on the ballot in the first place. The new man on the block had spoken.
He spoke again even more strongly in mid-March, flanked by Chamber President Sam Williams, past chairs Allen Franklin and Carl Ware and incoming chair John Rice. He reiterated the chamber's opposition to the '56 flag and called on the political leadership to "move us toward a quick resolution that will unite all our citizens."
Says John Imlay, a close friend and a minority member of the Falcons' board, and the man who brokered the deal for Blank to buy the Falcons: "Like Mayor Allen, Andy Young, Martin Luther King, and Bob Woodruff, he has this determination to do the right thing, and he's got it in spades. I call him Super-Citizen."